We take a look at the best bristle free grill brushes for 2023 along with a buyer's guide of things to consider when picking one out.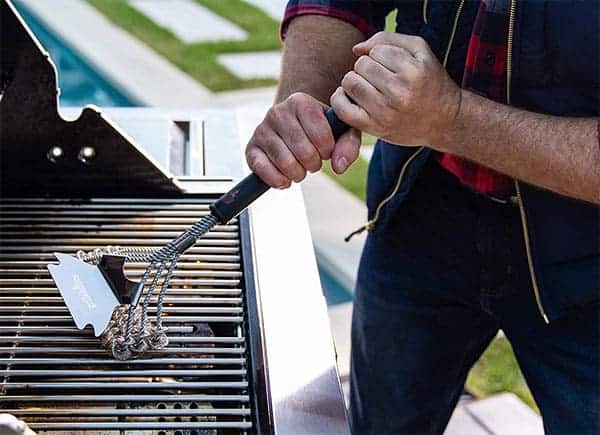 No matter how often you grill, it's always important to make sure that your grill is properly cleaned and maintained throughout the year.
Of course, that often begins with giving the grates a good scrub!
Cleaning your grill grates often means that they are less likely to rust and corrode, there will be fewer problems with bacteria and other harmful things getting into your food, and cleaning will be a whole lot easier.
Why a Bristle Free Grill Brush?
Well, believe it or not, every year many people are seriously injured from ingesting a stray steel grill brush bristle that was stuck to their food.
These steel bristles cause havoc as they make their way down your throat and through your fragile intestinal tract.
That is why more and more people every year are making the conscious switch to bristle free grill brushes to clean their grills and prevent this needless tragedy from occurring.
To make the switch and continue to clean your grill properly, and SAFELY, you will need to invest in a good bristle free brush.
You may not know what you're looking for in a bristle free brush if you've never bought one before - that's where we come in.
Read on to find out about the best bristle free grill brushes available on the market today!
We've also written a handy buyer's guide after our suggestions to help you to narrow down your decision.
Top 5 Best Bristle Free Grill Brushes

The GRILLART Bristle Free Grill Brush and Scraper is certainly one of the most superior bristle free grill brushes on the market.
The brush has been designed to be 135% thicker than your average wire grill brush, meaning it's even more effective at cleaning.
Not only is this an effective bristle free brush, but it's also very lightweight, weighing a tiny 1 pound in total.
It has a handle measuring 18 inches so there's also no need to be concerned about burning your arm off as you clean.
It has a durable construction that doesn't rust or corrode easily and there's no need to worry about anything falling off into your food while you clean.
The brush features a large surface area alongside brush sides that can be used to clean in between the grates in areas that are more difficult to reach.
The handle is totally water resistant too so it means that it will last you much longer than your standard grill brush handle.
This is the perfect brush and scraper to keep your grill squeaky clean for a long while to come.
Pros
Durable
Lightweight
3 in 1 design
Good customer support
Cons
The helix rings may break after a few months of continuous use
This bristle free brush from Easy Function is the perfect choice for any barbecue enthusiast.
Featuring tightly stacked helix brush rings in three rows consisting of 201 stainless steel, this brush is ultra durable and long lasting.
Not only this, but with a rust free design, you can be sure that this is a brush that will not let you down.
If you do find yourself having some issues with this product, then there is no need to fear as it is guaranteed for up to 4 lifetime replacements for your peace of mind.
It can be used with a range of different grill surfaces, including the more fragile materials such as ceramic.
Another particularly notable thing about this brush is that it's ridiculously lightweight. Weighing only 11.2 ounces, you can carry this brush easily without needing to worry about it weighing your arm down as you clean.
Despite the light weight though, this brush is actually very effective at removing even the toughest dirt off grills.
With a handle measuring 16 inches, you also don't need to worry about burning your arm as you use this brush either.
Pros
Won't scratch away any non stick coating while you clean
Powerful
Lightweight
Cons
It could do with a slightly longer handle
Nobody wants to spend hours trying to clean off their grill.
With the Kitchen Perfection Bristle Free Grill Brush and Scraper, you don't need to worry about that.
This 3 in 1 bristle free brush and scraper is ideal for perfect cleaning with half of the effort.
The brush features 3x thicker 201 stainless steel triple helix wires, and the notched edge design is ideal for helping you to get right into the grill grates for a thorough cleaning. It can be used on a range of different grills too.
The brush features a 17 inch handle that gives you plenty of leverage and also helps you to keep your hands far away from the heat when you are cleaning the grates.
t's very lightweight at only one pound in weight, and it even comes with a lifetime warranty for more peace of mind.
Pros
Bigger surface area for easier cleaning
Good customer service
Thicker brush
Cons
You may need to put a little bit of effort into the cleaning, but it will take less time to clean overall
If you are a grill lover and want to grill every single day of the week, you should not need to worry about cleaning for much longer.
The Grillaholics Grill Burhs Brustle Free is ideal for cleaning a large surface area, meaning it takes less time overall to clean as the brush has a larger surface area.
This brush is a 3 in 1 model that includes a brush head and a scraper design. It features a durable and heavy duty construction that is sure to stand the test of time.
Furthermore, with a 17 inch handle and brush, you don't need to worry about burning your hand as you're cleaning.
Not only this, but the company also provides a lifetime guarantee, so if you aren't happy you can replace the product or get a full refund.
This is a testament to the sheer quality that the brand offers, and demonstrates their passion for creating high quality grilling equipment.
Of course, the brush could do with having a little more flexibility and this is perhaps its downfall.
Otherwise, this is surely a product that any grill master is going to adore, and will be a huge asset for that 4th of July grilling session and far beyond.
Pros
Lifetime guarantee of full refund if you aren't happy
Durable
Large surface area for faster cleaning
Cons
The brush isn't as flexible as some other options
There are a lot of great bristle free grill brushes on the market, but not many can boast a 5 in 1 design!
The unique bristleless grill brush from Chicago Brick is ideal for cleaning your grill.
Consisting of sturdy twisted wire branches, this is truly a design that screams longevity.
The brush features brush and scrape motions that will allow you to cover 6 times the usual surface area.
Not only this, but you can scrape pretty easily as there are no sharp edges on this brush.
This is ideal for delicate surfaces such as ceramic, and you have no need to worry about damage to non stick coatings either. The brush has actually been used to great effect on a bunch of big name grills.
The brush features a decent length 18 inch ergonomic handle that's very comfortable to use.
In addition to this, it also has a hanging hook on the handle which means that once you are done it is easy to store it away without rummaging for space in your cabinets.
It weighs a mere 1 lb too, so it's pretty lightweight and ideal for taking with you when you are barbecuing in an RV or on a camping trip.
It is a little bit difficult to use when it comes to cleaning smaller gaps in between the grill grates, however.
Pros
Works on a range of big grill names
Brush and scrape motions ideal for covering a bigger surface area
Hanging hook for easy storage
Cons
It can be difficult to use for cleaning in smaller gaps between the grill grates
Best Bristle Free Grill Brush: A Buyer's Guide
Why Should You Buy A Bristle Free Grill Brush?
A lot of people that partake in grilling now prefer to opt for bristle free grill brushes. This is because there are a bunch of extra benefits to bristle free grill brushes.
In addition to the safety considerations mentioned at the top of the article, a bristle free grill brush usually lasts a little longer.
Grill brushes can have a nasty habit of losing their bristles after a while, and this is obviously not an issue if your brush does not have bristles.
It means that you can have your brush for a longer amount of time before you need to replace it.
One other issue that you can have with standard grill brushes is that the brushes can be a little bit too harsh for certain grates made out of materials such as ceramic and porcelain.
Grates made from these materials are becoming more and more popular every year as improved infrared technology continues to make its way into the market.
Bristles from conventional brushes can scratch the surface while you are cleaning.
You don't need to worry about this with a bristle free brush, as they are compatible with most grates, even ones made out of fragile materials.
Of course, it may take a little bit longer to clean the grates with a bristle free brush, but that also means that the cleaning is likely to be more thorough.
Things to Consider When Buying a Bristle Free Grill Brush
Handle Length
Usually you will find that handles are around 18 inches long.
There are also medium handle lengths at 12 inches and 6 inch handles that are considered to be short.
It is usually better to opt for a longer handle as this means that you have more leverage to help with downward motions, and it also means that you can use both of your hands while you clean.
The longer the handle, the more you can keep your hands away from the heat, so it's also safer to have a longer handle. Of course, when there's more space to grab onto it also means that it's more comfortable to hold, too.
Compatibility
As we've already mentioned, there are some brushes that are simply too rough for certain materials such as porcelain and ceramic, so for those materials you will need a softer brush.
With that being said, there are also brushes that can be used with literally any grill, so this is something that you should always check before you buy.
Durability
When you're buying a bristle free grill brush, it's always important to check how durable it is going to be. The last thing you want is to purchase a new bristle free grill brush for it to simply fall apart in 10 seconds flat.
It can be difficult to know how durable a product is going to be if you are looking online, but one easy way to tell is by checking other online reviews. You will often find that good quality bristle free grill brushes will also come with a good warranty too.
Easy To Use
It should be fairly simple to use a grill brush. After all, you are merely cleaning a grill with it - it shouldn't be rocket science. Of course, there will always be at least one product that's a nightmare to try and use. Check other online reviews to see if your chosen product is going to be a handful to operate.
Frequently Asked Questions
How do you clean a bristle free grill brush?
Despite the fact that a bristle free grill brush is actually a cleaning tool itself, you still need to clean it regularly.
In fact, it's just as important that you keep your brush clean as it is to clean the actual grill. It's fairly simple to clean it though.
All you need to do is hold the brush under some clean hot water in order to remove any impurities from the brush like oil and grease.
Once you've done this, simply clean it off using dishwasher soap and water. Make sure that it is dishwater proof so you don't end up damaging the brush and shortening its lifespan.
How do you know if you need to replace your bristle free grill brush?
It's very important that you check on the appearance of your grill brush. You can usually tell if it's time to get a new one because the brush will look rusted and frayed.
If you can't tell just from looking, you can also do a tug test to check if it's time to get a new brush.
To do this, simply grab some tweezers or pliers and pull on the different parts of the brush. If anything comes loose then you know it's time to invest in a new brush.
Is it cheaper to get a bristle free brush?
There isn't a huge difference in price between bristle and bristle free grill brushes.
You will find that the thing that can make a brush more expensive is the kind of materials that it is made out of.
Other factors such as popularity, patented technology, extra features and more can also influence the price.
One more Grill Brush Option
We are really loving this BBQ Daddy Bristle Free Grill Brush (the grill counterpart to the ScrubDaddy sponge) for the crosshatch grill grates of our Pit Boss 1150 Pro. The brush head can be removed and cleaned in the dishwasher, and they sell replacement heads in case it wears out over time.
Check out our YouTube video where we demo how it works: