Learn everything you need to know before buying a Solo Stove.
From comparing and choosing the best Solo Stove model for your needs to accessories and to commonly asked questions, we've got you covered!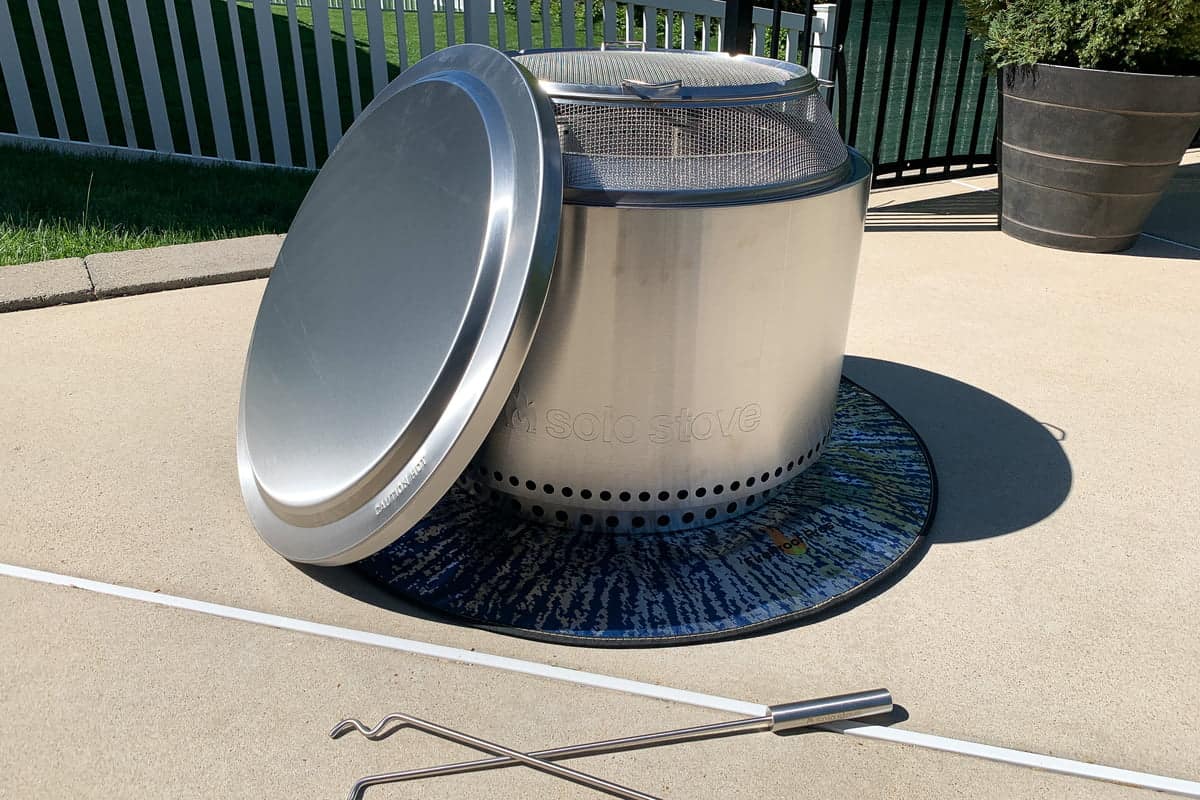 Since the Solo Stove first made its appearance in the firepit market, many people have been captivated by its design, smokeless performance, and easy maintenance.
With the range of quality accessories they also offer, Solo Stove is becoming a tough act to follow.
Solo Stove has an extensive range of Stoves from the Ranger (the smallest) to the Yukon (the biggest), and they also have a range of Camp Stoves and pretty much everything you need to go with them. 
But just who is Solo Stove, and what inspired the design and creation of these remarkable firepits?
How many models do they have, and what accessories go with each plus? How do they stack up against similar products?
Let's go find out.
What is a Solo Stove?
Solo Stove is based in Dallas, Texas, and was created by two brothers, Jeff and Spencer Jan, in 2011.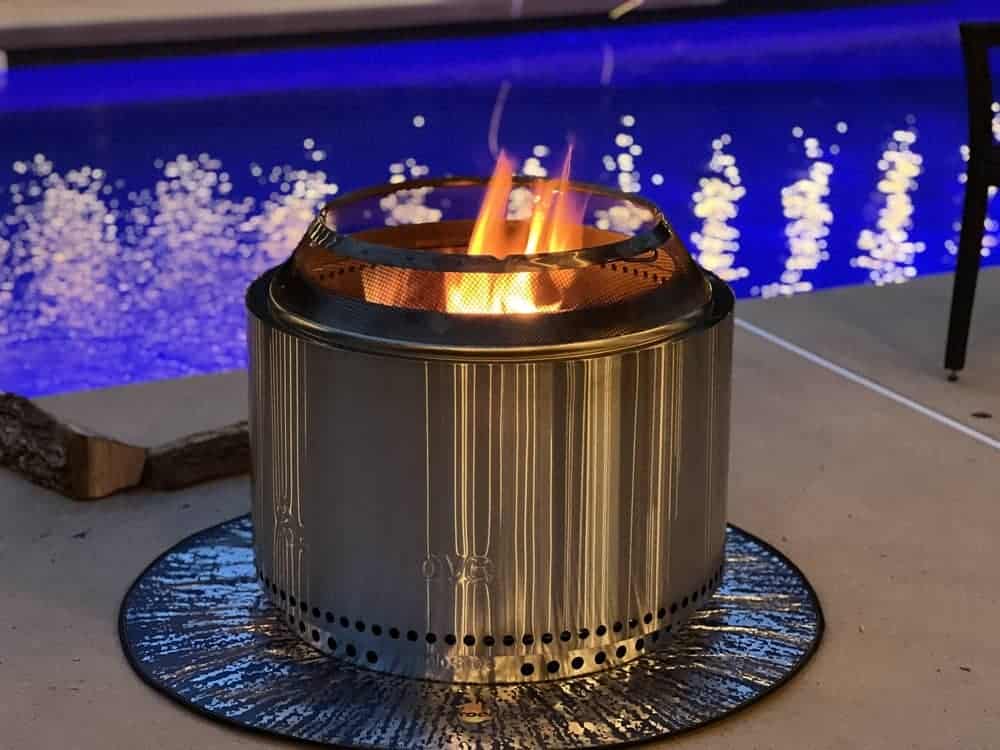 As long-time outdoor enthusiasts, they were looking to create a highly portable lightweight camping stove that could utilize not only firewood but other fuel found around the campsites and be efficient enough to cook a meal and provide heat and a bonfire.
In the ten years of operation, they have vastly expanded to become the market leader in smokeless fire pits with their stylish yet super-efficient range of firepits and camping stoves.
They have a globally growing fan base of loyal customers and receive exceptional reviews of their smokeless bonfires.
Why is the Solo Stove Design so Efficient?
The secret behind the Solo Stove's burning efficiency is its airflow design, as it uses two sets of air vents in the Stove.
This is their 360° Air Flow Technology and is the heart of every Solo Stove.
Lower vents draws air in from the bottom of the Stove, and then the super-heated oxygen is pushed up the sides and through the upper vents around the top of the Stove to create the secondary burn.
This design allows the fire to be evenly spread and create a lot of heat with very little fuel, making Solo Stoves ultra-efficient with fuel and leaving very little ash afterward.
Instead of pulling air in from around the fire as conventional fire pits do, the Solo Stove system acts almost like a jet engine and creates high heat and flame, whether for cooking or simply lazing around an outdoor bonfire.
Are Solo Stoves Worth The Money?
While there are certainly other fire pits and camp stoves that are cheaper than the Solo Stoves, these products are not only easy to light and easy to put out, but they deliver a mostly smoke free experience when used correctly.
They have superb lifespans and are made from 304 stainless steel, making them exceptionally tough and durable.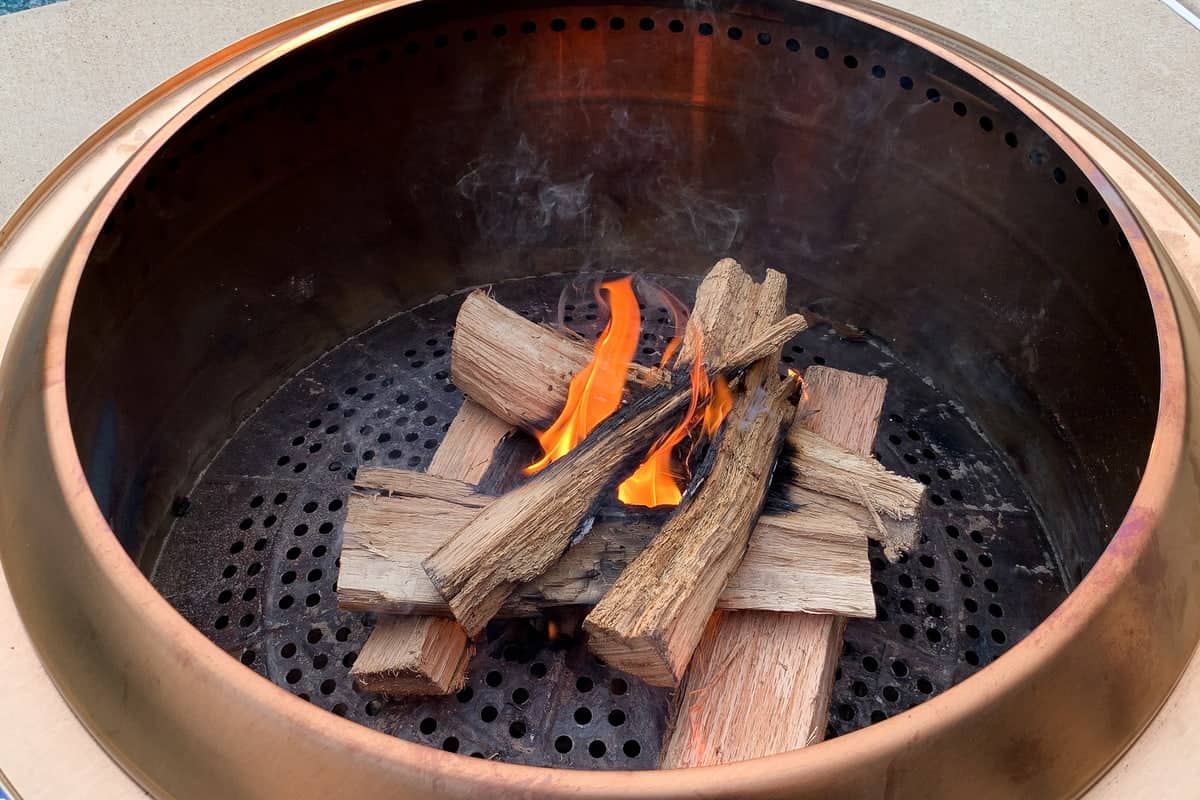 Even when neglected for a period of time, they very easy to clean and easy to remove rust from if it come to that.
While they are not weatherproof and should not be left outside uncovered wherever possible to avoid the risk of rust, they deliver immense heat with little fuel and can easily cook meals using cooking accessories.
They have protective shields to prevent secondary ignition from ejected embers, stands, and covers, a host of accessories, and for the outdoor fire enthusiasts, these are quickly becoming the ultimate outdoor fire pit.
The company's growth since 2011 and projected growth is evidence that the Solo Stove will be the act to follow when it comes to outdoor fire pits, grills, and camp stoves; this again points to the fact that many outdoors people see and appreciate the innovation and value.
The Solo Stove Fire Pit Lineup
Let's look at all the different Fire Pit models offered by Solo Stove and who they would be best suited to, as well as the accessories each one comes with so you have a full inventory.
We will start with the three main Fire Pit sizes and their accessories, then move on to the smaller Camp Stoves and the Solo Stove Grill and other available accessories.
Don't want to read about each Solo Stove Fire Pit individually?  Check out this comparison table for current pricing on Amazon.
Otherwise keep reading for more information about each model.
The Solo Stove Ranger: The Smallest Fire Pit
The Solo Stove Ranger is the smallest fire pit they offer and is very compact and light.
Weighing in at just 15 lbs and with dimensions of 12.5" high and 15" in diameter, the Solo Stove Ranger can be easily packed into a bag and carried on a hike or the back of an ATV or stored in an RV and is ideally suited for 2-4 people.
The Ranger will handle logs that are a maximum of 12" long, and those are fairly easy to find no matter where you may find yourself.
The creators of Solo Stove were searching for a design that would allow campers to create a fire hot enough to cook on using just twigs and small sticks!
Just four to six logs of that size placed inside will give you a roaring fire with plenty of warmth and flame to enjoy those star-filled nights in the forest or on the trail.
Another great use for the Solo Stove Ranger is for surfers and small intimate beach bonfires!
It's so small that you could carry it under one arm with the surfboard under the other and then set it up on the sand afterward, whether to cook a beach dinner or simply chill out next to the waves!
If you need a compact, portable, durable fire pit that you can use easily and quickly outdoors with very little fuel and equally little mess, then the Solo Stove Ranger is for you.
The Solo Stove Bonfire: The Medium Fire Pit
The Solo Stove Bonfire is the medium-sized fire pit of the range and, although bigger than the Ranger, is still quite compact for its size.
The Solo Stove Bonfire is the most popular model in the lineup and used primarily for backyard gatherings, although it is still small enough to easily store and move around as needed.
At 14" high with a diameter of 19.5" and weighing in at 20 lbs, this larger version is only 5 lbs heavier than the Ranger and 2" taller and 4.5" wider in diameter.
This makes it great for slightly bigger groups of 4-6 people.
Highly versatile and able to accommodate six logs up to 16", the Bonfire is one of the most popular models in the Solo Stove lineup, and this is because it can handle a bigger fire and create more heat than the Ranger but is compact enough to carry or transport to any location easily.
Camping, hiking, and beach fires and people living the RV lifestyle or vacation will do well with this Stove for both warmth and cooking capacity.
Smoke-free bonfire enjoyment is the order of the day with the Solo Stove Bonfire, and it can be used easily at home or on the patio – just remember to use the stand if you are going to be on your patio and preferably have fire-resistant surfaces to have the Stove on.
We have previously gone in depth on how to use a Solo Stove on concrete or a deck if you need a refresher.
The Solo Stove Yukon: The Largest Fire Pit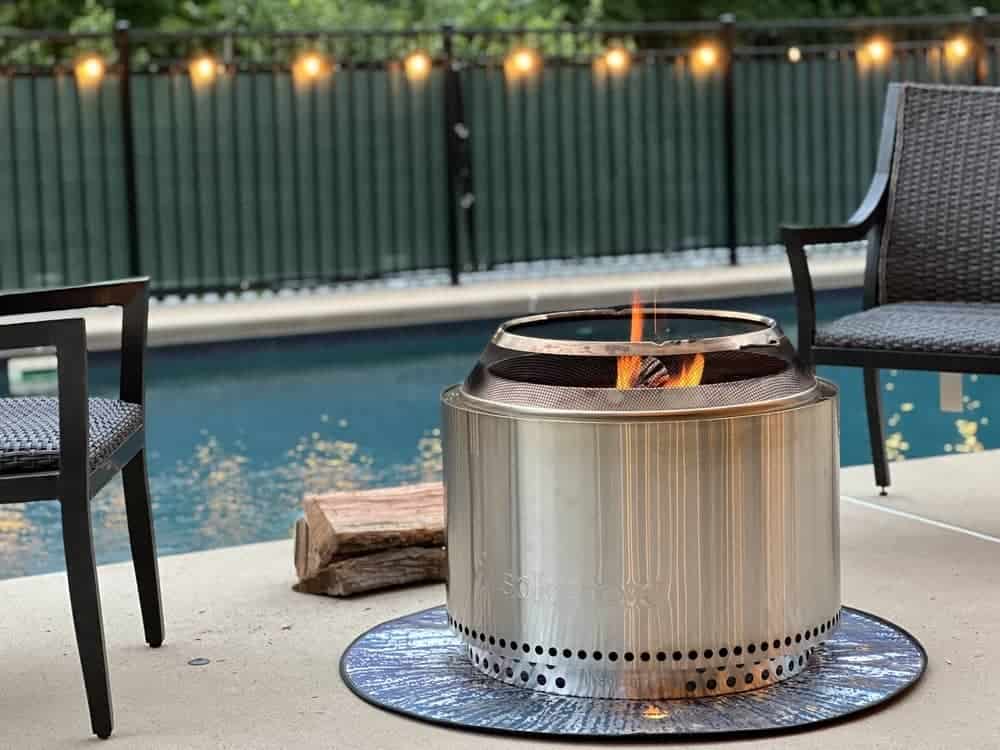 The Solo Stove Yukon is the Grizzly Bear of the Solo Stove lineup and is significantly bigger than the Bonfire.
At 16" high, 27" in diameter, and weighing in at 38 lbs, this is certainly the heavyweight of the range.
The Solo Stove Yukon boasts an impressive fire output, and using logs up to 22" long, this firepit can easily generate flames around 4ft high and is suitable for groups of up to 10 people!
So, if large beach, backyard, or camping parties are your idea of fun, then the Yukon is the model for you.
The Yukon can take 8-10 logs of 22" and at that heat almost becomes a furnace as this monster can reach temperatures of around 1200℉, and the heat output will keep you and your friends or family warm on even the coldest nights.
The Solo Stove Yukon would be perfectly suited for RV camping trips or where ATVs are used to find trails and camping sites as it's a little heavy to carry on your back while you are trekking through the National Parks of the USA.
Family vacation homes or camping destinations where you have a lot of people to feed or keep warm would also be ideal for the Yukon.
The beauty is that even though it is bigger, you still get the smokeless experience and effortless maintenance.
The Best Accessories for Solo Stove Fire Pits
It's evident that the creators of Solo Stove had plenty of experience with the outdoors and as the design and progress of their product line evolved, they knew that they needed to deliver more than just another fire pit.
Aside from the 360° Air Flow and stainless steel design, they understood that they needed to cater to more than songs around the Campfire, so they considered what accessories would elevate the Solo Stove experience and make it more versatile for their customers.
The Solo Stove Stand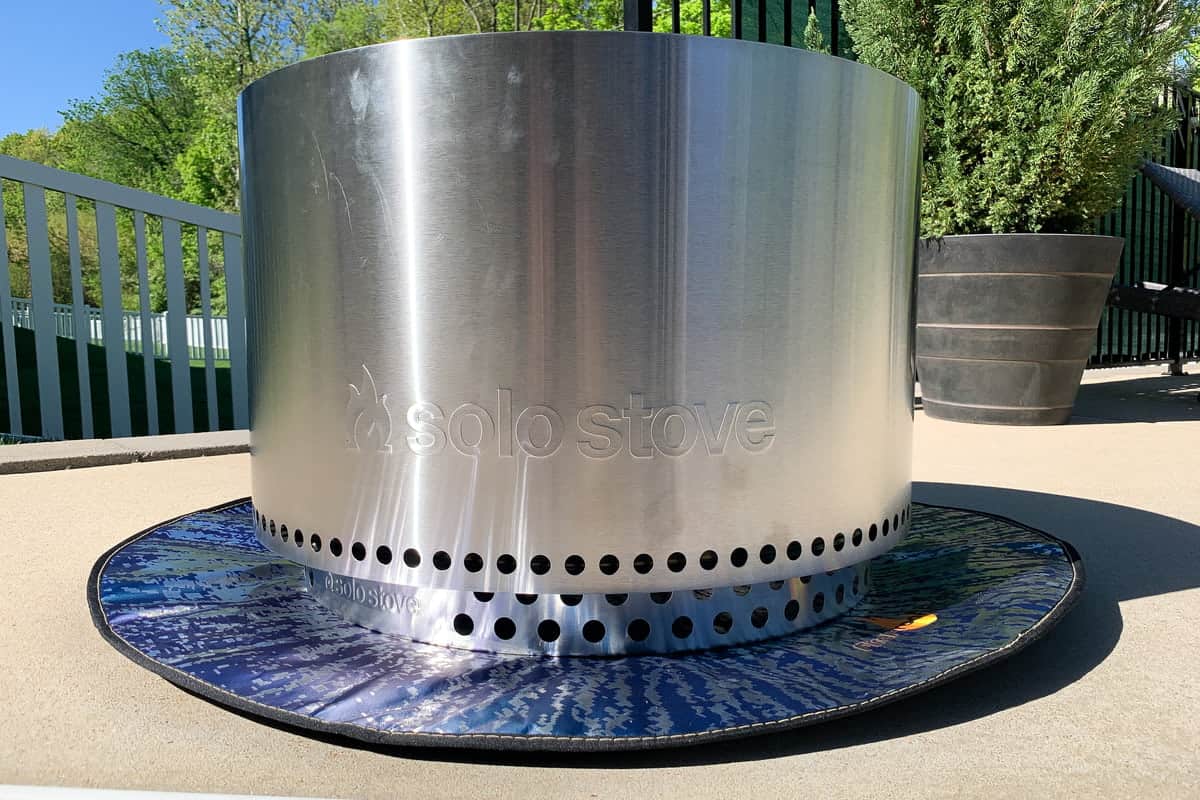 The Solo Stove Stand is a well-designed, well-thought-out base that lifts the Stove off the ground and is recommended for safe usage and to prevent excessive heat and damage to the surface the Stove is used on.
Even with the Stand, It's still advisable to use your Solo Stove in an uncovered place to allow proper ventilation, and on a burn-proof surface like concrete and sand, never grass, and always couple it with a high quality heat and ember resistant fire mat.
But, using the Solo Stove Stand does expand the range of surfaces you can safely use the Stove on.
It fits very snugly into the base and is sturdy and solid under the weight of the Stove when fully packed with fuel.
The Solo Stove Shield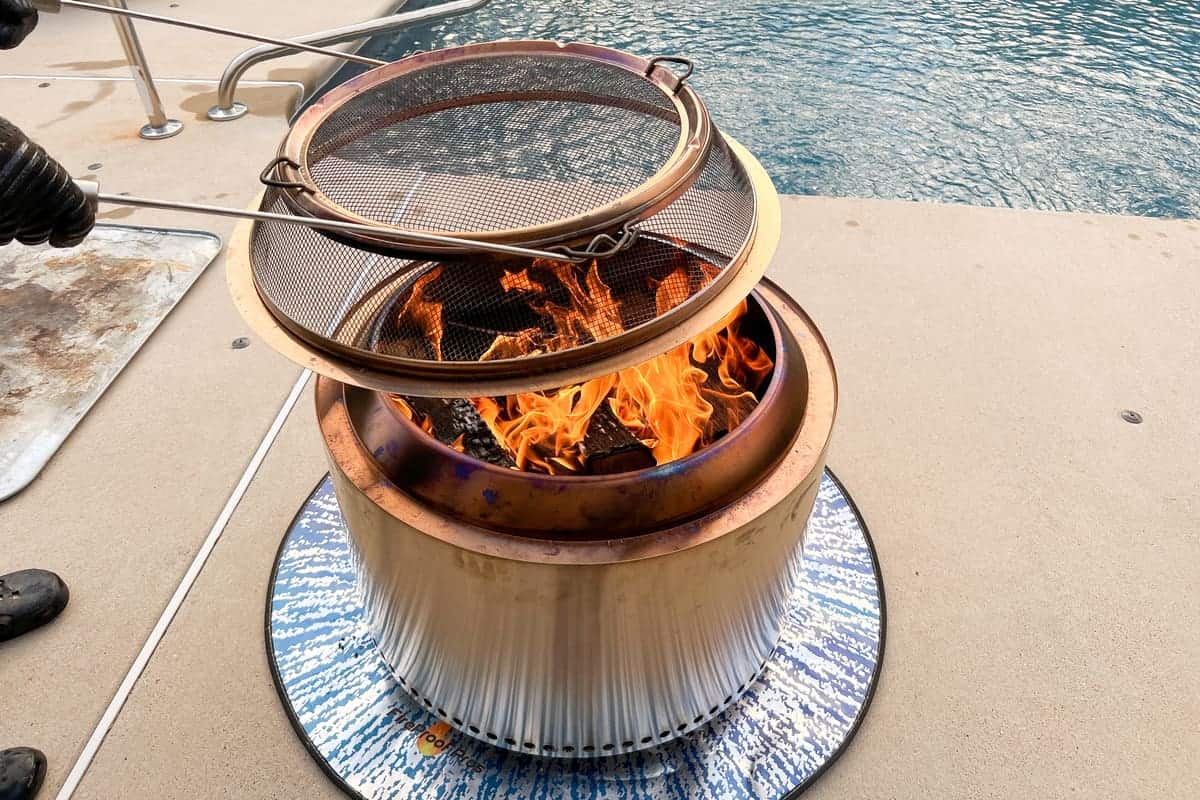 With many fire pits and campfires, the burning hot coals can often eject very hot embers and sparks.
Unless you have cleared the area around the fire before starting it, you run the very real risk of having to deal with fires that could start if hot embers come into contact with dry grass, twigs or leaves around you.
If you're on the beach, then this isn't that much of a concern other than you might step on a hot ember, but in forests, backyards, and other outdoor areas, this is a real concern.
Solo Stove was fully aware of this and produced the Solo Stove Shield, a stainless steel ring with mesh that fits perfectly over the top ring of the Stove and effectively deflects ejected material back into the fire where it belongs.
The Shield is more of a neccessory than an accessory, as it should always be used with your Solo Stove to prevent ejecting embers from landing on your grass, patio, deck, or guests.
The Solo Stove Lid
The Solo Stove Lid is a great accessory to have for when you are wrapping up the party.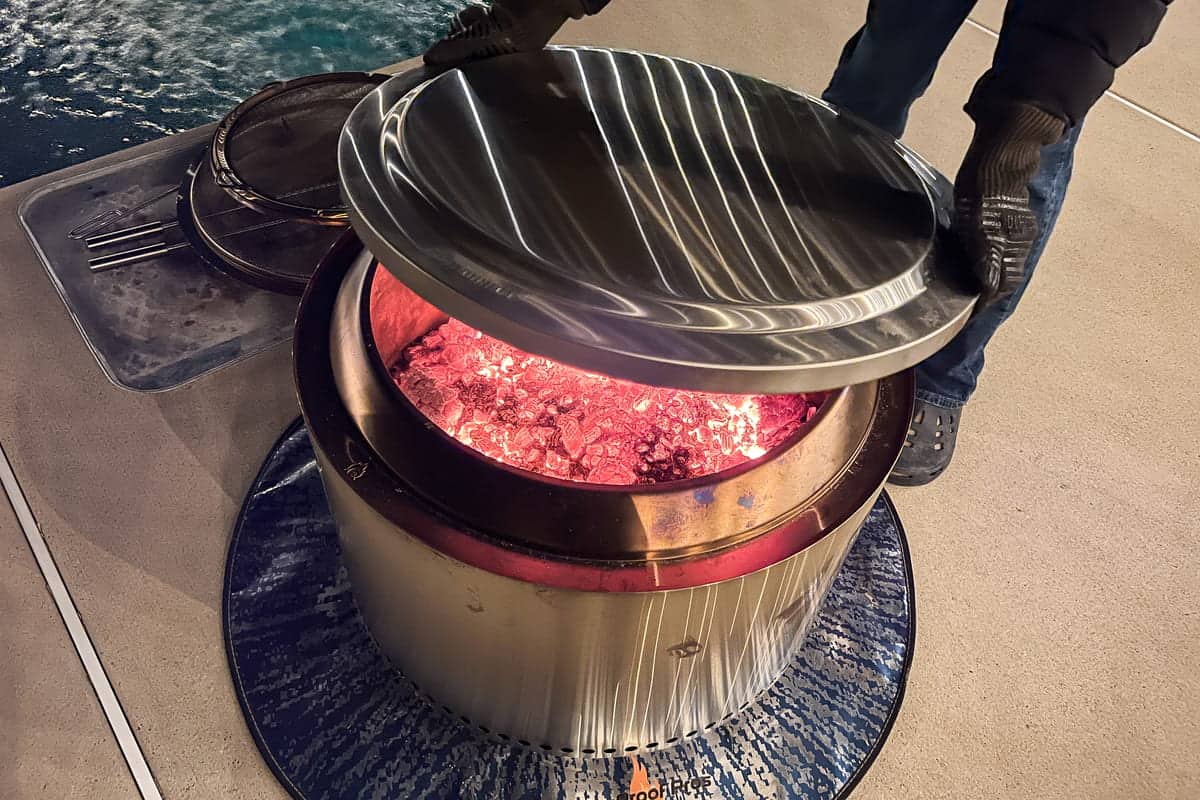 While Solo Stove doesn't promise the Lid it will "Snuff Out" your fire, by adding the lid you are decreasing the oxygen flow to your fire and speeding to process of cooling it down.
You will also be more comfortable leaving the fire pit unattended while you go do something else  knowing its covered and no stray embers can fly out.
Fast forward another hour or two, and the temperature inside the Solo Stove will likely have dropped significantly, and you can probably handle it safely.
The Solo Stove Shelter
As tough as the Solo Stoves are, they are not impervious nor invincible when it comes to the weather, and the Solo Stove Shelter is the protective cover that fits snugly over the Solo Stove to protect it.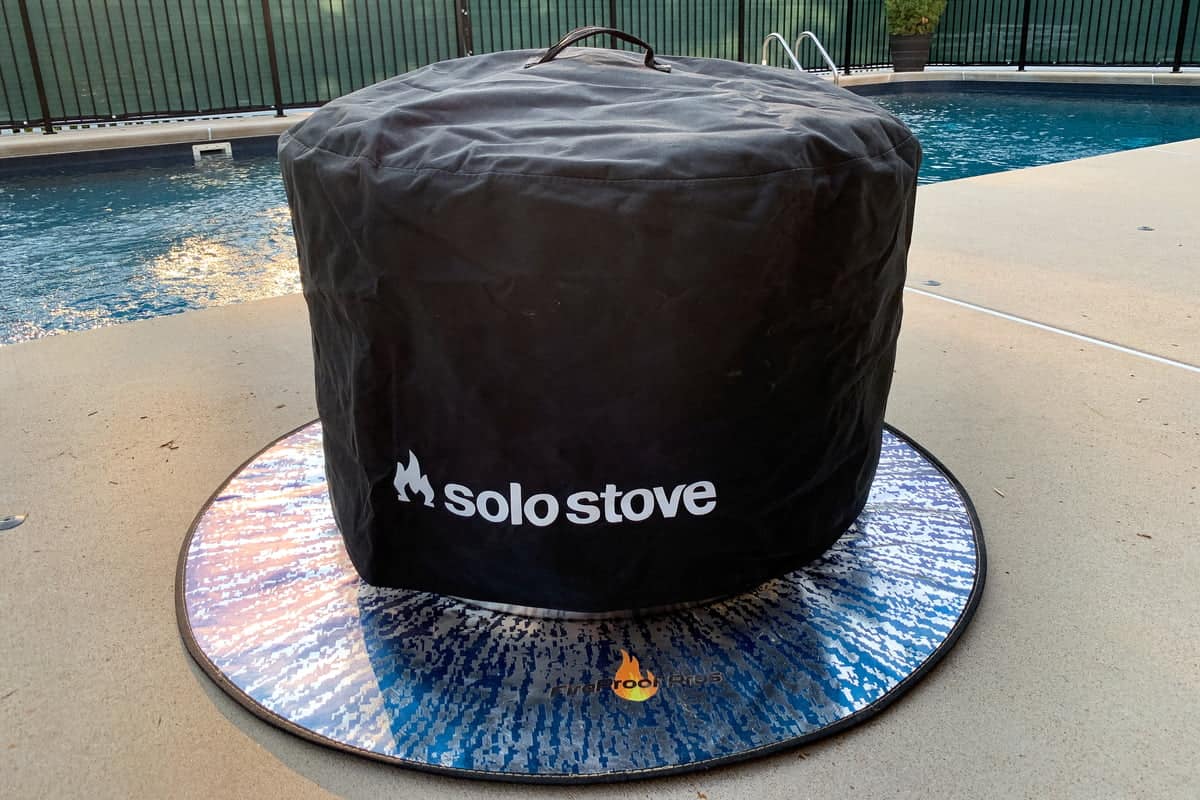 We also like this one from Tiga because of its heavy duty material and drawstring feature.  It also won't fade from UV exposure because it is already white.
Letting the Solo Stove Bonfire burn out naturally, followed by the Solo Stove Lid, then a good quality cover once it is cool to the touch, is by far the best way to put out and store the Solo Stove.
The Solo Stove Camp Stove Lineup
The Solo Stove idea emanated from the camp stove concept where the Jan brothers wanted to create a camp stove that could boil water in ten minutes using just twigs, and the Solo Stove story started there.
As with the Solo Stove fire pit lineup, their Camp Stove lineup also has three models:
Lite
Titan
Campfire
They are all made from 304 stainless steel, and all have the same 360° Air Flow System as the fire pits for that signature Solo Stove smokeless experience.
Don't want to read about each Solo Stove Cap Stove individually?  Check out this comparison table for current pricing on Amazon.
Otherwise keep reading for more information about each model.
The Solo Stove Lite Camp Stove
This is the first product and genesis of Solo Stove as the ultra-light super compact Stove that campers could use with very little fuel but still create enough heat to cook for two people.
The Solo Stove Lite Camp Stove is very small with a height of just 5.7", a diameter of 4.25" and weighing in at a minuscule 9 oz!
You can put this in your backpack and not even notice it!
If you are traveling solo, or with just one other person, and you need an extremely small and lightweight outdoor cooking stove, then this is the model for you.
The Solo Stove Titan Camp Stove
The middle of the range in the Solo stove camp stoves weighs 16.5 oz and has a diameter of 5.1" and height of 7.9".
The Solo Stove Titan is still remarkably compact and lightweight compared to the smallest Solo Stove Fire Pit that comes in at 15 lbs!
Ideal for two-three people and able to use most fuels, biomass, and small logs, the Titan is easy to use and set up and can work with most pots as well.
Of course, Solo Stove does have a range of Camp Stove accessories which we will discuss after this.
The Solo Stove Campfire Camp Stove
The Solo Stove Campfire is the heavyweight of the camp stove lineup weighing in at a massive 2 lbs!
Yes, 7 times lighter than the Ranger and standing at 9.25" high and a diameter of 7".
Like the smaller models, this Camp Stove will work for four or more people and is still amazingly compact and light.
The Solo Stove Grill
Aside from the Fire Pits and Camp Stoves themselves, Solo Stove also offers a compact charcoal grill that you can setup up on the tailgate or as the focal cooking point of your gathering for effortless cooking.
This is another example of how Solo Stove understands the outdoor lifestyle.
Other Solo Stove Accessories
One of the cool things about Solo Stoves is that you don't HAVE to necessarily choose between Fire Pit or Camp Stove.
The Camp Stoves can be used as small simple fire pits and the larger fire pits can be used for cooking!
With the right accessories of course.
Solo Stove has an entire lineup of accessories for their cooking system, such as a cast iron cooktop and pots that fit in the Camp Stoves for lightning fast boiling
The real beauty about these is that they fit perfectly onto the Stove.
They also offer firestarters, pre-cut chunk firewoods, and replacement parts for their firepits.
The accessories are superbly designed to be user-friendly and durable and turn whichever model you have into the perfect cooking stove with very little effort, and the parts like the hubs, tools, and sticks are all made from the same 304 stainless steel as the Solo Stove themselves so everything always fits and matches.