Learn how to clean a Solo Stove to RIGHT way without damaging it!
Check out our favorite tips, techniques, attachments, and products to get your Solo Stove as clean as the day you bought it again.
Let's Go!
If you're a fan of camping and the great outdoors, you're bound to be very attached to your portable Solo Stove Ranger.
Or maybe you've grown fond of lighting up a fire pit with your friends as you gather around your Solo Stove Bonfire or Yukon.
In either case, you'll want to ensure your Solo Stove always stays clean and ready for use.
Solo Stoves require regular cleaning as part of their routine maintenance. The best advice is to clean your Solo Stove after each use. 
Solo Stoves are known for being efficient and easy to use but it is vital that you follow the proper cleaning and maintenance methods to keep them working correctly.
Thinking about buying a new Solo Stove Fire Pit or Camp Stove? 
Make sure to check out our Ultimate Comparison Guide to Solo Stoves first!
Jump to:
How To Clean Your Solo Stove
After you have put out the fire in your Solo Stove, you will need to wait until the ash, and the metals of the Stove have completely cooled.
Once your Stove is cool enough, you can proceed to empty the ash by turning your stove upside down, as the perforated plate on the bottom of your Stove only allows smaller particles into the ashcan.
Next, use a soft bristled brush to loosen any stuck pieces of ash from the air vents and then a small portable shop vacuum like this one from Armor All to clean out any other soot and ash from the air vents on the bottom.
Finally, you will need to find a clean, dry cloth that you can use to wipe down your Stove.
You need to ensure that no ash residue is left behind.
Once you have wiped down your Stove and it is as clean as possible, you can put the cover back on for storage.
How to Deep Clean a Solo Stove
If you need to deep clean a Solo Stove that hasn't been cleaned in a while, you may need to do a bit more to get it back into its original pristine condition.
Here are a few good DIY techniques that you can try.
Use a Soft Brush Drill Attachment with Bar Keepers Friend
Take a soft brush attachment, like you might use when detailing a car, and attach it to a drill to clean off any remaining residue stuck inside your Stove.
Put some Bar Keepers Friend (Recommended by Solo Stove manufacturers) in a container and add water. Use this solution with your drill and brush attachment to scrub your Solo Stove properly.
Use a Buffing Attachment with Rubbing Compound
Next, you can attach a buffing attachment to your drill and use some automotive rubbing compound to buff the Stove's outside surface.
Finally, spray some Weiman Stainless-steel Cleaner on your Solo Stove and use a clean cloth to wipe off any additional residue.
Video
Here's a Great Video Detailing the Whole Process:
Solo Stove Care And Maintenance
Solo Stoves require very little maintenance aside from regular cleanings.
However, if you want your Stove to last a bit longer, there are a few tips you can follow.
Choose The Right Wood For Your Solo Stove
As we detailed previously, the best kind of fuel for your Solo Stove fire pit would be hardwoods.
These include pecan, oak, and hickory. You can also try harder softwoods like cedar and juniper.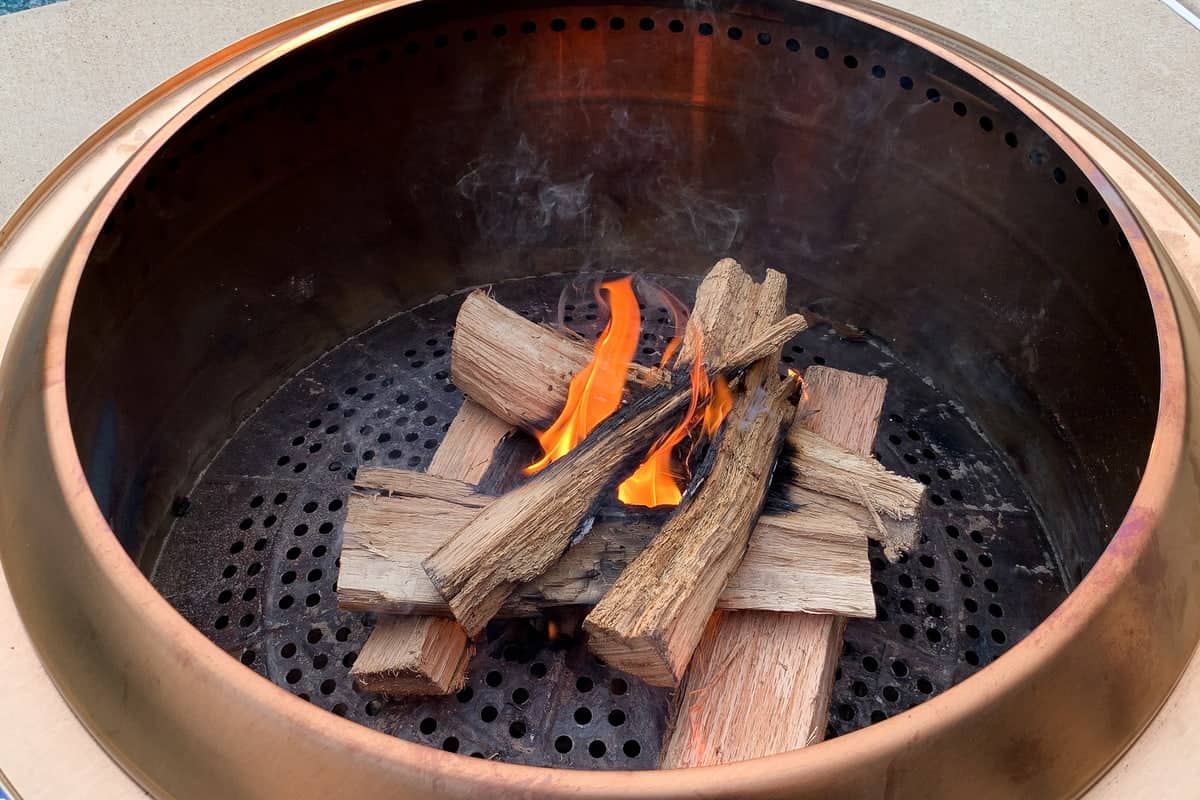 All of these types of wood need to have been seasoned. This means that all the moisture in the wood has evaporated.
Using damp or wet wood will create a smoky flame and make it harder for you to clean your Solo Stove over time.
Blue And Gold "Patina" Is Normal For Solo Stoves
After a few uses, it is entirely normal for gold or blue hues to emerge on your Solo Stove.
This patina appears due to the 304 stainless steel that reacts to intense heat, like the kind generated inside your fire pit.
There is no actual cause for concern, as the performance of your Stove will not be affected.
However, if you wish to keep your Solo Stove in its original shining condition, you can polish the outside gently with some Bar Keepers Friend as mentioned above.
To keep your Solo Stove as shiny as the day you bought it, simply rub a small amount of Bar Keepers Friend along the outside of your Stove using a damp rag and then rinse and wipe dry.
Cover Your Solo Stove While It's Not in Use
If your Solo Stove is always outdoors, it is recommended that you keep it covered when it's not in use.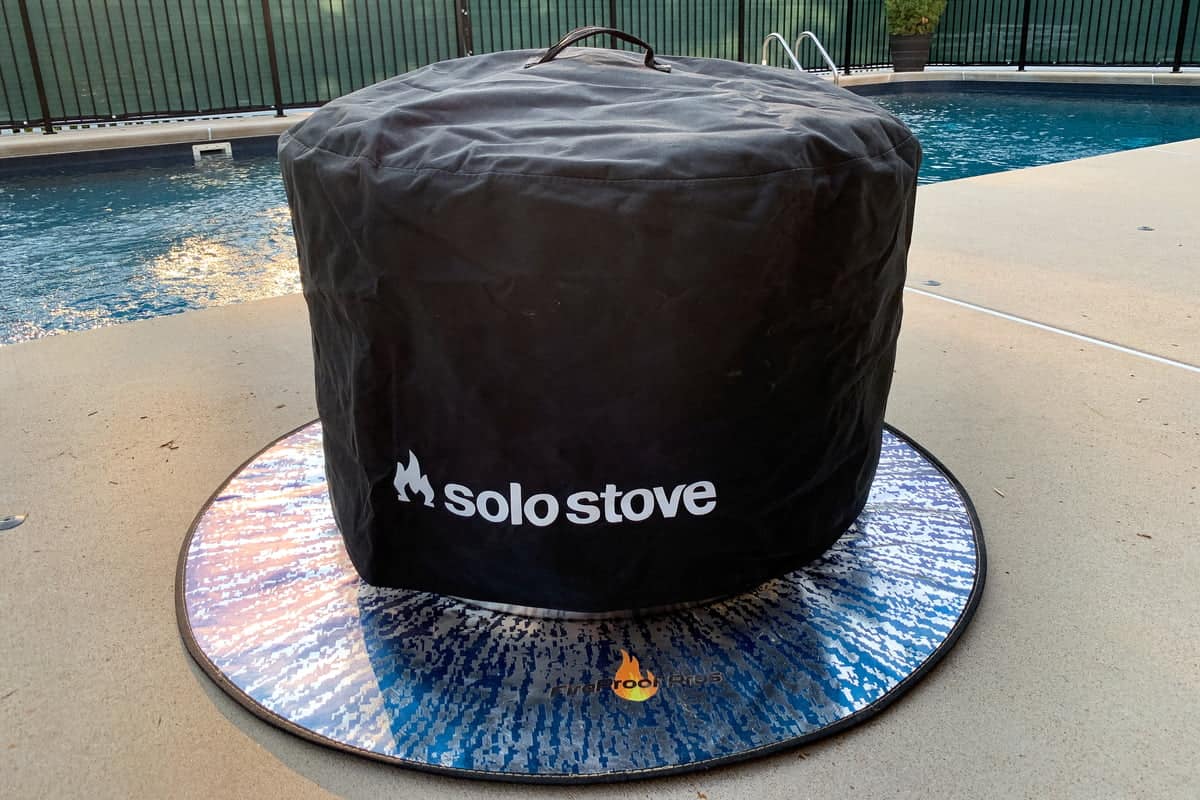 Small amounts of moisture on the outside of your Stove is alright, provided you dry it off with a towel.
However, excessive moisture can damage the ash pan and grate inside your Solo Stove.
Therefore, for outdoor bonfire stoves, a good cover is recommended. This will ensure your outdoor fire pit is always protected from the elements.
If you are camping and plan to leave your Solo Stove outside just for the night, or want to cover it while it is still hot, use the Stainless Steel Solo Stove Lid instead.
The Solo Stove Lid will not only keep stray embers from flying out as the fire dies down but also keep any dirt, leaves or debris from making their way into the solo stove while it cools.
How To Prevent Your Solo Stove From Rusting
Unless you live somewhere extremely dry, your Solo Stove will inevitably get wet at some point if left outside.
Unfortunately, Solo Stoves can rust if left outside for too long.
Solo Stoves are made from stainless steel, so that they will be rust-resistant for quite a while.
However, the time may come when your Solo Stove will start to rust.
We've previously covered how to remove rust from a Solo Stove, however, you'll want to do everything you can to keep your Stove from rusting in the first place.
Take Your Solo Stove Inside
This is the best way to ensure your Solo Stove does not rust.
By storing it inside, or at least in a shed or garage, you are protecting your Stove from the elements.
If you're camping outdoors, you can leave it under a caravan or a rock overhang.
Dry Off Your Solo Stove
If your Solo Stove gets wet, drying it off quickly can make a big difference in preventing future rusting.
You should make sure to pay special attention to the edges and corners where the moisture might gather and cling for longer.
You can use an old rag or outdoor towel to dry off excess moisture. Also, it is good practice never to put away your Stove while it is wet.
Your Stove may rust much quicker if it is stored with moisture surrounding it.
Oil Your Solo Stove At The End Of Summer
When you are confident that you are done using your Stove for the year, you can wipe a tiny amount of WD-40 Rust Preventer over your Stove.
This will help repel any moisture and keep the metal in good shape for longer.
The Verdict
Cleaning your Solo Stove is actually fairly easy.
Simply tip out the ash once your Stove has cooled down, wipe it down with a dry rag and cover it adequately after each use.
To keep your Stove in excellent condition, use Bar Keepers Friend to bring back that old shine.
More Solo Stove Resources from Mad Backyard
Must Read Solo Stove How-To's
Other Common Solo Stove Questions Answered