Learn step by step how to make a smoked rump roast on ANY grill or smoker!
Whether you're smoking your rump roast on a Traeger or Pit Boss pellet grill, a Weber Kettle, or a Masterbuilt electric smoker, we've got you covered.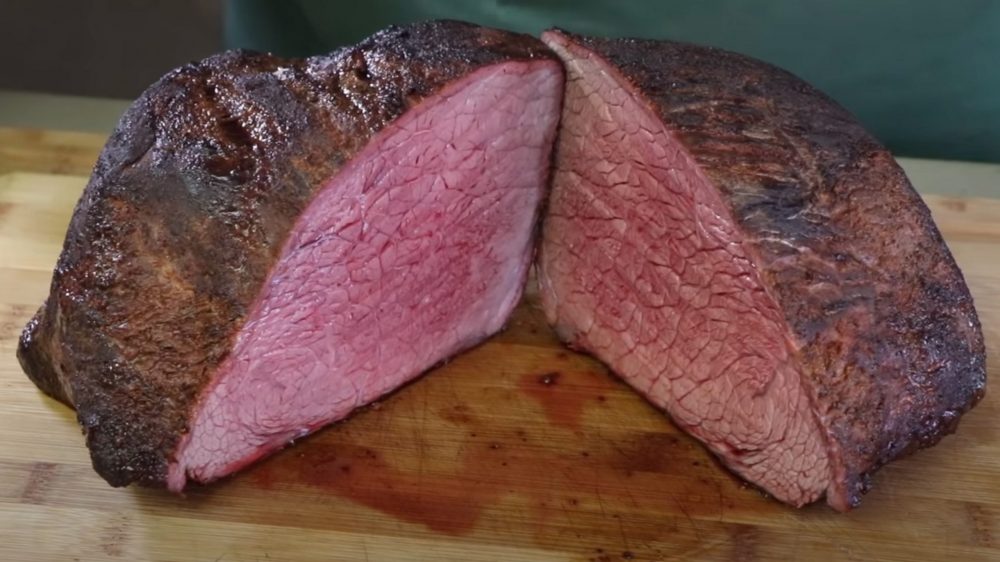 A rump roast is a simple, lean beef roast, sometimes labeled as a bottom round roast, although technically is a little different.
While both cuts come from the hindquarters of the steer, the rump experiences slightly less use than the round, and therefore has more intramuscular fat.
This makes the rump roast perfect for the smoking low and slow without as much risk of drying out, although we will still need to watch our temperatures closely!
Unlike our super fatty beef brisket and beef ribs, we are going to smoke and then reverse sear this rump roast more like a steak, or traditional beef roast to a perfect medium rare.
We are going to cover:
How to prep your rump roast for the smoker
How to set up different grills and smokers for a smoked rump roast
What temperature to smoke your rump roast
The best wood choices for a smoked rump roast
How to know precisely when your smoked rump roast is finished
How to rest, slice, and serve your perfectly smoked rump roast.
Wow, that's a lot…so let's get smokin'!
How to Prepare a Rump Roast for the Smoker
Thankfully you won't need to do much of anything to your rump roast other than take it out of the package and season it before you smoke it.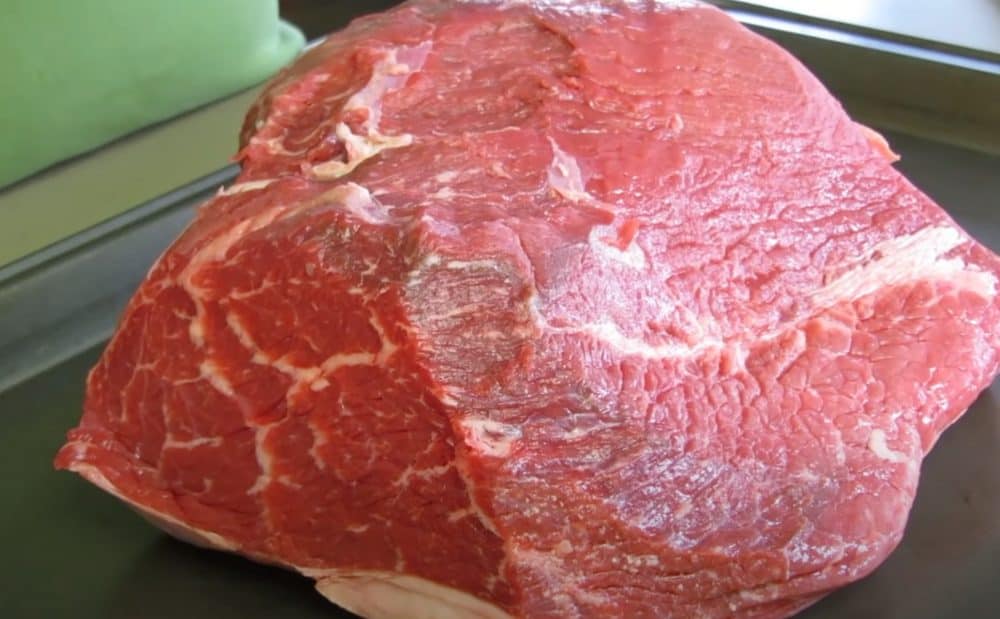 There isn't usually too much exterior fat to trim off a rump roast, but if there is, you can certainly cut off the excess so that the seasoning penetrates the meat a little better.
Make sure to always use a good boning knife like this one from Mercer so you don't tear up your beautiful beef roast while trying to trim the fat.
Once the excess fat is trimmed, give it a rub down with a good high smoke point oil so that if you decide to sear it later, the oil doesn't burn.
We are big fans of flaxseed or avocado oil for searing beef roasts like smoked rump roast.
Top Seasonings for Smoked Beef Rump Roasts
When it comes to a smoked rump roast, or most beef roasts for that matter such as ribeye roast, you want to keep the seasonings simple and savory.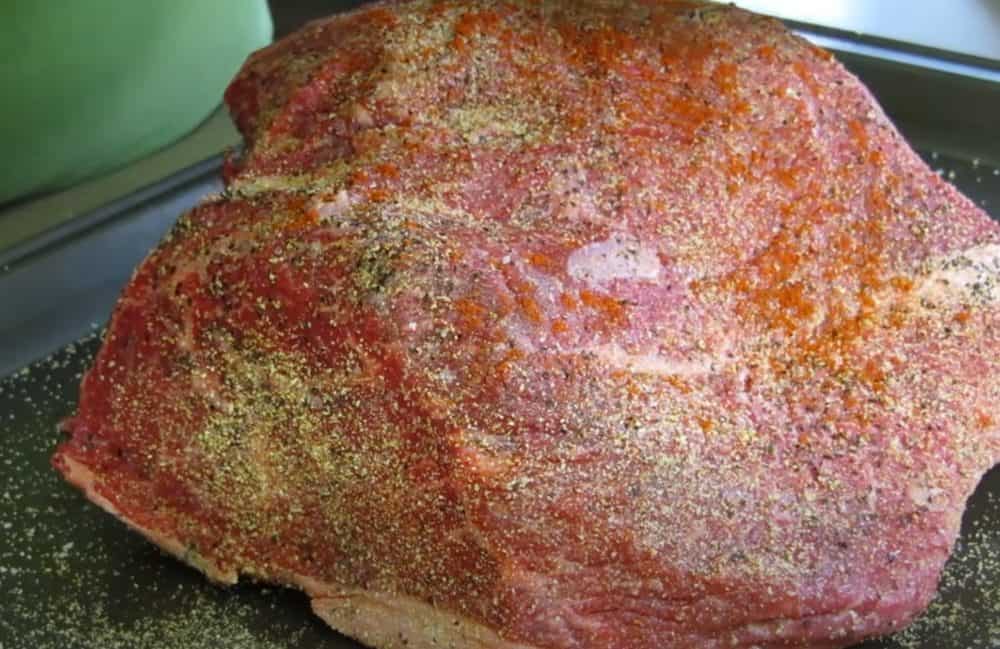 Save the sugary BBQ rubs for your ribs and pork butts.  Especially since we will be searing this roast later and you'll just end up burning all that sugar.
If you REALLY want to use a sugary BBQ rub like Blues Hog, one of our favorites for low and slow cooking, then skip the searing step at the end.
For our recipe below, we use a mixture of kosher salt, black pepper, paprika, onion powder, cayenne, and fresh minced garlic to form our exterior bark.
If you want a quick store bought rub with NO sugar, then try Bad Byron's Butt Rub.  If you read our recipes often, you will see we recommend this one often for sugar free seasoning.
We oil up and season the rump roast for at least 2 hours, preferably overnight, wrapped in plastic wrap in the refrigerator, before placing it on the smoker.
This gives the salt loads of time to penetrate the meat and really flavor it all the way through.
Best Smoking Wood Choices for Smoked Rump Roast
For a big piece of beef like a smoked rump roast, go with something like hickory, alder, or pecan that will compliment the beef well.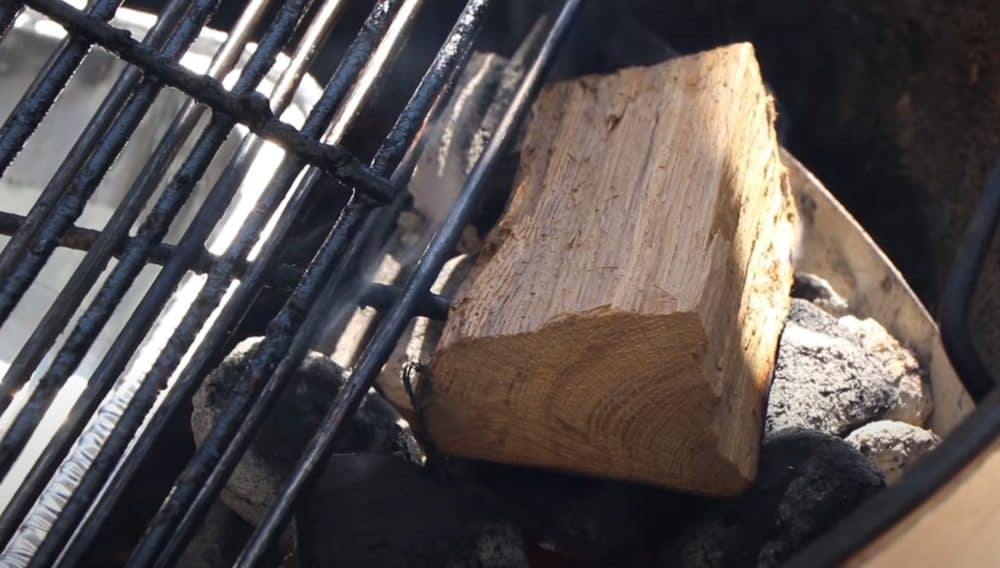 If you want to keep it simple and straightforward, choose a lighter smoking wood like oak, apple, or peach.
Just know that these lighter fruitwoods may not impart as much smokey flavor into the beef as they might with chicken or fish.
When in doubt, you can always mix and match your choices together.
Best Times and Temperatures for Smoking a Rump Roast
You will need to watch both your cooking temperature and internal temperatures carefully when smoking the rump roast.
Grill or Smoker Temperature
We recommend setting up the grill or smoker to cook at 225-250°F INDIRECTLY.
The rump roast is still somewhat lean compared to a lot of traditional BBQ meats, and will cook relatively quickly compared to a big fatty brisket or boston butt for pulled pork.
So we are keeping the temperature low to not only keep the meat moist but to also impart as much smoke flavor in the brief time it takes to cook as we can.
Watch the Internal Temperature Closely
You HAVE to use a good instant read meat thermometer to know where the internal temperature is of your smoked rump roast.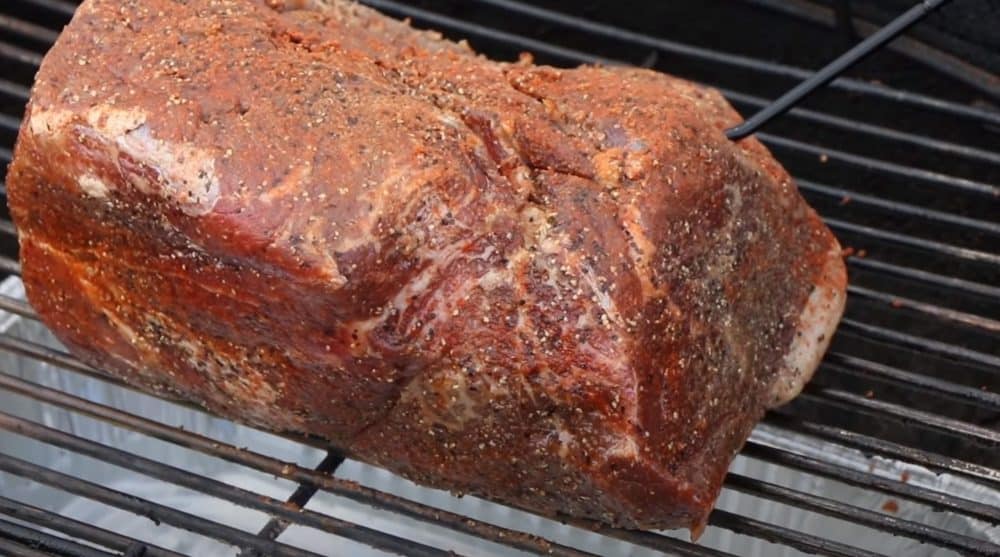 Ideally you want a good leave in probe thermometer like the ThermoPro as well as a second instant read to spot check different depths and areas on the roast.
While we have used and recommended ThermoPro for years, lately we have also become big fans of the MEATER leave in thermometer.
It is extremely accurate and has an incredible 165 foot bluetooth range and works right with your smartphone so you don't need to carry a separate controller around with you like many other remote thermometers require.
It's got a great free app that is constantly being updated and even has an algorithm to predict how much longer your type of meat will take to cook based on cooking temperature, target temperature, current internal temperature.
It's like a GPS for your meat!
Anyways, back to our smoked rump roast.
We are going to slowly bring the internal temperature up to about 125°F, then sear it as hot as we can for about 2 minutes on every side until the internal temperature hits about 131°F and then remove it from the grill or smoker.
You can't do all this without accurate thermometers.  There is very little room for error when smoking a beef roast like a rump roast.
For spot checking throughout the cook, we are particular fans of this one from ThermoPro because of its durability and affordable price.
Everyone from beginner smokers to competition cooks need to use instant thermometers to consistently make great food.
So keep them handy and use them often.
How Long Does it Take to Smoke a Rump Roast?
A general guide is that most beef roasts take about 25-30 minutes per pound to smoke at 225°F.
So plan on a 5 lb rump roast to take about 2 to 2.5 hours to cook to medium rare.
Then add in your searing time and about 30 minutes to let it rest after cooking it before slicing.
Unless you want all those delicious juices running all over your cutting board instead of staying in the meat where you want them, you need to set aside time for the smoked rump roast to rest.
Check out this great example of a smoked rump roast simply cooked on a Weber Kettle from Cooking with Ry:
Setting up your Smoker for a Smoked Rump Roast
Vertical or Offset Charcoal Smoker
See the Weber Smokey Mountain on Amazon
Fill your firebox or lower charcoal basin with about 1/4 a bag of unlit charcoal and create a small hollowed out depression in the center where you can add your lit briquets.
If your smoker comes with a water pan, like the Weber Smokey Mountain, fill the water pan as well to help stabilize the temperature and add moisture to the cooking chamber.
Light a charcoal chimney about 1/3 way with charcoal and wait about 20 minutes for it to fully ignite.  You don't want TOO many lit briquests initially or the temperature will get too high too fast and be unmanageable.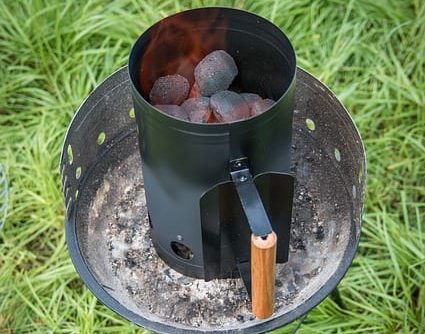 Fill your water pan first, then add the lit briquets to the center depression you created.
Keep the dampers about 1/2 way to 3/4 open until the temperature is to about 200°F.  Then slowly close them down until you are maintaining a temperature of 225-250°F.
This will obviously take longer on a cold winter day than a hot summer one.
Add 1-2 chunks of smoking wood once the smoker is up to temperature and put your oiled and seasoned rump roast on the cooking grate to smoke.
Want to see a list of our FAVORITE Vertical Smokers for 2021?  Check it out here!
Propane or Electric Smoker
See Masterbuilt Reviews on Amazon
Propane and electric options are some of the easiest smokers for beginners to start with.
Debating whether to buy a propane or electric smoker?  Check out our COMPLETE Comparison Guide HERE.
For Propane: Open your gas valve and light the bottom burner. Adjust it to keep the temperature constant at 225° F.
Fill the water tray if there is one.
Need a refresher? Check our our Complete Guide to How to Use a Propane Smoker HERE.
For Electric: Plug your electric smoker in, open the vents, and turn the temperature to 225° F.
While it comes up to temperature, add smoking wood chips, not pellets, to the smoking wood tray.
Fill the water tray if there is one.
Refilling wood chips is one of the major drawbacks, besides tray size, of electric smokers compared to pellet grills like Traegers and Pit Bosses.
However, we recently found a great solution.
If you are tired of having to reload fresh wood chips into your electric smoker, especially on longer cooks like with a smoked rump roast, then check out this Masterbuilt Automatic Slow Smoker Attachment.
It basically burns new fresh wood chips at a constant rate, much like how a pellet grill works, freeing you up to do other things while getting your food nice and smokey!
Masterbuilt Slow Smoker Accessory Attachment
Continuous smoke when cold smoking or hot smoking up to 275˚F

Ideal for smoking cheese, fish, bacon, and jerky

Automatically heats wood chips with the push of a button

Continuous wood feed system provides up to 6 hours of continuous smoke without reloading
Pellet Grill
Check out this Zgrills Pellet Grill on Aamazon
Fill the pellet hopper with your choice of smoking wood pellets.
Plug in the pellet grill and run it through its start up process.
Once it is creating smoke, turn the temperature to 225° F.
When the pellet grill has come up to temperature, place your oiled and seasoned rump roast on the grill grates.
For searing the meat later, don't forget to also throw on your Grill Grates now, preferably over to the side next to the meat to start heating up.
As we've said time and time again, Grill Grates are the perfect, and a necessary, accompaniment to any pellet grill for high heat searing, like with steaks and pork chops.
Never used a pellet grill before? 
Read our ultimate guide to pellet grills to learn why they are so easy and how to set one up for success every time.
Here is also a list of our favorite pellet grills priced under $500
Gas or Charcoal Grill
Read Weber Spirit Reviews on Amazon
On a charcoal grill you can use wood chunks just like you would in a charcoal smoker.
On a gas grill you will likely need to use a smoker box filled with wood chips, or a pellet tube smoker filled with wood pellets.
Think you need a fancy smoker to smoke food at home?  Think again. Great smoked food can be made right on your current gas or charcoal grill.
Check out our Ultimate Guide to Smoking on a Gas Grill HERE.
If you are unfamiliar with these gas grill smoking devices mentioned above, no worries, we have you covered!
Read everything you need to know about smoker boxes here, and see a selection of our favorite pellet tube smokers here.
Can't decide which is best?  Then check out our full comparison guide here.
In the case of a smoked rump roast, we would opt for the pellet tube smoker since it will provide you with a longer smoking time without needing to refill multiple times like a smoker box.
However either one will work just fine depending on what you have available.
Set up your gas or charcoal grill for indirect cooking with the burners or a small amount of lit briquets on one side and plan for your meat to be on the other side.
Later, when it is time to sear the meat, we will move it over to the hot side.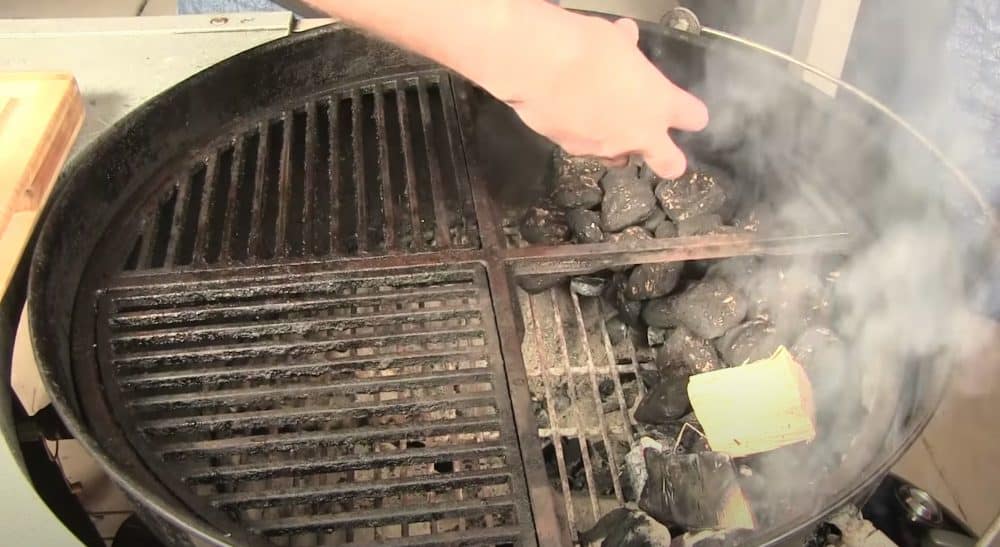 Once the temperature of your grill is about 225-250°F, place your wood chunks, smoker box, or pellet tube smoker over the coals or lit burners and once smoke begins coming out, place your meat on the opposite side.
Reverse Searing the Smoked Rump Roast
"Reverse Searing" is just a fancy term for searing your meat at the very end, once it is pretty much all the way cooked through, in order to get a nice crispy exterior crust that you sometimes just can't get from low and slow smoking alone.
Once the internal temperature of the smoked rump roast reaches about 125°F, you are going to move it with some tongs to the hot part of the grill, some Grill Grates on a pellet grill, or even just a hot cast iron skillet.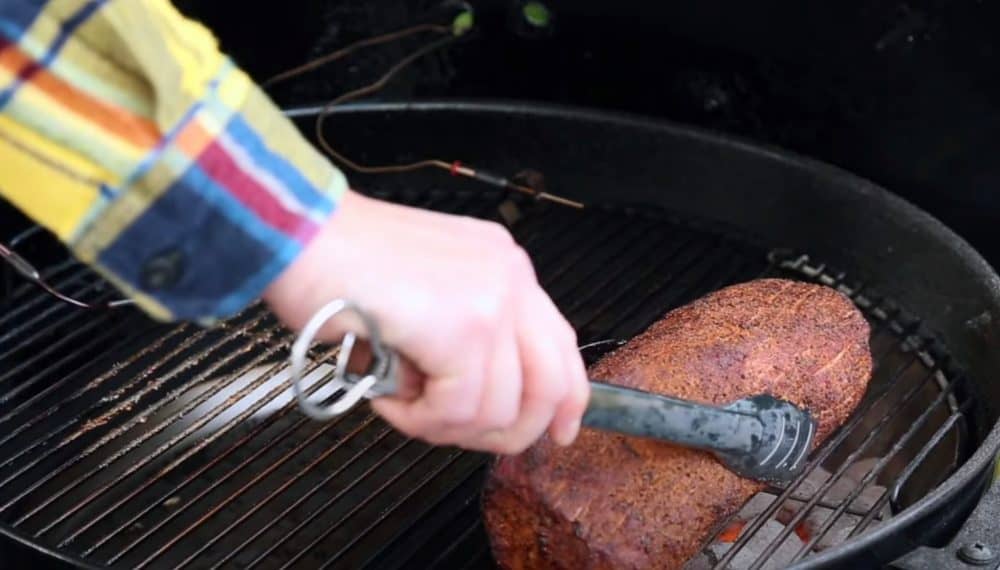 You will need to keep turning the smoked rump roast to get each side seared evenly.
Now, there are several ways to do this depending on what type of grill or smoker you are using.
Gas or Charcoal Grills
These are the easiest grills to reverse sear the a smoked rump roast on.
When the roast is up to 125°F internally, simply move it over to the hot side of the grill over the charcoal or the hot burners and crank the heat.
Use a good pair of long handled BBQ tongs to keep the rump roast continuously rotating and searing on every edge, about 2 minutes per side.
Electric and Propane Smokers
If you are stuck with a vertical electric or propane smoker that only goes up to say, 325°F, you may want to heat up a gas grill burner, a cast iron skillet, or even a flat top grill.
Anything to get a nice searing hot surface to move your smoked rump roast to when it's ready.
Pellet Grills
The hands down BEST way to sear meat on a pellet grill, especially an older model that may not have a built in searing feature like the newest Pit Boss Pro Series and Traeger Ironwood Series, is to use a Grill Grate.
These handy aftermarket pellet grill accessories use the ambient heat of a pellet grill to create a searing hot surface on which to finish your meat hot and fast.
We love them for finishing smoked pork chops, steaks, and hamburgers on a pellet grill such as a Traeger or Camp Chef.
Make sure to measure and choose the right size for your specific pellet grill.
16.25″ Grill Grate Sear Stations for Pellet Grills
Includes THREE 16.25 Long GrillGrates, GrateTool and User Guide.

GET KILLER SEAR MARKS ON YOUR PELLET GRILL: GrillGrates concentrate and amplify the heat of your pellet grill allowing you to actually grill and not bake on your pellet grill.

NEVER RUSTS: Made from highly conductive hard anodized aluminum.
How to Slice a Smoked Rump Roast
Let it Rest
You will then remove the smoked rump roast from the hot grill, Grill Grate, or skillet and let it rest on a cutting board.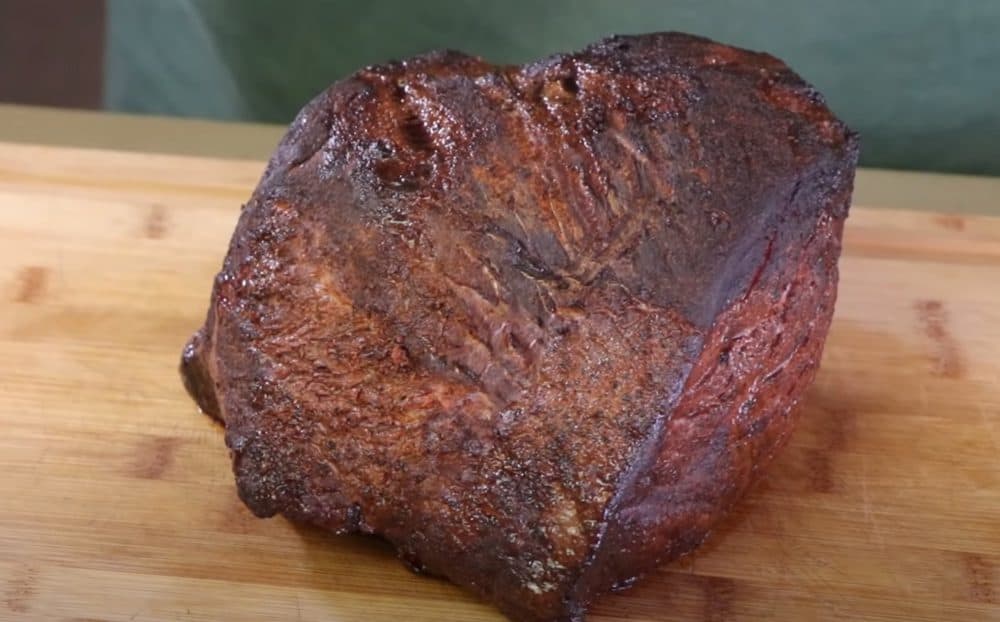 Do not cover, wrap, or tent with foil when you let medium rare beef rest or it will continue to steam and over cook!
Let the smoked rump roast rest for about 20-30 minutes before slicing.
Slicing Like a Pro
Make sure to use a good meat slicing knife if you want those ultra thin deli style slices for the best roast beef ever.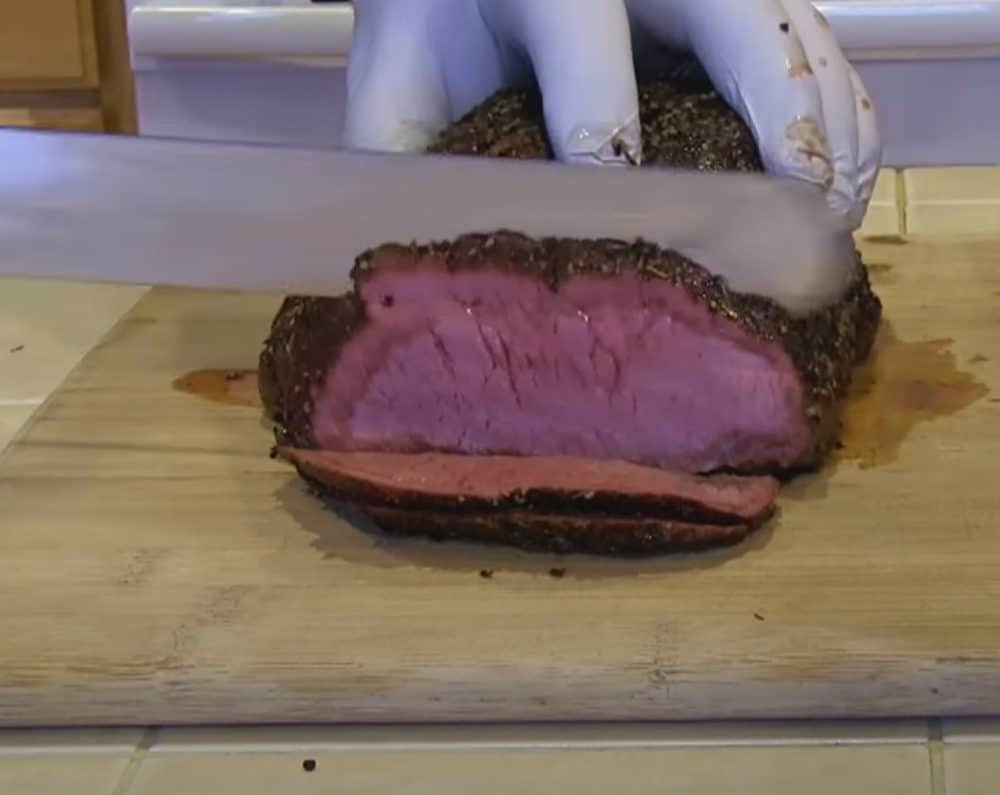 We particularly like this meat slicing knife from Mairico.
Want to review our 5 FAVORITE Meat Cutting knives of the past year? Check out this Complete List HERE!
The outside slices will be more done than the very center if you have people in your house who prefer various levels of doneness to their beef.
Or, if you are serving your smoked rump roast as a dinner, go ahead and slice thicker 1/4″ slices to serve with a jus, horseradish, or maybe a rosemary cream sauce.
Make sure to only slice what you plan to eat immediately in order to keep the beef roast as moist as possible.
Best Things to Serve on the Side
You can't go wrong with a flavorful jus to make a smoked french dip or a traditional horseradish cream to cut through the richness of the smoked rump roast beef.
For sides, we especially like asparagus, our yummy smoked carrots, or sticky smoked sweet potatoes.
Hope you enjoy!
What Other Foods Can I Smoke?
Looking for some more smoky inspiration?
So glad you asked.
Check out some of our other great recipes of smoked and grilled food to try out at your next outdoor BBQ!
Pork
Beef
Seafood
Poultry
Lamb
Other Odds and Ends
Smoked Rump Roast with Red Wine Jus
Learn step by step how to make a smoked rump roast on ANY grill, pellet grill, or smoker!
We season, smoke, and sear this beef rump roast to a perfect medium rare then slice and serve with an optional Red Wine Jus.
Whether you have a Traeger or Pit Boss pellet grill, a Masterbuilt electric smoker, or a Weber kettle, we've got you covered.
Equipment
Smoker, Grill or Pellet Grill

Cutting Board

Meat Slicing Knife

Instant Read Thermometer

Dual Probe Thermometer

Wood for smoking (chunks, chips, or pellets).

Preferably Hickory or Pecan.

Large Cast Iron Pan

for searing and to make the red wine jus
Ingredients  
1

Rump Roast

About 5 lbs

2

Tbsp

Cooking Oil

High smoke point oil like avocado or grapeseed oil
Savory Beef Rub
½

cup

Kosher Salt

½

cup

Black Pepper

¼

cup

Fresh minced garlic

about 10 cloves fresh

1

Tbsp

Paprika

1

Tbsp

Dried rosemary or can substitute fresh rosemary

finely minced

½

Tbsp

Onion Powder

1

tsp

Dried Thyme
Red Wine Jus
Beef Drippings after Searing

in cast iron pan

2

Tbsp

Cooking Oil

preferably a high smoke point like grapeseed or avocado oil

2

Tbsp

Flour

1½

Cups

Red Wine

2

Cups

Beef Stock

1

tsp

Soy Sauce

salt and pepper to taste
Instructions 
Season the Rump Roast
Take the rump roast out of the packaging and trim any excess fat present.

Rub with a thin layer of cooking oil.

Mix all the Beef Rub ingredients and thoroughly coat the entire outside of the rump roast including the sides with the mixture.

½ cup Kosher Salt,

½ cup Black Pepper,

¼ cup Fresh minced garlic,

1 Tbsp Paprika,

1 Tbsp Dried rosemary or can substitute fresh rosemary,

½ Tbsp Onion Powder,

1 tsp Dried Thyme

Wrap in plastic wrap and place in the refrigerator until you are ready to put on the grill or smoker.
Setup and Start the Grill or Smoker
Start or light your smoker and bring the temperature up to 225°F. If using a gas or charcoal grill, only light one side and set the grill up for indirect heat.

If not using a pellet grill, add wood to the smoker using either chunks or a smoker box or pellet tube smoker placed over the hot charcoal or burners on a gas grill.
Smoke the Rump Roast
Place the rump roast in the cooking chamber away from any direct heat. Place a temperature probe into the deepest part of the roast.

Smoke for about 2 hours until the internal temperature reaches about 120°F.

Preheat a large Cast Iron Skillet over High heat while the rump roast is smoking.
Reverse Sear the Smoked Rump Roast
Add 2 Tbsp cooking oil to the cast iron skillet a few minutes before searing the rump roast.

Once the internal temperature of the smoked rump roast reaches 120°F, move the beef roast to the cast iron skillet for reverse searing. Rotate about 2 minutes on each side until it is fully seared on all edges.

Remove the smoked rump roast to rest on a cutting board, uncovered, for about 20-30 minutes while you prepare the Red Wine Jus.
Prepare the Red Wine Jus
Lower the heat of the cast iron skillet to medium and wait 5 minutes for it to come down in tempareture a little bit.

Whisk the four into the remaining cooking oil and beef drippings in the pan. Whisk constantly for about 2 minutes and let the flour turn brown.

Add the wine and whisk another 1 minute and then the beef stock and soy sauce.

Bring to a simmer and simmer gently for about 10 minutes, stirring occasionally, and then remove the skillet from the heat.
Remove, Rest, and Slice the Smoked Rump Roast
Using a good meat slicing knife, slice the smoked rump roast in about 1/4" thick slices. Only slice what you plan to eat so the meat does not dry out.

Serve immediately with the hot Red Wine Jus for guests to pour over their meat.
Video
Notes
Video example from Cooking with Ry
Nutrition