Learn how to make the best smoked turkey legs on ANY grill or smoker, whether its a Traeger or Pit Boss pellet grill, a Masterbuilt electric smoker, or just a simple Weber kettle!
Smoked turkey legs are easy to make, easy to serve, and best of all...FUN to eat for both kids and adults!
Let's get started!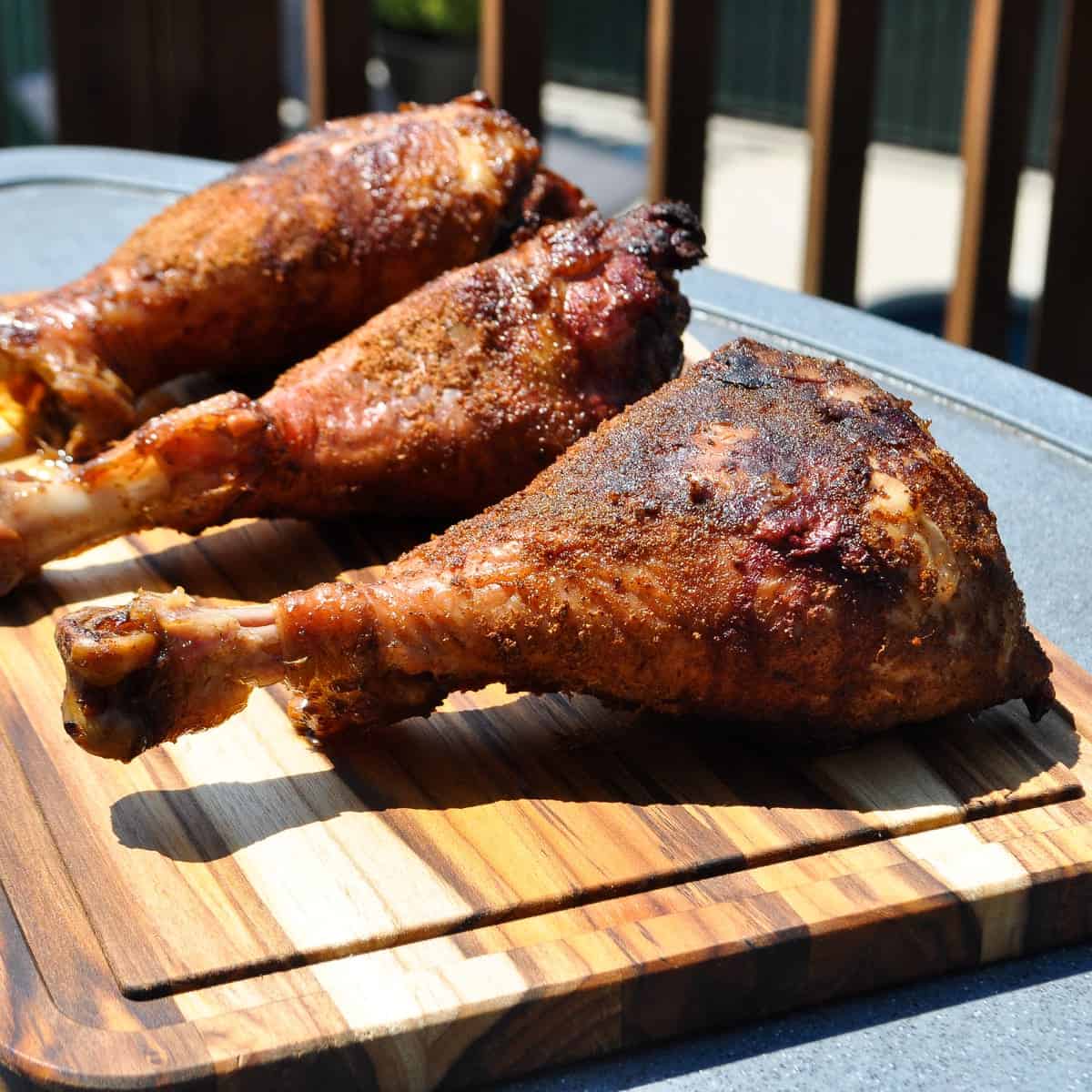 We love smoking turkey around here.
Whether it's a Whole Pellet Grill Thanksgiving Turkey, the fool proof Spatchocked Turkey, our Garlic Butter Injected Smoked Turkey Breast, or the "Are you OUT of your MIND?" Trash Can Turkey...yes you read that right...we love turkey cooked on the grill...or smoker...or...trash can.
But today we are simplifying things and focusing on the always-fun, Disney-inspired, cave-manny, walk around and socialize whilst you eat...smoked turkey legs.
First we are going to do an easy overnight brine to make sure they stay moist and flavorful throughout the cook.
Then, we will season them up with our all time favorite BBQ rub for turkey and cook them over medium heat indirectly until perfectly cooked and colored.
You can do this on your pellet grill, a charcoal or gas grill, or even in an electric smoker.  We have details for each method below so no one gets left behind today.
Let's Go!
Jump to:
Separating Turkey Legs from Thighs
If you're able to find turkey legs already separated from the thighs, you can skip this step. We usually can only find turkey leg quarters in our stores, so we have to cut the leg from the thigh.
We have detailed instructions for how to do this in our Smoked Turkey Thighs article, but briefly, you use a good knife like our favorite from iMarku to cut through the meat at the joint.
Then pull the thigh and leg apart.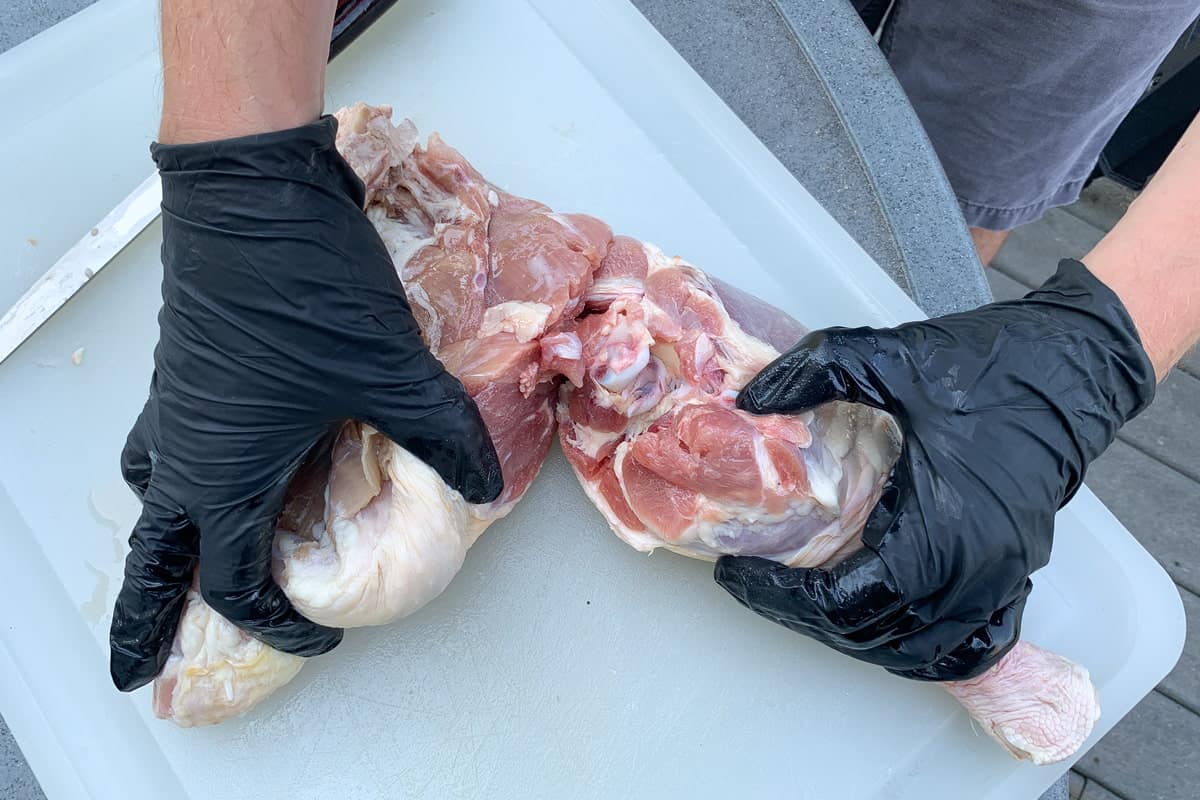 Brining the Turkey Legs
A turkey prep method you'll read about a lot is brining.  When most people refer to brining a turkey they are referring more specifically to wet brining.
At its most basic, this is just soaking the turkey overnight in a solution that usually includes salt, sugar, water and maybe some aromatics.
But, what does it do?
Well, the salt naturally penetrates overnight and helps to not only flavor the meat but also retain moisture throughout the cooking process.
Do you HAVE to brine your turkey legs before you smoke them?
Of course not.
But we wouldn't recommend going through this extra step if it didn't make them taste phenomenal.
We've got a quick smoked turkey leg brine in the recipe below.
Simply mix it up the day before and then soak your turkey legs in a plastic food storage bag or covered container.
You can use also one of the many brining recipes found online (Alton Brown's is a classic) or save a bit of effort with a premade turkey brining solution if you'd rather save some time.
Brine for a good 6-12 hours before you smoke the turkey legs, you'll be glad you did.
Our Favorite Seasonings
Take the turkey legs out of the brining solution and rinse them off under cold running water and pat dry before seasoning.
Don't worry, there's still plenty of briny goodness inside the meat.  But you don't want to leave it on the outside AND add a salty rub on top of it or your smoked turkey legs will taste like a salt lick.
Now, you can use ANY of your favorite BBQ rubs.  Since we are only smoking these at 300°F, we don't need to worry about burning any sugary rubs.
So choose anything you like and sprinkle it on generously on all sides of each leg.
No need to oil them up, this will just inhibit the skin from crisping up.
Three Little Pigs Touch of Cherry is one of our personal favorite rubs for smoked turkey, and their Kansas City Championship Rub will give you a good hit of garlic, onion, and some heat if you like more of those flavors.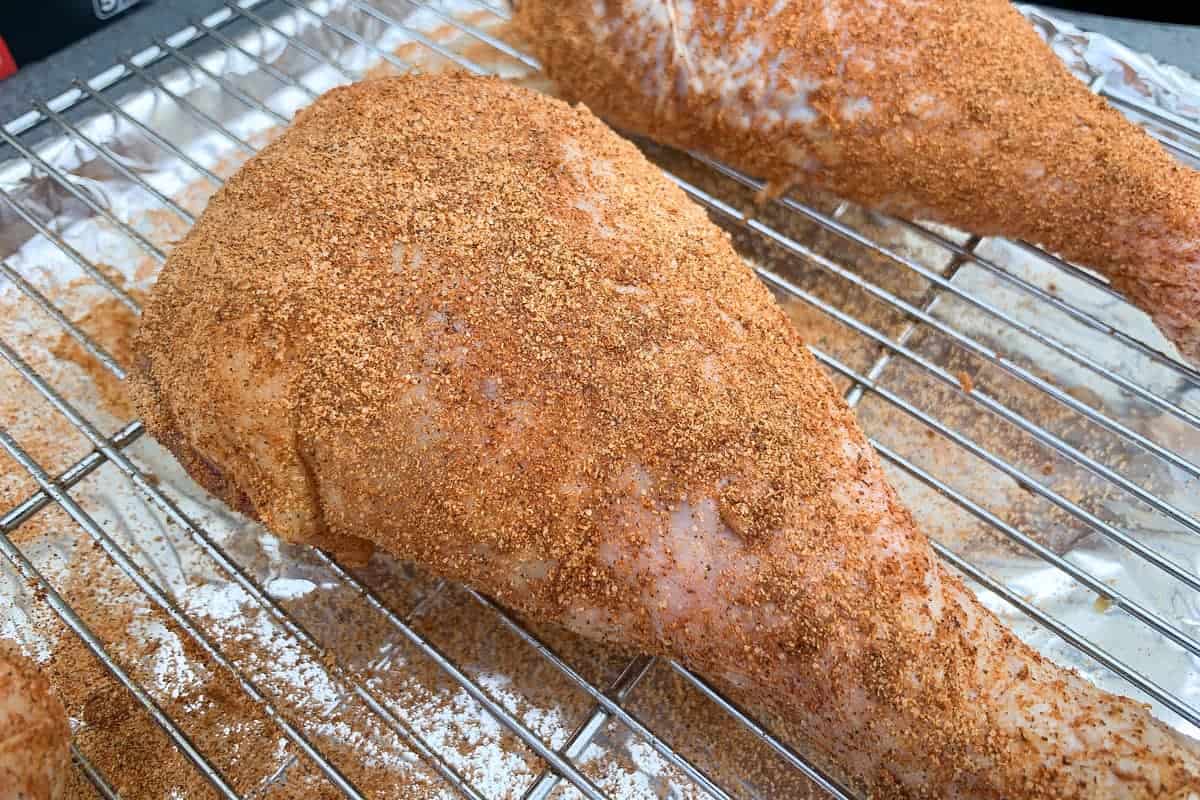 You can always mix it in with a more balanced rub like Blues Hog if you just want to add a little of those flavors. We also love Bad Byron's Butt Rub, which contains no sugar if that appeals to you.
Best Types of Wood Pellets or Wood
For turkey we generally go for a milder smoke flavor by choosing oak or fruitwood pellets.
Pecan, apple, beech and cherry all give great results.
For fun, you can choose your woods seasonally, using beech and cherry in spring and summer and pecan and apple into the fall and winter.
Smoker Temperature
You will need to watch both your cooking temperature and internal temperature carefully when smoking the turkey legs.
We recommend setting up the grill or smoker for indirect heat to cook at 300°F.
This seems to be the best temperature for smoking turkey legs.
Any lower your smoked turkey legs will not only take forever but the skin likely won't crisp up.
Any higher and you risk burning the sugar in your BBQ rub.
Target Internal Temperature
You HAVE to use a good instant read meat thermometer to know where the internal temperature is of your smoked turkey legs.
If your smoked turkey legs are big enough, you'll want a good leave in probe thermometer like the Thermopro as well as a second instant read thermometer to spot check as you get close to pulling them off the smoker.
If you don't yet own an instant read thermometer, ThermoPro makes a good one of these too.
While we have used and recommended ThermoPro for years, lately we have also become big fans of the MEATER leave in thermometer.
It is extremely accurate and has an incredible 165 foot Bluetooth range and works right with your smartphone so you don't need to carry a separate controller around with you like many other remote thermometers require.
It's got a great free app that is constantly being updated and even has an algorithm to predict how much longer your type of meat will take to cook based on cooking temperature, target temperature, current internal temperature.
It's like a GPS for your meat!
We are going to bring the internal temperature of our smoked turkey legs up to 175°F.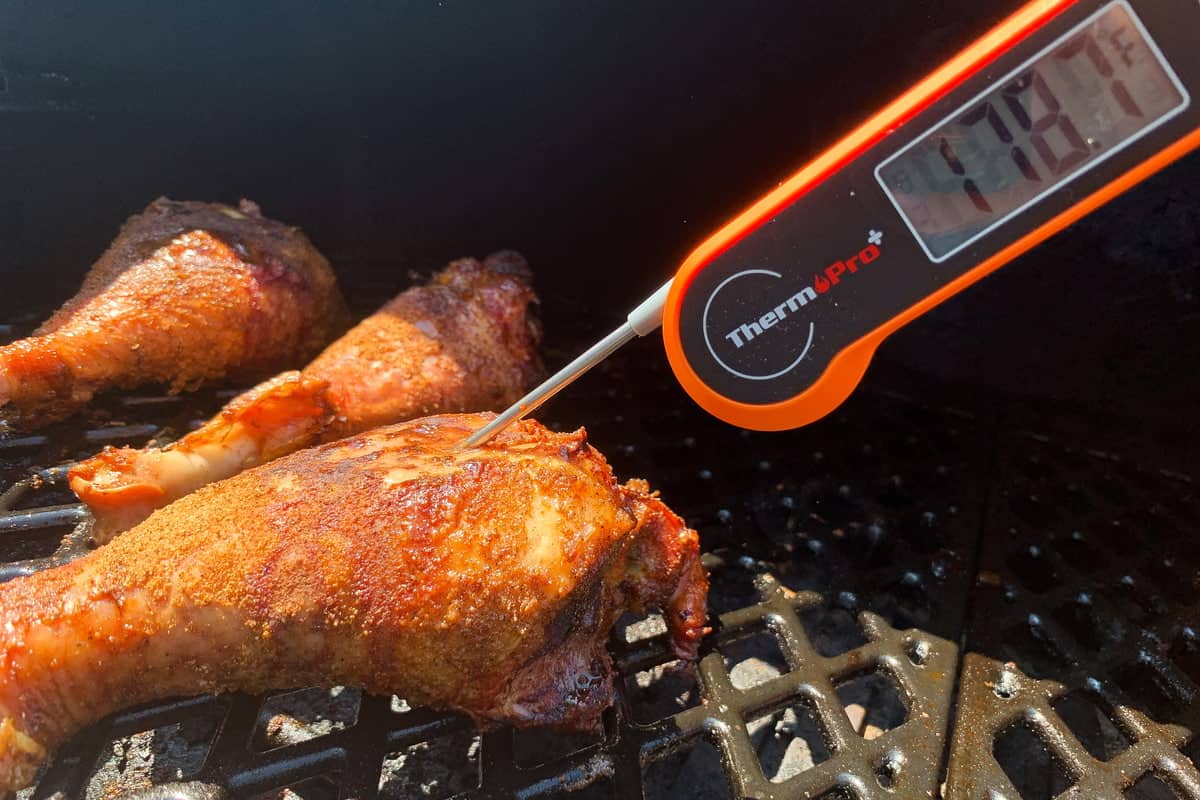 Since the turkey legs, like turkey thighs, are dark meat, they need to cook up a little higher than say a white meat turkey breast that only needs to hit 165°F internally.
We also think the meat just tastes better when cooked that high as all the fat renders out completely.
How Long Does it Take to Smoke Turkey Legs?
You'll want to monitor the internal temperature of the turkey legs closely for doneness.
Remember, we are bringing them all the way up to 175°F on your instant read thermometer.
In a 300°F smoker or grill this will take roughly 3 hours.
We are attempting to slow cook them and crisp up the skin at the same time, and it takes time for that tougher turkey leg meat to get fall off the bone tender and all the fat to render out from under  the skin.
Depending on the size of your turkey legs, how consistent your smoker temperature is, the humidity outside, as well a number of other factors, your cooking time may be more or less, so be prepared.
Pro Tip: If you want the crispiest skin possible, avoid basting or spraying the turkey legs with anything while they are smoking.
Keep the lid closed as much as possible, and use the temperature probes to tell you when the turkey legs are done.
Serving Suggestions
One of the best parts of serving smoked turkey legs if you can serve them just how they are!
No carving or utensils necessary!
You can even walk around the party and talk with your guests while chomping away on one like a caveman or cavewoman!
If you want to serve your smoked turkey legs with a BBQ sauce, we recommend basting the turkey legs with your favorite sauce such as our favorite Blues Hog when they reach about 155-160°F internally.
We also love Blues Hog Championship Blend, which is a mixture of their original sauce with their vinegar based Tennessee Red.
Let the sauce thicken up for those last 15-30 minutes on the smoker before you pull them off.
Our Sticky Smoked Sweet Potatoes go GREAT with Smoked Turkey Legs, or try our Smoked Macaroni and Cheese or Smoked Mashed Potatoes!
Helpful Accessories
Foolproof smoked turkey legs start, of course, with good turkey and a great grill or smoker!
Choose one with the space and features you need to optimize your experience. From there, you can go as simple or fancy as you want.
Some good grilling tools are the next thing you need.
Quality, long handled tongs make it easy to maneuver your meat. I also like to have a pair of silicone oven mitts to get my hands on what I'm cooking more easily.
For a COMPLETE list of our favorite insulated BBQ Gloves, check out this article here.
And, of course, a variety of smoking woods and brine mixes to choose from always helps!
📖 Recipe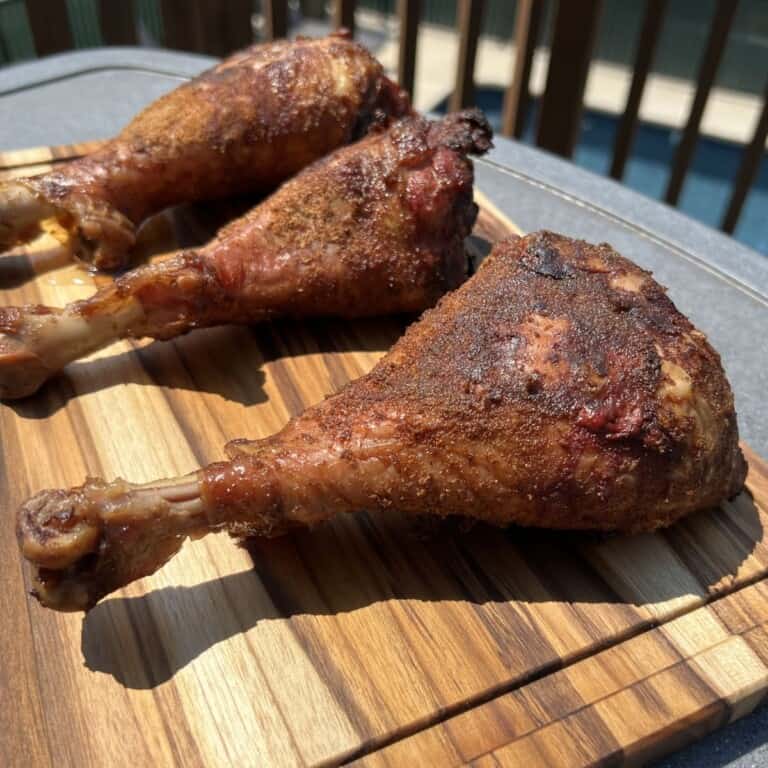 Easy Smoked Turkey Legs
Turkey legs brined overnight then slow smoked with indirect heat until fall apart tender meat with crispy skin.
These smoked turkey legs can be made on a gas grill, a pellet grill like a Traeger, Pit Boss or Camp Chef, or in any kind of propane or electric smoker such as a Masterbuilt.
Equipment
Gas Grill, Pellet Grill, or Smoker

Wood pellets, chunks, or a pellet tube smoker with pellets or a smoker box with wood chips

Paper Towels

Baking Dish or Large Sealable Plastic Food Storage Bags

Instant Read and/or Leave in Probe Thermometer

Cutting Board
Ingredients  
4

Large Raw Turkey Legs

Your Favorite BBQ Rub
Overnight Brine
1

Cup

Hot Water

4

Cups

Cold Water

2

tablespoon

Salt

2

tablespoon

Brown Sugar

2

Bay Leaves whole

2

cloves

Garlic minced

or 1 tablespoon garlic powder

1

teaspoon

Black Pepper
Instructions 
Remove the turkey legs form their packaging and rinse under cold running water.
Brine the Turkey Legs Overnight
Bring 1 cup water to a gentle simmer in a stovetop pot. Add salt and brown sugar and whisk until dissolved.

Add bay leaves, garlic, pepper, and cold water and remove from heat.

Once cooled, pour the brine mixture over the turkey legs in a covered baking dish or sealable plastic bag.

Place in the refrigerator overnight or for at least 4-6 hours.
Rinse and Dry the Brined Turkey Legs
After the turkey legs are finished brining, take them out of the mixture and rinse them off really well under cold running water.

Pat the turkey legs dry with paper towels, and place them on a wire rack over a baking sheet to air dry.

Generously sprinkle your favorite BBQ rub all over the turkey legs on all sides.
Set up your Grill or Smoker
Light or turn on your smoker, grill or pellet grill and set up the temperature to 300°F. If using a grill, only light a small amount of charcoal or light a single burner on one side for indirect cooking

Add your wood chunks directly to the firebox of a smoker, or use chips in a smoker box, or pellets in a tube smoker or pellet grill.

Once smoke is being produced and the grill or smoker is at 300°F, put your turkey legs on the indirect side and close the lid.
Smoking the Turkey Legs
Continue smoking the turkey legs, turning occasionally, until the internal temperature reaches 175°F internally. This may take 2-3 hours.

Remove the smoked turkey legs from the smoker and serve immediately.
Notes
Recipe inspired by and video courtesy of Baum Grilling BBQ
Nutrition