Learn how to make smoked crab legs on ANY grill or smoker!
Smoked Crab Legs are easy to prepare, whether you are using a pellet grill like a Traeger, Camp Chef, or Pit Boss, a propane or electric smoker like a Masterbuilt, or just a conventional grill like a Weber. 
Check out our easy recipe below that also includes a Cajun Clarified Butter for basting and dipping.
Let's go!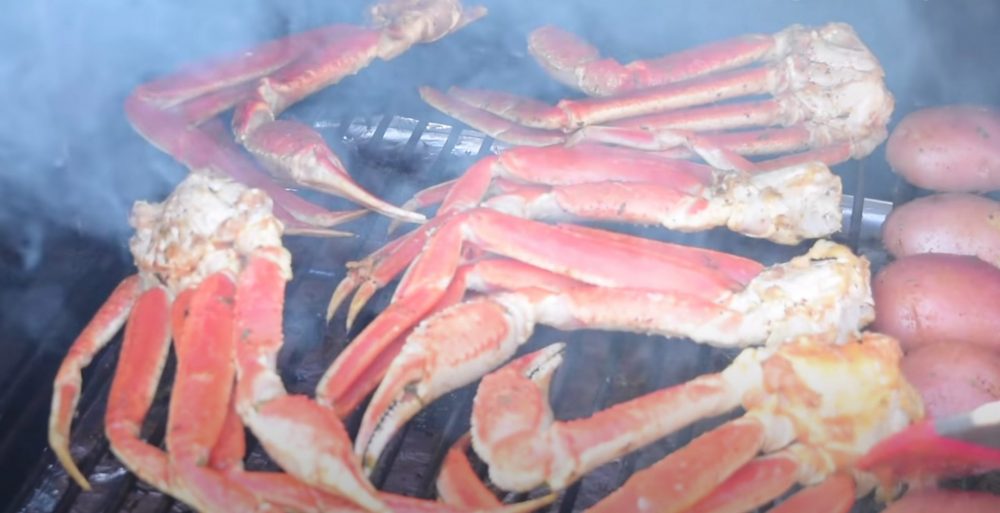 Preparing the Crab Legs for Smoking
Crab legs are traditionally steamed and the served with clarified butter for dipping, sometimes referred to as drawn butter.
This is simply melted butter with the milk fat solids removed so that it is more clear and thin and well…appetizing.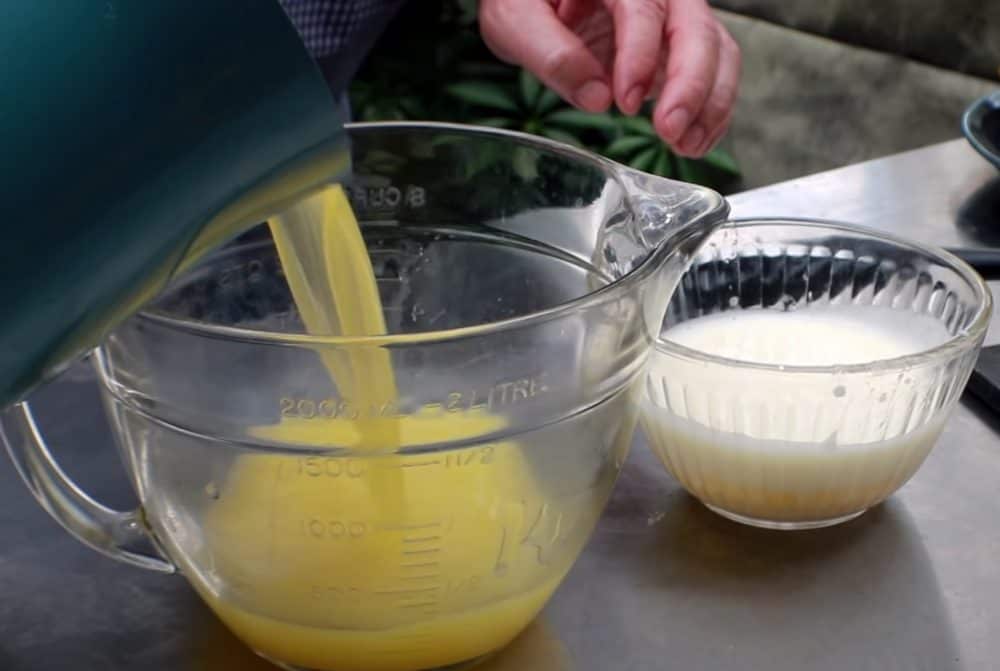 We are going to kick it up a notch by adding some garlic, lemon, and cajun seasonings and spices to our drawn butter.
Weare especially big fans of Zatarain's Liquid Shrimp and Crab Boil to give your cajun butter that authentic cajun crab boil flavor.  
Mix about a tablespoon of that stuff in along with some garlic and lemon and you are in serious business.
We'll be basting the crab legs while we are smoking them, and then also setting some aside for dipping after the crab legs come off the smoker.
Preparing the Cajun Clarified Butter
Melt your butter in a saucepan as SLOW as you can on VERY LOW heat.
Slowly stir to break up the sticks as they melt.
Once the butter has melted you can turn off the heat and gently skim off all the milk fat solids from the top leaving only the clear, or clarified, butter remaining.
You can follow our cajun inspired recipe below or add your own spices to season the butter how you want it.
Divide up the Clarified Butter
Make sure you have set aside about half of your cajun clarified butter for dipping later.
You don't want to cross contaminate the butter you are basting the carb legs with while they are smoking with the butter you will be dipping into later.
This is a food safety rule and should be followed with ALL marinades and sauces you baste food with while its cooking.
Coat and Baste the Smoking Crab Legs
Pour anywhere from 1/3 to 1/2 of the seasoned clarified butter into an aluminum foil pan and roll your crab legs around in the butter before putting them on the smoker.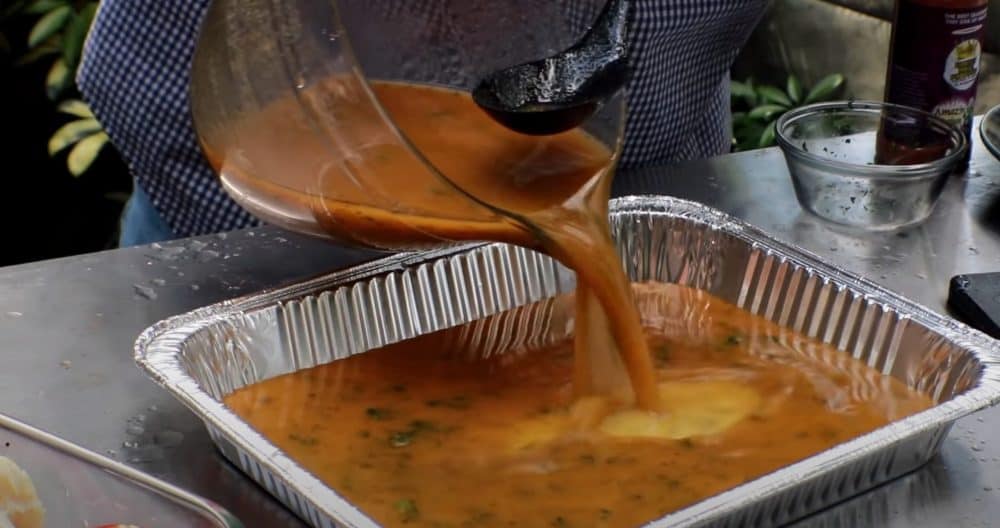 Yes, this will mainly coat and season the shells but will also give the crab legs a great color while they are smoking and trust us that a lot of that flavor will make its way into the crab legs over the next 45 minutes.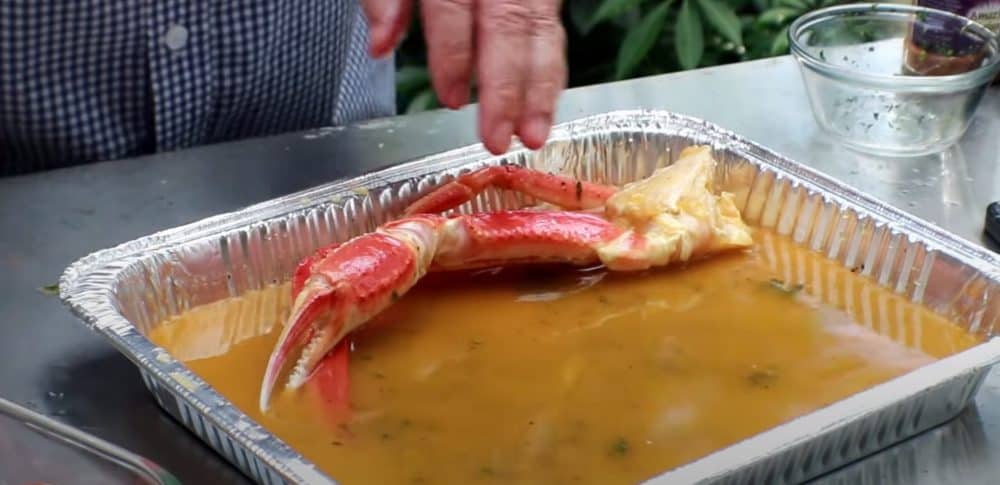 At the 15 and 30 minute marks, use the leftover butter from the foil pan to baste the smoked crab legs some more on both sides.
Choosing the Best Wood for Smoked Crab Legs
Like most seafood, smoked crab legs benefit from a milder smoking wood such as peach, apple, or cherry.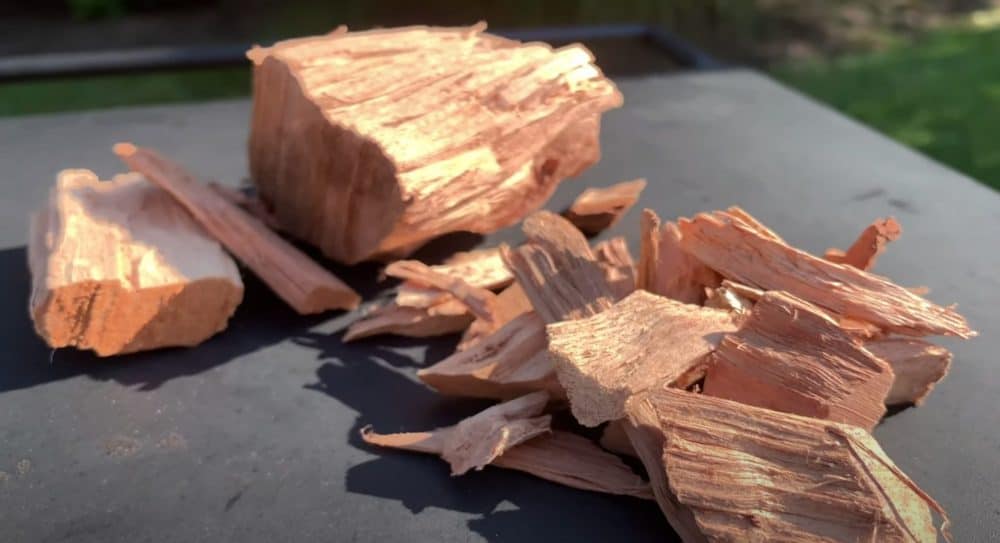 A little hickory is fine but we recommend using a small amount and blending it with some milder fruitwoods.
Best Times and Temperatures for Smoked Crab Legs
What is the Best Temperature to Smoke Crab Legs?
We are going to set up the smoker or grill for indirect cooking at 225°F.
This will allow the crab legs to absorb plenty of smokey flavor for about 45 minutes while we also baste on the cajun butter seasoning every 15 minutes or so.
How Long Does it Take to Smoke Crab Legs?
Most frozen crab legs sold in the US are already pre-cooked so you will in essence just be heating up the crab legs while smoking them if you buy frozen crab legs.
Make sure to thaw them a little before throwing them on the hot smoker.
If you are smoking fresh, raw crab legs, they should be a bright red color and fully cooked after the 45 minutes of smoking.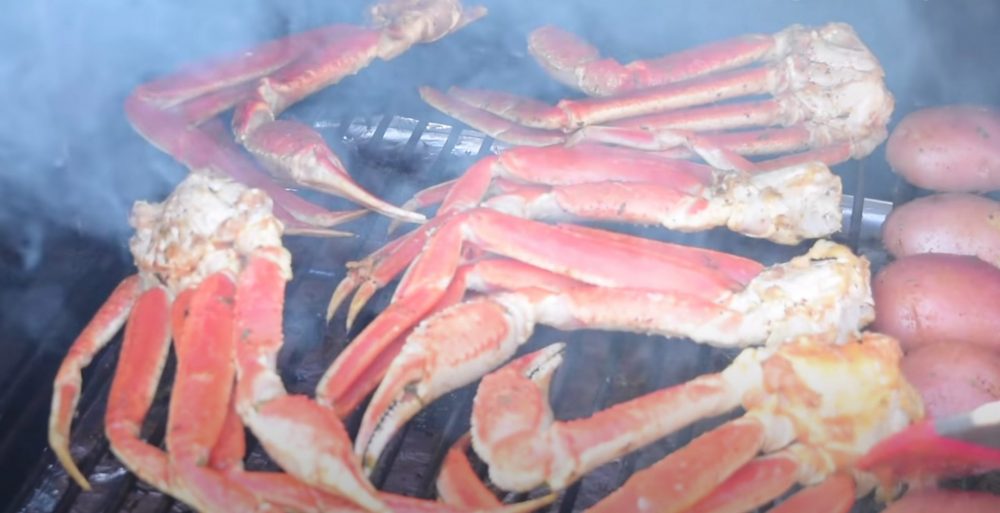 Unfortunately, unlike a steak or peice of fish, we can't just stick a temperature probe in the hard shelled crab leg to check for doneness.
But, you can always check one of them for doneness by cracking it open and inspecting the meat.  It should be firm and not slimy and slide out easily in one piece.
Rather Watch Than Read?
Check out this great video by Armadillo Pepper doing their version of smoked crab legs on a Pit Boss pellet grill.
Smoking Crab Legs with Grill Baskets or Phat Mats
You may be more successful if you place the smoked crab legs in a grill basket rather than directly on the grill grates.
Especially if you have little orphan legs that can easily fall between the grates.
We are particular fans of the ORDORA Portable Grill Basket because it comes with its own handle, making it much easier to manage and move lots of delicate food around with one quick motion.
Another option is to use a grill mat, which are becoming increasingly popular in many BBQ circles, especially for delicate veggies and small seafood like shrimp and scallops.
Our personal favorite is the PhatMat Non Stick Grill Mat.
Just throw it down on your grill to keep your smoked crab legs (or any other food) from falling through.
It keeps your grates really clean, and when you are done, you just throw it right in the dishwasher!
PhatMat Non Stick Grill Mats Mesh – Set of 2
? GRILL LIKE A BOSS - Our heavy duty mesh design allows your barbeque masterpiece to fully absorb those awesome smoky flavors.

? NO MESS - Never grill on a nasty grill grate again! These bbq mats for grill keeps all your barbecue creations from falling through the grates! Nonstick, easy clean up, reusable, washable and dishwasher safe!
Setting up your Smoker for Crab Legs
Vertical or Offset Charcoal Smoker
Read Char-Broil Reviews on Amazon
Fill your firebox or lower charcoal basin with a few handfuls of unlit charcoal and create a small hollowed out depression in the center where you can add your lit briquets.
If your smoker comes with a water pan, like the Weber Smokey Mountain, fill the water pan as well to help stabilize the temperature and add moisture to the cooking chamber.
Light a charcoal chimney about 1/4 way with charcoal and wait about 15 minutes for it to fully ignite.
You will not need too many briquets here because we are only smoking the crab legs for about 45 minutes.
Fill your water pan first, then add the lit briquets to the center depression you created.
Keep the dampers about 1/2 way to 3/4 open until the cooking chamber temperature reaches about 200°F.  Then slowly close them down until they are just barely open and you are maintaining a temperature of 225° F.
Place 1 chunk of your chosen smoking wood on top of your lit charcoal once the smoker is up to temperature and put your crab legs on once the smoker is actively producing smoke.
Place your buttered crab legs either directly on the rack, or in a grill basket, or on a Phat Mat, and close the door.
Want to see a list of our FAVORITE Vertical Smokers for 2021?  Check it out here!
Propane or Electric Smoker
See Masterbuilt Reviews on Amazon
Propane and electric options are some of the easiest smokers for beginners to start with.
For Propane: Open your gas valve and light the bottom burner. Adjust it to keep the temperature constant at 225° F.
Need a refresher? Check our our Complete Guide to How to Use a Propane Smoker HERE.
For Electric: Plug your electric smoker in, open the vents, and turn the temperature to 225° F.
While it comes up to temperature, add smoking wood chips, not pellets, to the smoking wood tray.
Fill the water tray if there is one.
Place your buttered and seasoned crab legs either directly on the rack, in a grill basket, or on a Phat Mat, and close the door.
Debating whether to buy a propane or electric smoker?  Check out our COMPLETE Comparison Guide HERE.
Pellet Grill
Check out this Z Grills Pellet Grill on Amazon
Pellet grills like the ones from Traeger and Camp Chef are great for smoking crab legs.
Fill the pellet hopper with your choice of smoking wood pellets.
Plug in the pellet grill, turn it on and let it run through its start up process.
Then turn the temperature to 225°F.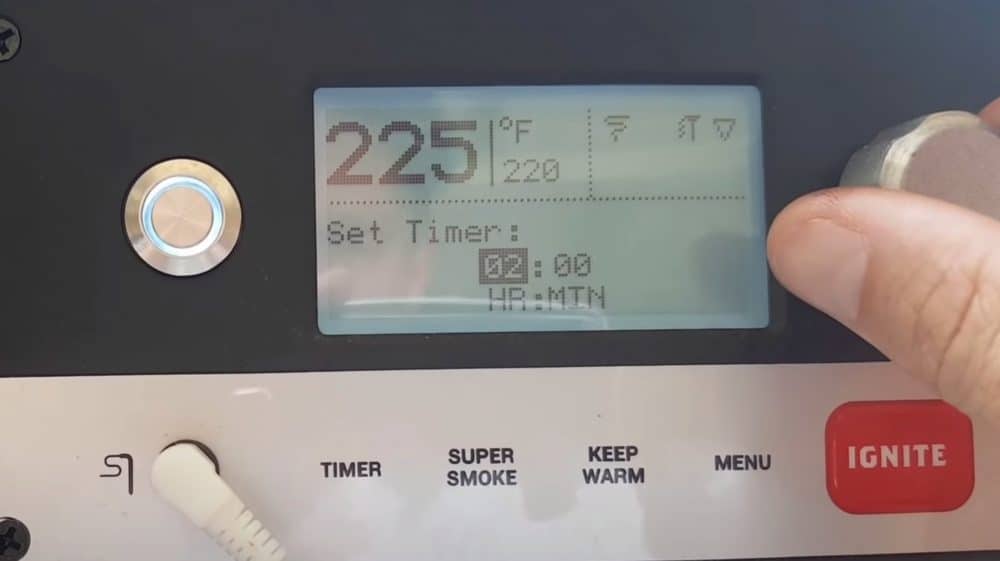 When the pellet grill has come up to temperature, place your buttered crab legs in the pellet grill set up for indirect heat.
Place the crab legs either directly on the rack, in a grill basket, or on a Phat Mat, and close the door.
Never used a pellet grill like a Traeger or a Pit Boss before? 
Read our ultimate guide to pellet grills to learn why they are so easy to use and how to set one up for success every time.
Here is also a list of our Favorite Pellet Grills for 2021 priced under $500!
Gas or Charcoal Grill
Check out the Weber Spirit on Amazon
On a gas or charcoal grill you will likely need to use a smoker box filled with wood chips, or a pellet tube smoker filled with wood pellets.
Think you need a fancy smoker to smoke food at home? Think again. Great smoked food can be made right on your current gas or charcoal grill!
Check out this Step by Step Guide to Smoking on a Gas Grill HERE.
If you are unfamiliar with these gas grill smoking devices mentioned above, no worries, we have you covered!
You can read all about smoker boxes here, and see a selection of our favorite pellet tube smokers here.
Not sure which is best to use?
Check out this guide comparing smoker boxes to pellet smoker tubes.
In the case of smoked crab legs, we would opt for just using the smoker box filled with some wood chips since we will be cooking for probably no longer than about 45 minutes
Set up your gas or charcoal grill for indirect cooking with the burners or a small amount of lit briquets on one side and plan for your crab legs to be on the other side.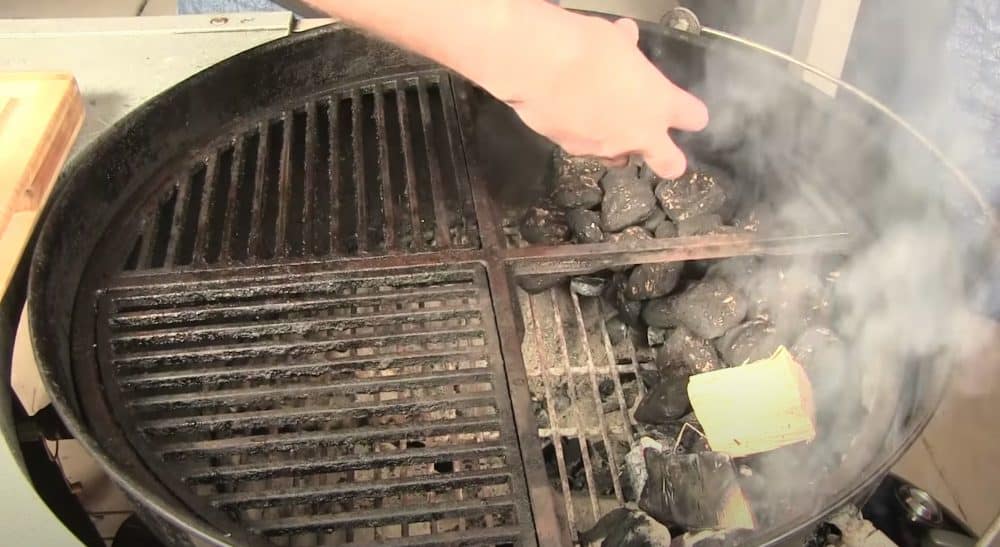 Once the temperature of your grill is around 225°F on the INDIRECT side, place your smoker box or pellet tube smoker over the coals or lit burners and once smoke begins coming out, place your crab legs on the opposite side of the heat.
Make sure to oil the grates on the indirect side well so that the smoked crab legs do not stick.  However with the clarified butter on them this shouldn't be a problem.
Again, you can also use a grill basket or a Phat Mat to make managing the smoked crab legs easier, and close the lid.
Monitor your Grill or Smoker Temperature
Almost every grill and smoker will have some sort of temperature gauge on them.
Now, if you are using a pellet grill or electric smoker, you should be able to pretty accurately dial in your desired temperature of 225°F with the turn of a dial.
This is what makes them so convenient!
If, however, you are using a charcoal or propane grill/smoker, you can't rely on the cheap lid mounted temperature gauge that come installed on them.
We have found these can sometimes be up to 30°F off from what the true actual temperature at the grill grate level.
This is unacceptable.
This is why you will always see competition cooks, and backyard chefs who know their stuff, using wireless digital probe thermometers to keep track of both their meat AND their cooking chamber.
And even if you have a fancy pellet grill like a Traeger or even an electric smoker, it can't hurt to double check how accurate your temperature settings are to the true temperatures you are getting.
We are big fans of the ThermoPro Wireless Digital Meat Thermometer series.
ThermoPro TP08S Wireless Digital Meat Thermometer
300ft remote range and hassle-free setup: Wireless meat thermometer monitors your food and grill temp up to 300 feet away

Dual probes for food and BBQ: Meat thermometer oven safe with highly accurate stainless steel food probe

Food and ambient temp alarm: Set your desired food temp and HI/LOW temp range for your grill or smoker to know when to add more fuel
Best Ways to Serve Smoked Crab Legs
Your smoked cab legs should be served immediately after removing them from the smoker.
No need to rest or wait to eat!
Make sure to give everyone some extra fresh lemon wedges as well as their own small side of cajun butter to dip the smoked crab legs into!
You can go traditional and serve the smoked crab legs alongside some smoked shrimp, andouille sausage, smoked corn, and smoked potatoes.
Or get a little more creative with maybe a smoked ribeye surf and turf plate and if you are watching your carbs serve it up alongside some smoked cauliflower or smoked asparagus!
What Other Food Can I Smoke on a Grill or Smoker?
Looking for some more smoky inspiration?
So glad you asked.
Check out some of our other great recipes of smoked and grilled food to try out at your next outdoor BBQ!
More Smoked Seafood
Smoked Beef
Smoked Lamb
Smoked Pork, Turkey, and Chicken
Other Odds and Ends
Trash Can Turkey – OK, technically not made on a grill or smoker but one of the most fun ways there is to cook a Turkey…at over 700 degrees in only 2 hours! 
You've got to check it out!
Smoked Crab Legs with Clarified Cajun Butter
Crab legs rolled and basted in a cajun clarified butter and then slow smoked over indirect heat on any grill or smoker.
These smoked crab legs are easy to prepare, whether you are using a pellet grill like a Traeger, Camp Chef, or Pit Boss, a propane or electric smoker like a Masterbuilt, or just a conventional grill like a Weber. 
Equipment
Large Saucepan

Mixing Bowl and Large Spoon

Large Aluminum Foil Pan

Basting brush

Grill, Pellet Grill, or Smoker

Pellets, Wood chunks, or a pellet tube smoker with pellets or a smoker box with wood chips

Grill Tongs

Grill Basket or Phat Mat (optional)
Ingredients  
6-8

lbs

Frozen Crab Legs

Thawed
Cajun Clarified Butter
2

lbs

Unsalted Butter

1

Tbsp

Zatarain's Liquid Shrimp and Crab Boil

2

Tbsp

Minced and crushed fresh garlic

3

Tbsp

Fresh Chopped Parsley

2

Tbsp

Cajun Seasoning

2

Lemons

Juice of 1 Lemon (Save the other lemon to cut into wedges to squeeze on fresh when serving.)

Salt and Pepper to taste
Instructions 
Melt the Clarified Butter
Place the butter in a large saucepan and melt slowly over VERY LOW heat, stirring occasionally until completely melted

Remove the butter from the heat and gently skim off the solid milk fat solids floating on top with a large spoon and discard.

Transfer the clarified butter from the saucepan to a large mixing bowl and set aside.
Prepare the Grill or Smoker
Light or turn on your smoker or pellet grill and set up the temperature to 225°F. If using a grill, set up the burners or charcoal on only one side for indirect cooking.

Add your wood chunk(s) directly to the firebox or on top of the charcoal of a smoker, or use chips in a smoker box, or pellets in a tube smoker on a gas grill.
Prepare the Cajun Butter and Season the Crab
Add the liquid shrimp boil, garlic, parsley, cajun seasoning, and the juice of 1 lemon to the clarified butter. Stir gently to incorporate.

Set at least half of the cajun butter aside for dipping later, pour the remaining half into a large aluminum foil pan.

Roll the thawed crab legs in the pan of butter to coat on all sides and then place on a tray until ready to smoke.
Smoke the Crab Legs
Once smoke is being produced, put your crab legs in the smoker, or on the grill AWAY from the direct heat.

At the 15 and 30 minute marks, brush the smoked crab legs on all sides with more cajun butter from the foil pan. Do not use the butter you set aside for dipping.

After 45 minutes, remove the crab legs from the smoker or grill and place on a large serving platter.

Serve with a lemon wedge and individual cups of the cajun butter you set aside for dipping for each guest. Enjoy!
Video
Notes
Recipe inspired by and video courtesy of Armadillo Pepper.
Nutrition