Smoked Boneless Pork Chops are fast and easy compared to larger cuts of meat. They can be made on any type of grill or smoker, no matter if it's a Pit Boss, Traeger, or Masterbuilt.
Prepared properly, they are flavorful and juicy and perfect for busy nights!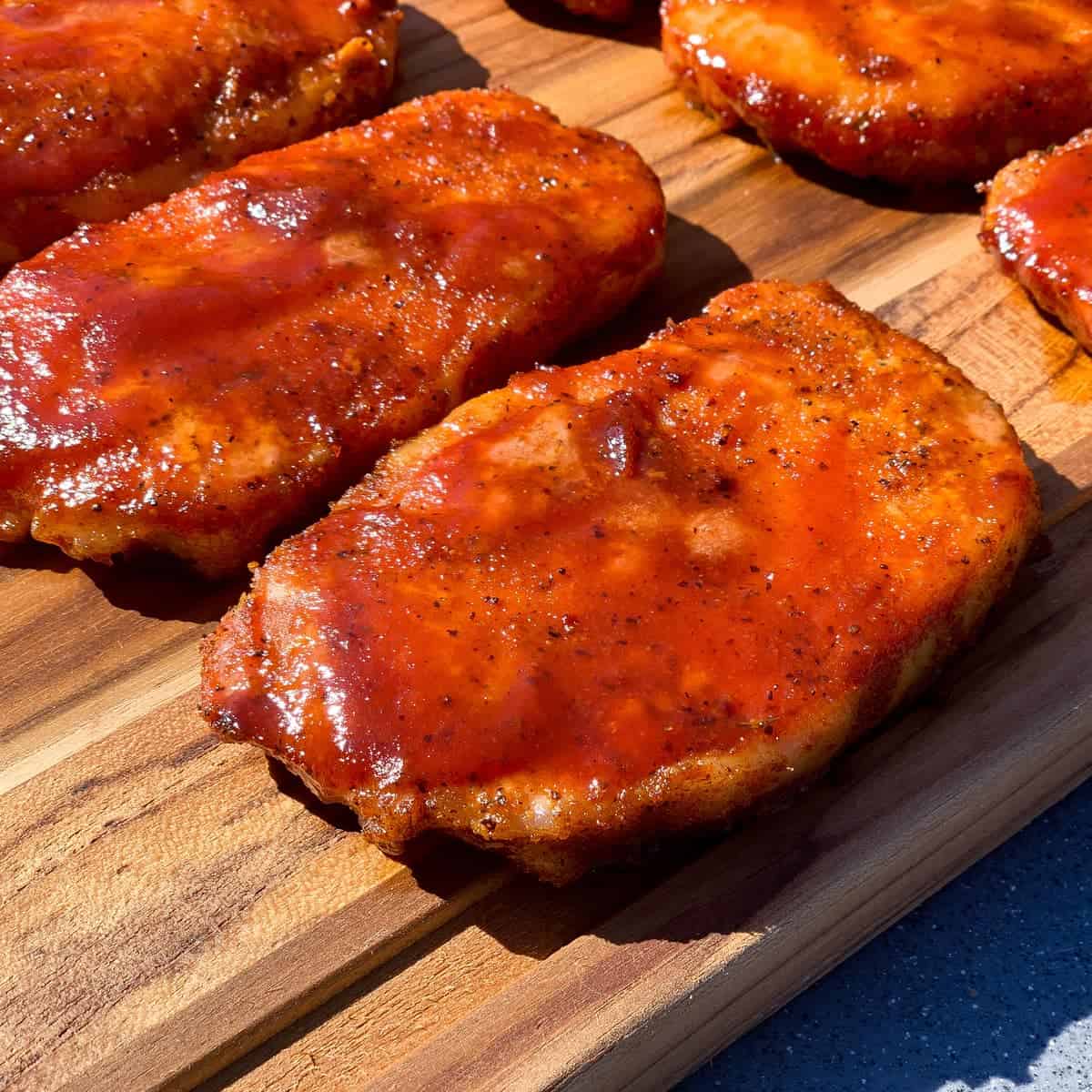 Pork chops, especially boneless pork chops, are unfortunately prone to drying out easily, especially when cooked low and slow on a smoker.
You can think of a pork chop like a chicken breast, the white, lean meat that needs to be cooked just right or it's unappetizing.
However, we will show you exactly how to perfectly smoke these boneless pork chops so that they stay juicy and tender!
Jump to:
Bone-in vs. Boneless Pork Chops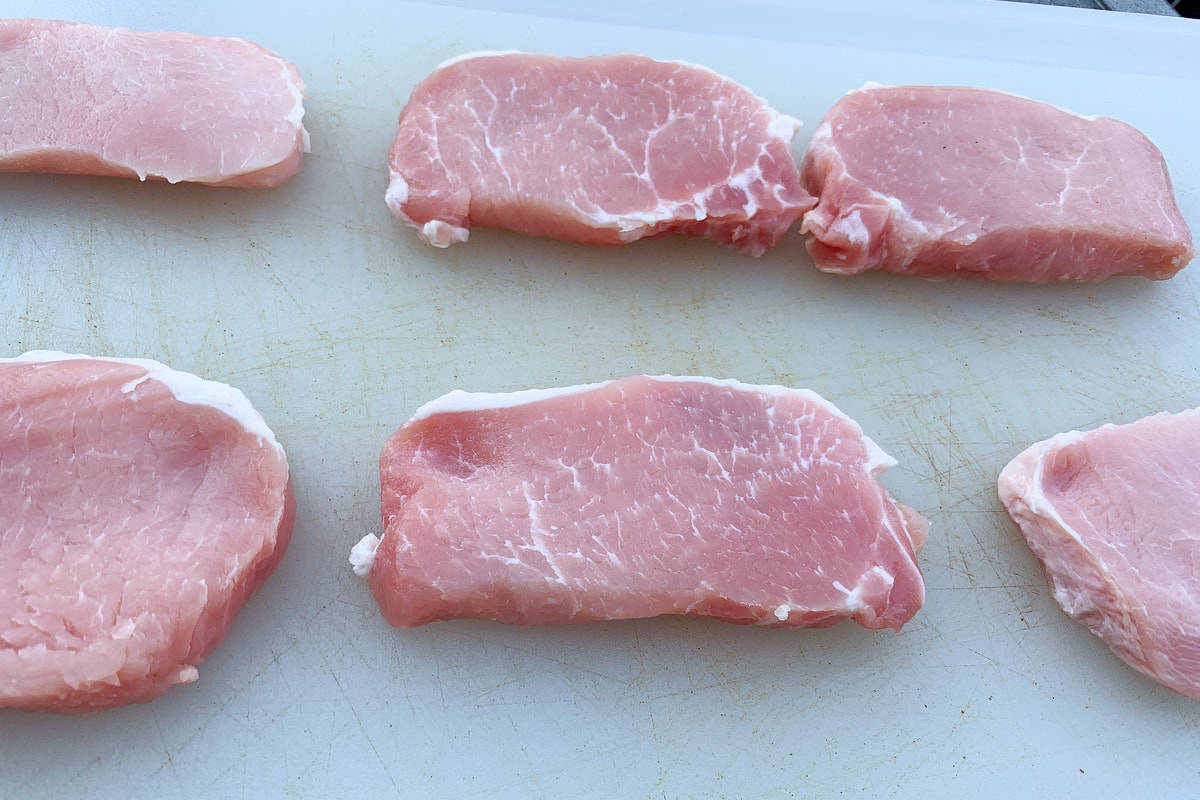 We typically prefer bone-in thick-cut pork chops due to their thickness, extra fat, and ability to hold their juiciness while cooking, but they do take longer to cook than boneless pork chops.
For a super easy weeknight dinner, boneless pork chops are a great option.
Seasoning the Pork Chops
Seasoning the pork chops involves simply brushing the outside with oil and sprinkling on your favorite BBQ rub.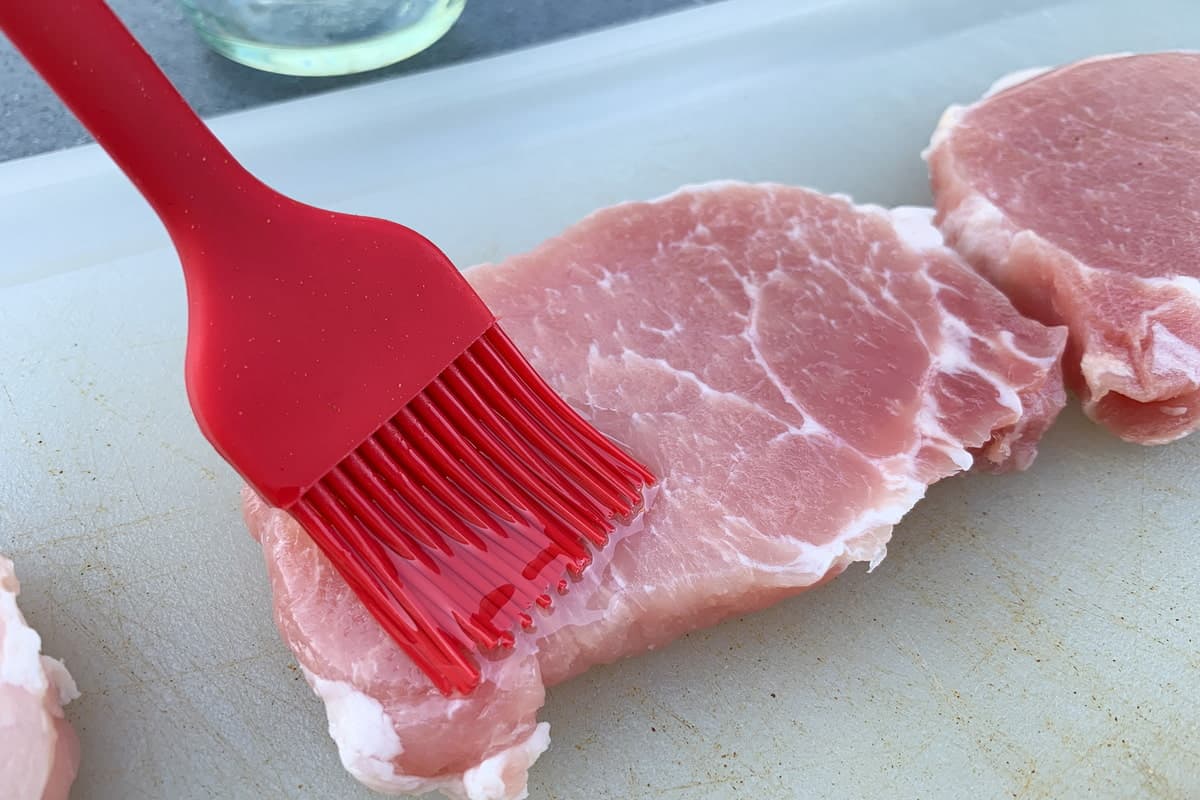 We really like Three Little Pigs Championship Rub on pork and chicken.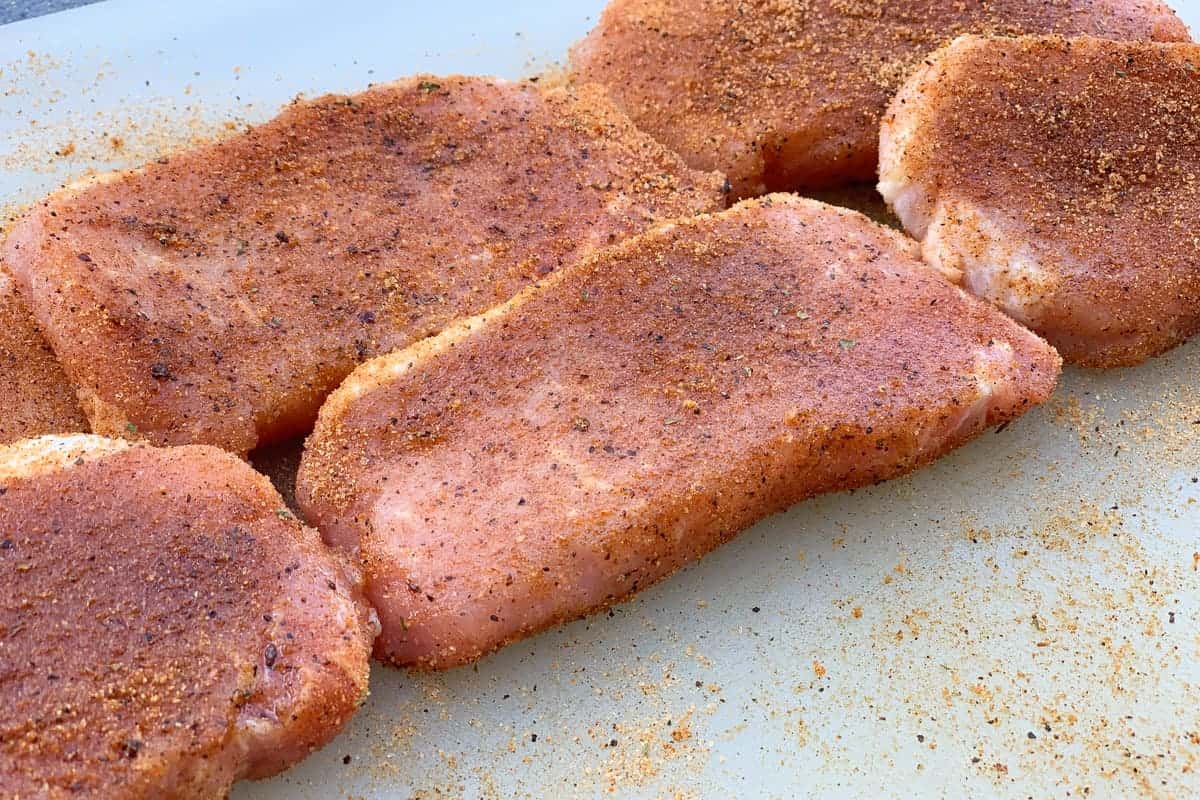 Best Wood for Pork Chops
Depending on your smoker, you will be choosing wood pellets, wood chips, or wood chunks.
For pork, we prefer a fruit wood, and generally stick to apple or cherry wood most of the time.
If you're looking for more smoke flavor, consider adding a pellet smoker tube. We like to use premium pellets, like Knotty Wood 100% Plum Wood or Almond Cabernet Wine Blend, in the pellet tube and a less expensive pellet in the hopper.
For the most authentic smoke flavor, we recommend using a firebox with charcoal and wood chunks.
We have this step by step article showing you exactly how to set up the firebox with charcoal and real wood chunks, as well as this great video.
Smoker Temperature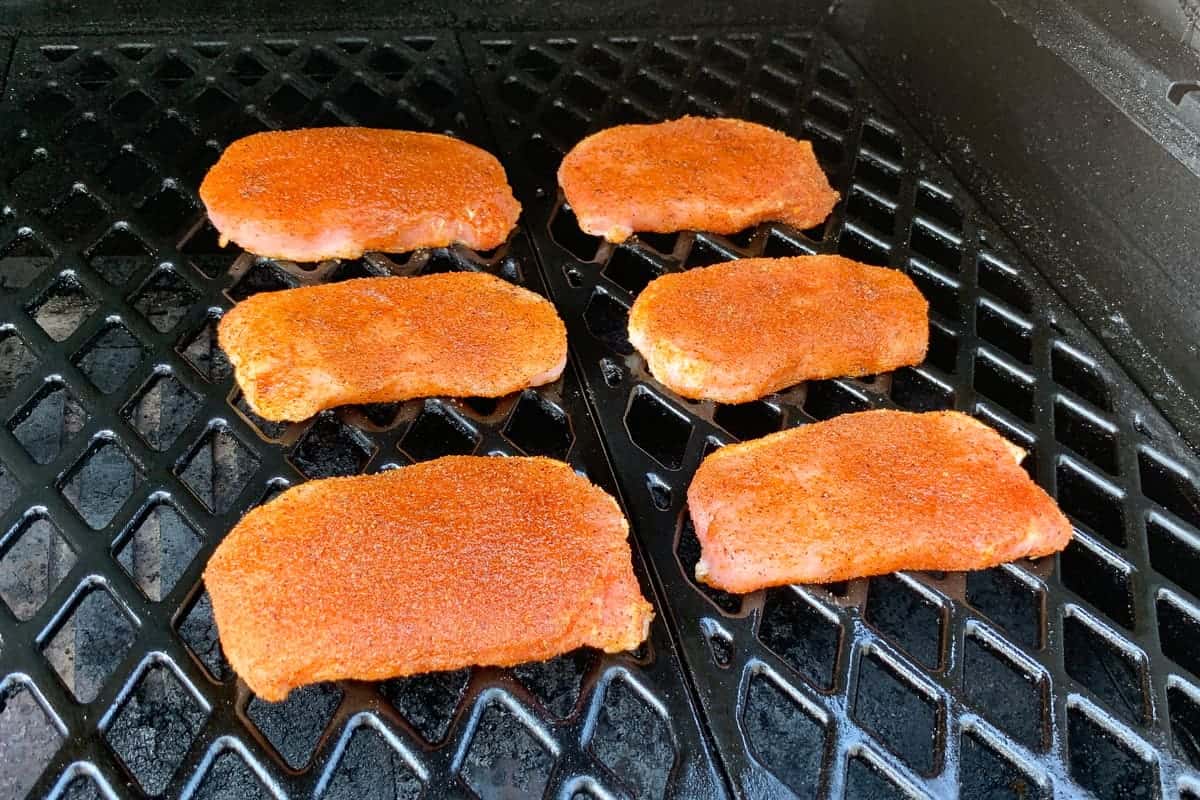 We prefer to cook our boneless pork chops at a low temperature of 240°F to ensure they have time to absorb plenty of smoke.
You can go up to 300°F, but keep in mind that they will cook faster and have less time to achieve a smoky flavor.
Cooking Time
It will take about 1 hour total to cook 4 ounce boneless pork chops at 240°F.
This will depend on several factors such as the temperature and humidity outside, how often you open the lid, and whether your specific grill runs warmer or cooler than the set temperature.
For these reasons, we highly recommend you go by internal temperature rather than time when determining that your pork chops are finished cooking.
Adding BBQ Sauce
Once the pork chops reach an internal temperature of about 142°F, it's time to put on the BBQ sauce if you would like to use some.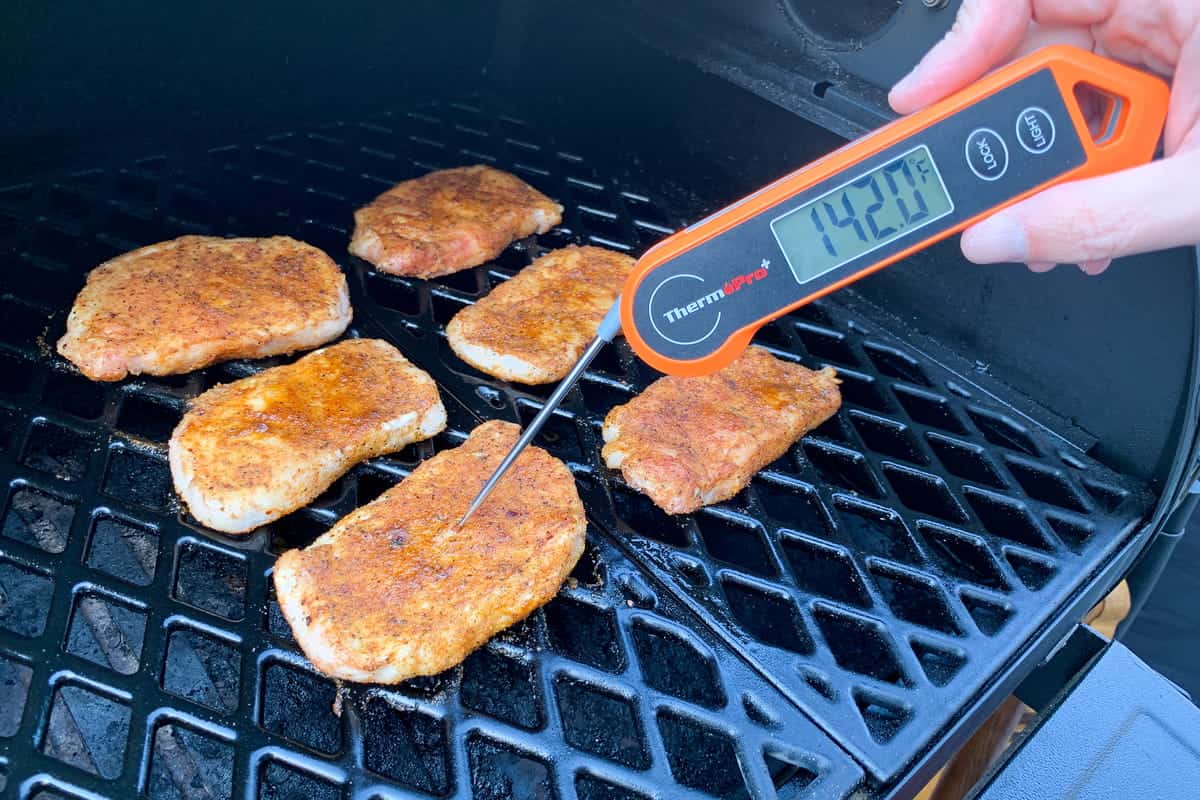 The BBQ sauce we use the most is Blues Hog Championship Blend, which combines our two favorite Blues Hog sauces: Original and Tennessee Red.
We brush it on with a silicone basting brush on both sides of each pork chop, then continue cooking until they reach the final target internal temperature.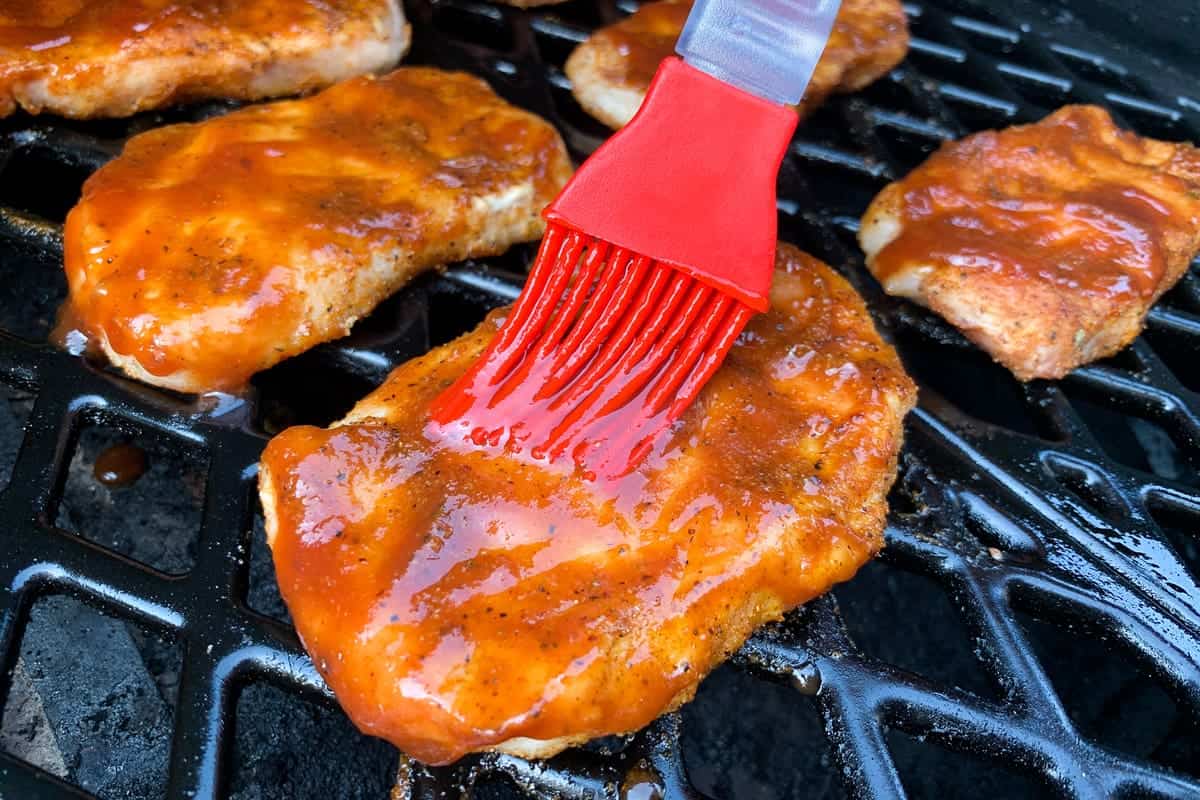 Target Internal Temperature
According to the USDA, pork should be cooked to a final internal temperature of 145°F.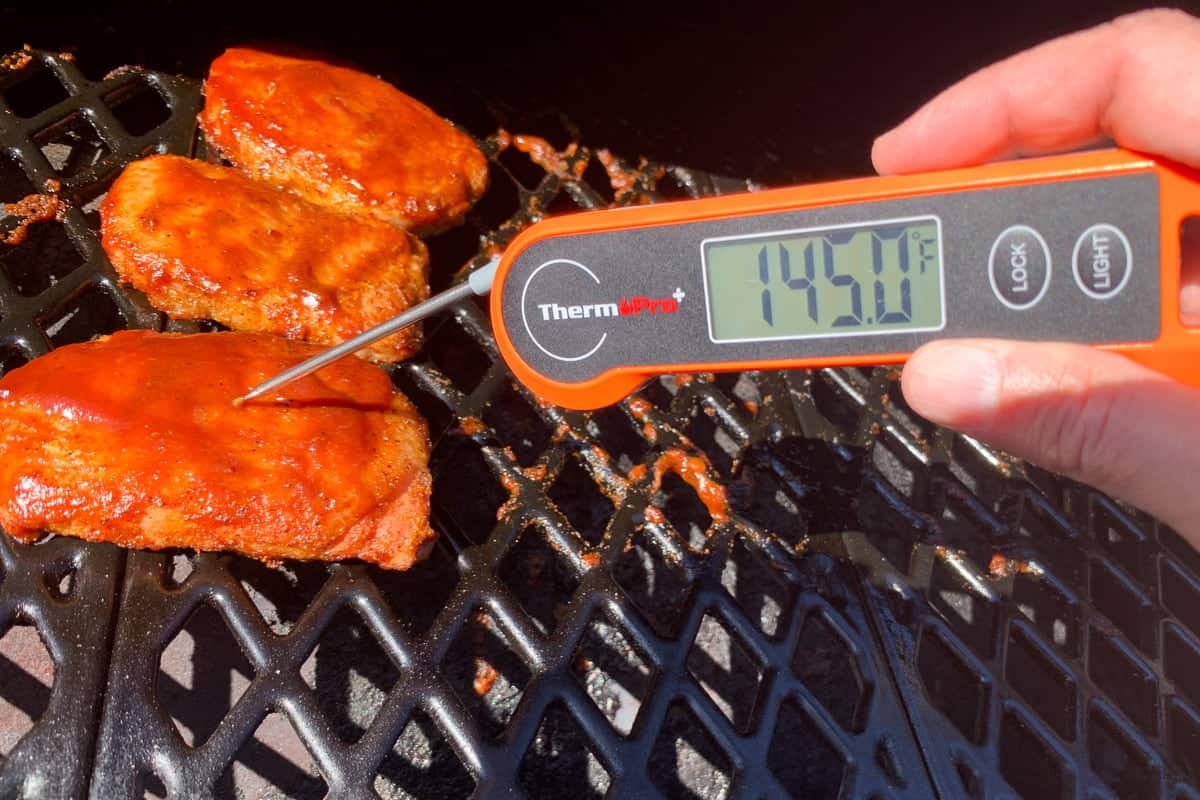 Unlike a larger piece of meat like a turkey or brisket, boneless pork chops are quite thin and likely will not rise much in temperature after being taken off the grill. For that reason we recommend keeping them on the grill all the way until they reach 145°F.
An instant read thermometer makes determining when the pork chops are finished so easy.
If you prefer a leave in thermometer, the MEATER is our favorite. In one probe, it measures both the internal temperature of the meat and the ambient temperature of the smoker.
The free app allows you to choose what meat you're cooking, gives you the food safe temperature, and even calculates a time that it will be done cooking!
Once the pork chops reach the final internal temperature, you can transfer them to a cutting board to rest and cool slightly before serving.
Serving Suggestions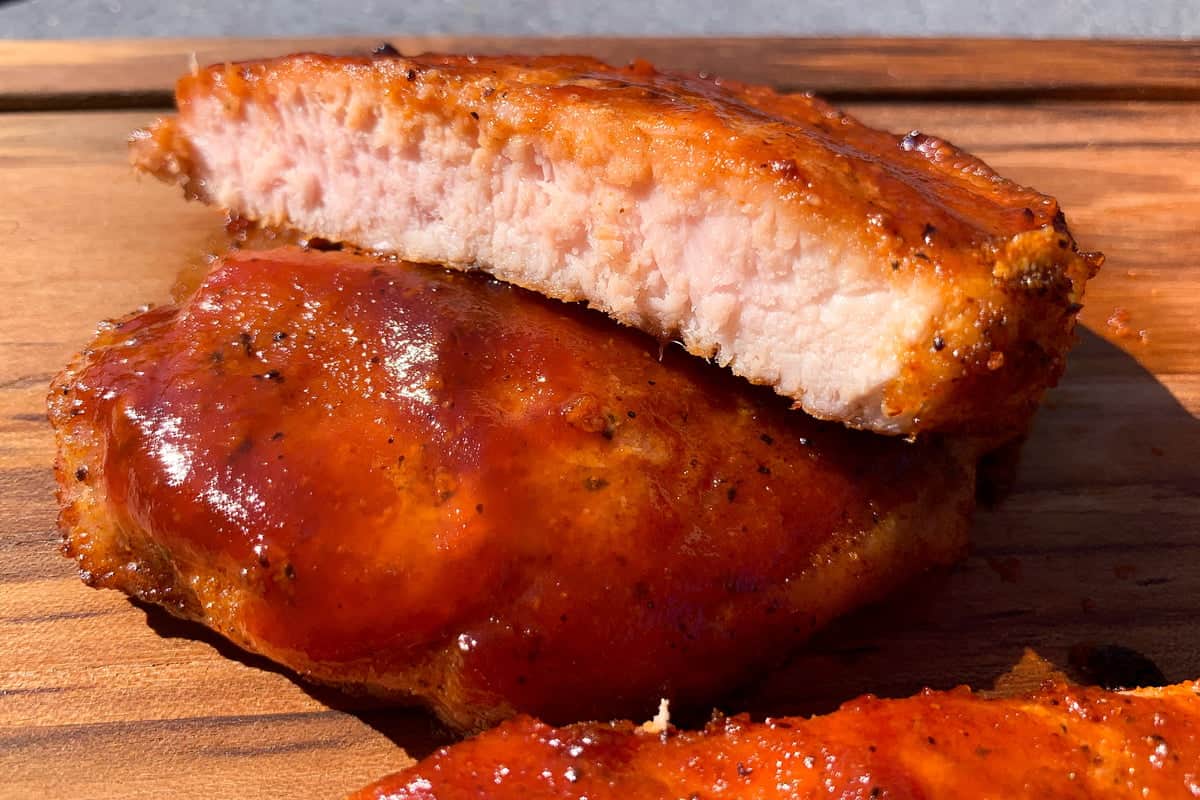 Pork chops are great with smoked pineapple or some smoked potato salad. We also like to serve them with smoked corn on the cob.
Because the pork chops are relatively small, they leave plenty of space on the grill for these sides to cook at the same time.
📖 Recipe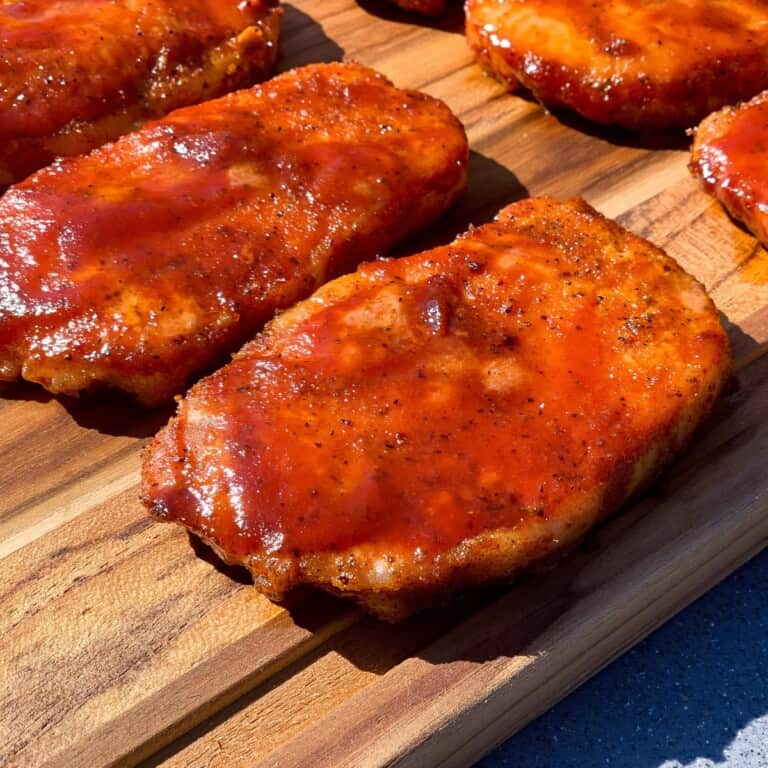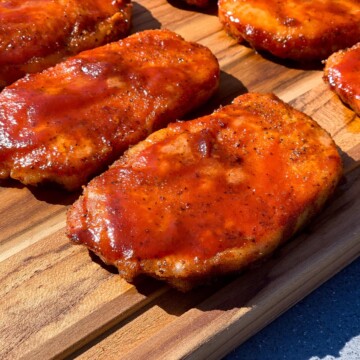 Smoked Boneless Pork Chops
Smoked Boneless Pork Chops are easy and fast compared to larger cuts of meat. Prepared properly, they are flavorful and juicy and perfect for busy nights!
Ingredients  
6

4-ounce

Boneless Pork Chops

about 1.5 lbs

2

tablespoon

Olive Oil

3

tablespoon

BBQ Rub

such as Three Little Pigs

¼

Cup

BBQ Sauce

such as Blues Hog Championship Blend
Instructions 
Start your smoker and set the the temperature to 240°F. Lightly oil the cooking grates.

Brush both sides of each pork chop with olive oil using a basting brush.

Sprinkle both sides with BBQ rub.

Arrange the pork chops on the oiled grates of the preheated grill, leaving enough space between each one.

Smoke the pork chops until they reach an internal temperature of 142°F, turning and rotating as needed.

Add the BBQ sauce on both sides using a silicone basting brush.

Repeat as desired and continue cooking until the pork chops reach an internal temperature of 145°F. The total cooking time will be about 1 hour.

Remove the pork chops to a cutting board and allow them to rest for 5-10 minutes before serving.