Learn how to make frozen pizza on a pellet grill, and why it is one of the most delicious ways to cook a frozen pizza!
Whether you've got a Traeger, Pit Boss, Camp Chef, Yoder, or any other type of pellet grill, we've got you covered!
Let's Go!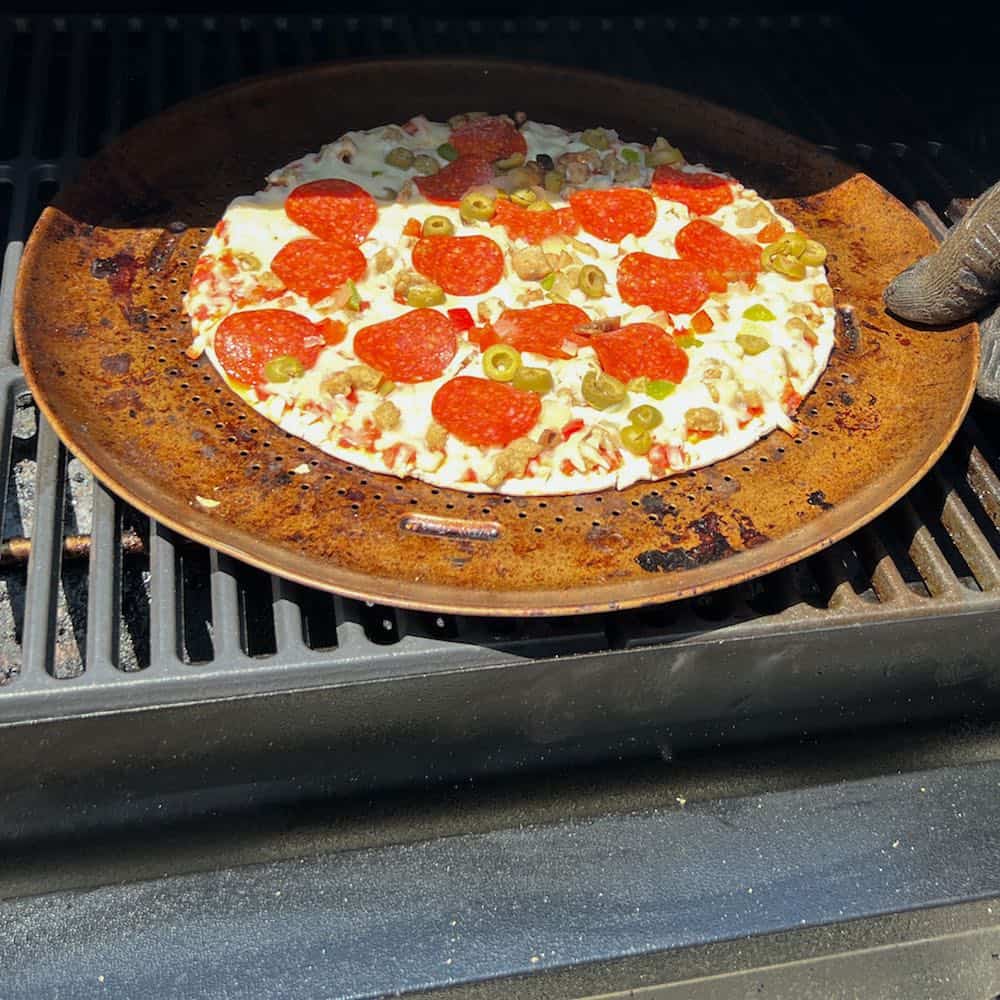 Why Would You Cook a Frozen Pizza on a Pellet Grill?
Besides the obvious cool factor and fun photo ops for your Instagram, there are actually some really good reasons to cook a frozen pizza on a pellet grill like a Traeger or Pit Boss.
You can generate some very high direct heat from the close proximity of the flame broiler plate of the pellet grill (if you turn the temperature up high enough) and it gets the crust much crispier compared to cooking at the same temperature in an oven.
Because you have airflow through the pellet grill you cook your frozen pizza in a much drier environment than an indoor oven. This leads to crispier crust, bubbly cheese, and closer results to what you might find from a wood fired brick oven style pizza.
By cooking with wood pellets, you add a subtle smokey hit to the frozen pizza for extra depth of flavor and more of that wood fired taste.
What you Need to Cook a Frozen Pizza on a Pellet Grill
While you technically CAN cook a frozen pizza directly on the grates of a pellet grill like a Traeger or Pit Boss, we found it's much easier if you use a good perforated pizza pan.
A perforated pizza pan not only allows hot air to get to the crust which will help get it extra crispy and cook correctly, but also makes it much easier to move and rotate the frozen pizza for even cooking.
We especially liked this affordable carbon steel one from GoodCook to use on our pellet grill. It also works great in the oven to get crispier crust and you can also use it to make regular homemade pizza, not just frozen.
Pro Tip: It works best if you preheat the perforated pizza pan along with the pellet grill before putting on your frozen pizza.
GoodCook AirPerfect 15.75" Insulated Nonstick Carbon Steel Pizza Pan with Holes
15.75 PIZZA PAN: Designed with a perforated edge and even-heating technology to reduce moisture and ensure a perfectly crispy crust when making homemade pizza

MADE OF DURABLE CARBON STEEL: Our pizza pan is made of nonstick carbon steel for a premium grade construction that resists warping to provide a high quality baking experience for years to come
Looking for a New Reasonably Priced Pellet Grill? 
Check out this Review of our Favorite Pellet Grills Available for UNDER $500!
How to Cook a Frozen Pizza on a Pellet Grill
Now that we know WHY a frozen pizza smoked on a pellet grill is so great, and the best pan to make one on, it's time to get cooking!
With a pellet grill, this is the easy part!
Just add your chosen pellets to the hopper, plug in and start the pellet grill.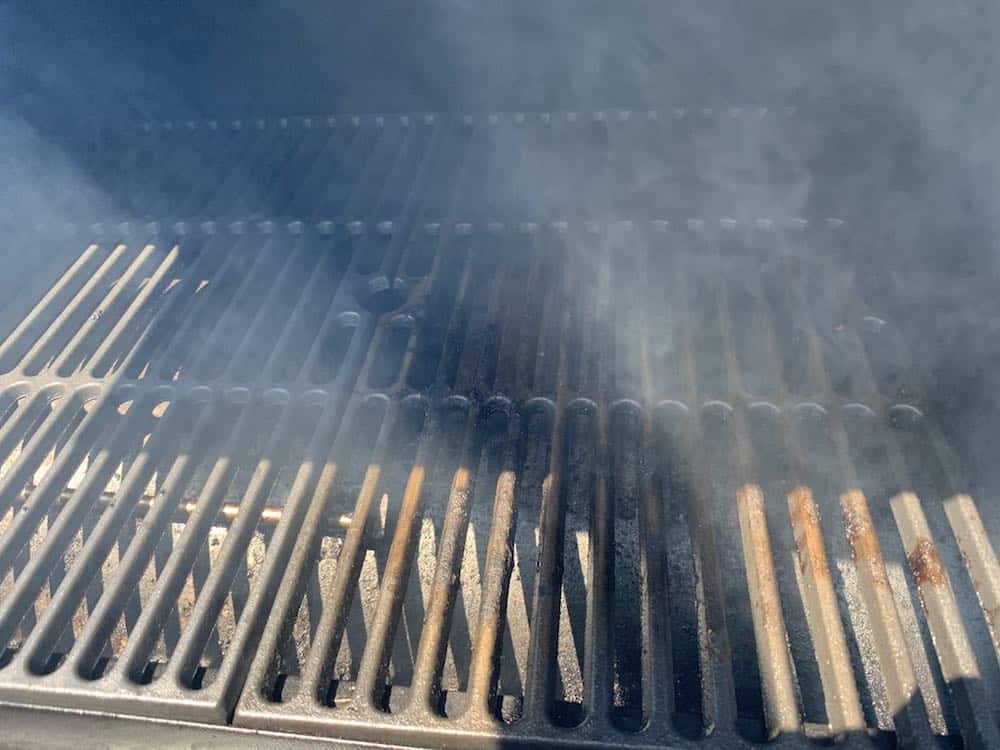 We are going to be cooking at HIGH heat for a relatively SHORT period of time, but more on that below.
For now just add a decent amount of pellets to get it preheated.
Preheat the Pellet Grill
Let the pellet grill go through its start up process usually done on the "Smoke" Setting on a Pit Boss or Traeger.
Once it has stopped producing the thick white "start- up" smoke, turn the temperature up to whatever is instructed on your frozen pizza and close the lid.
In our case it was 425°F and it took about 20 minutes to come up to this temperature on our Pit Boss.
Make sure your perforated pizza pan is in there too to preheat and that the flame broiler is closed down for INDIRECT heat if your pellet grill has that option.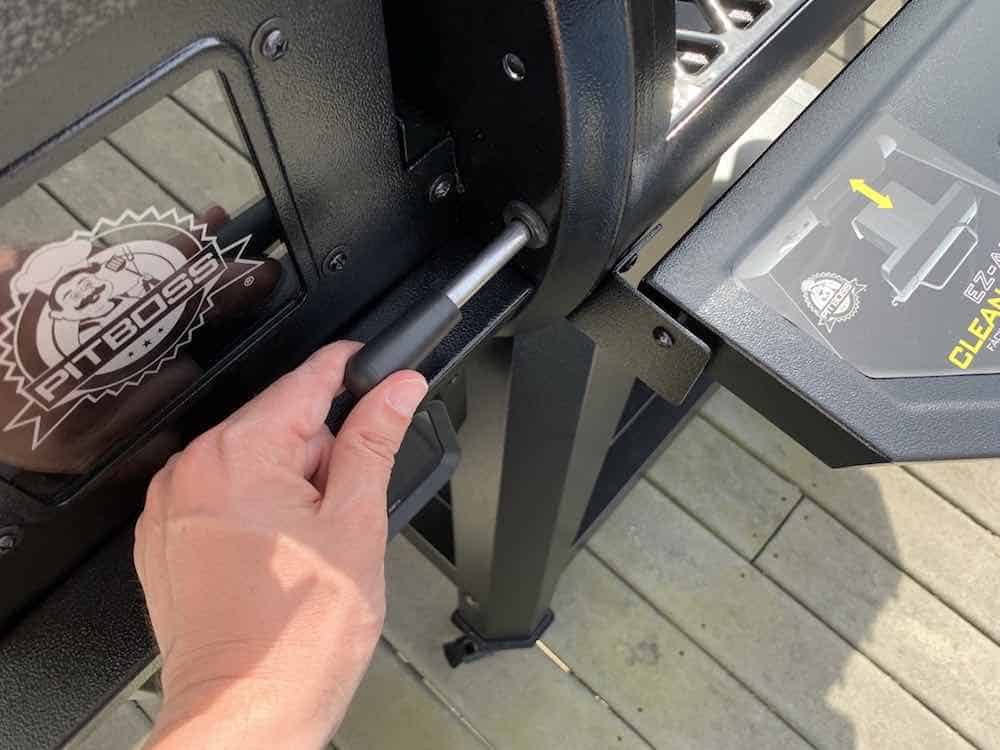 Most recent Traeger, Pit Boss, and Camp Chef pellet grill models have some sort of DIRECT vs. INDIRECT heat adjustment bar or lever.
Give the perforated pan (or the grill grates themselves if you are cooking directly on them) a quick and light spray with canola oil or some other high smoke point oil to prevent the frozen pizza from sticking.
You don't need a lot, otherwise it will get your crust too oily.
How Long do you Cook Frozen Pizza on a Pellet Grill?
This will depend a little bit on the brand of frozen pizza you are cooking on your pellet grill and the thickness of the crust.
Use the package instructions as a good place to start for estimating cook time.
Our thin crust frozen pizza instructions said 12-16 minutes in a 425°F and it looked pretty perfect right around that 16 minute mark.
We rotated 180° one time after noticing the cheese on the back half was melting amd browning a little faster than the cheese in the front.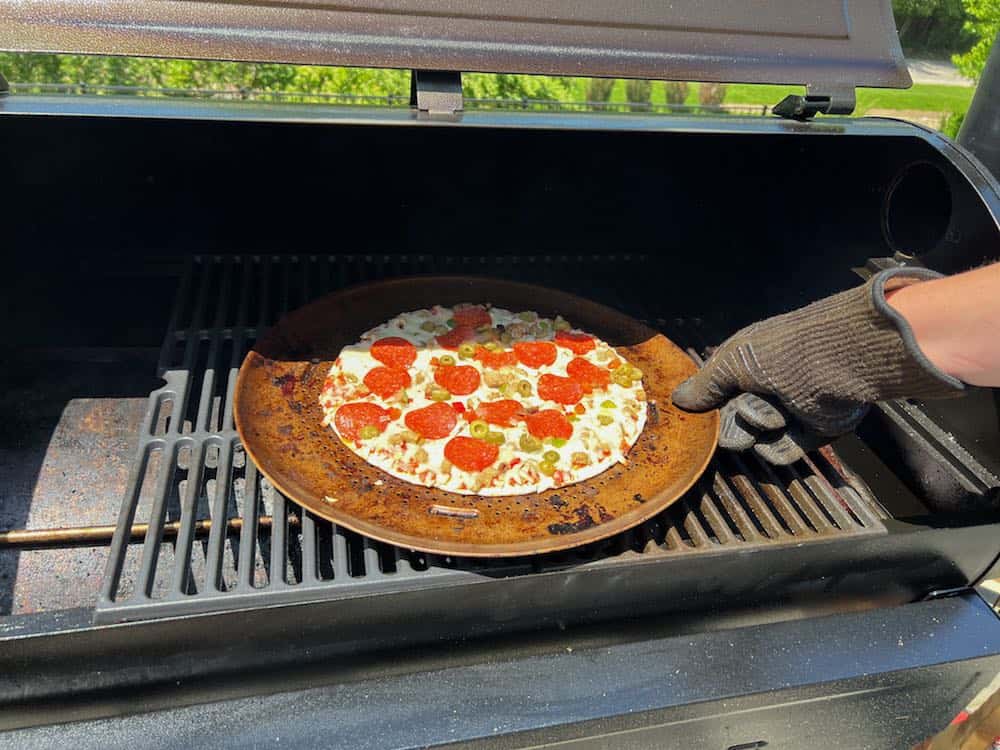 Make sure to use good insulated grill gloves when rotating or moving the pizza or pizza pan around.
Once the frozen pizza is done, remove the pizza pan from the pellet grill and place it on a heat proof surface because it will be HOT.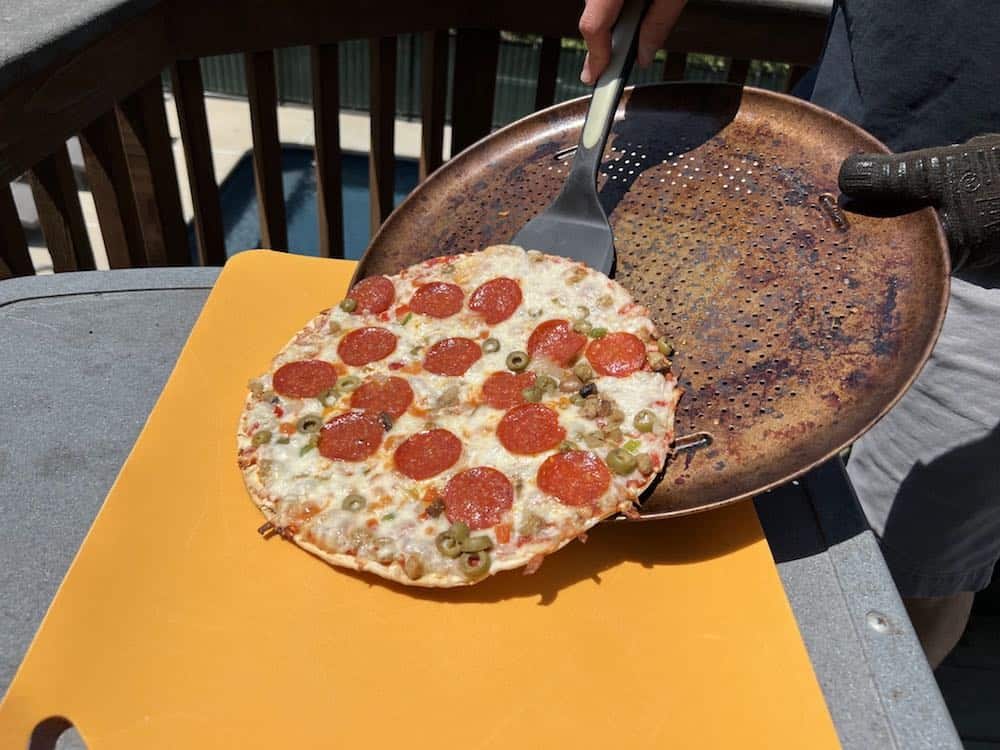 If you want extra crispy crust, let the frozen pizza rest on the hot perforated pizza pan for a couple extra minutes before transferring to a cutting board and slicing.
And never slice your frozen pizza directly on the perforated pizza pan unless you want crumbs everywhere and a ruined, scratched up pizza pan!
Enjoy!
📖 Recipe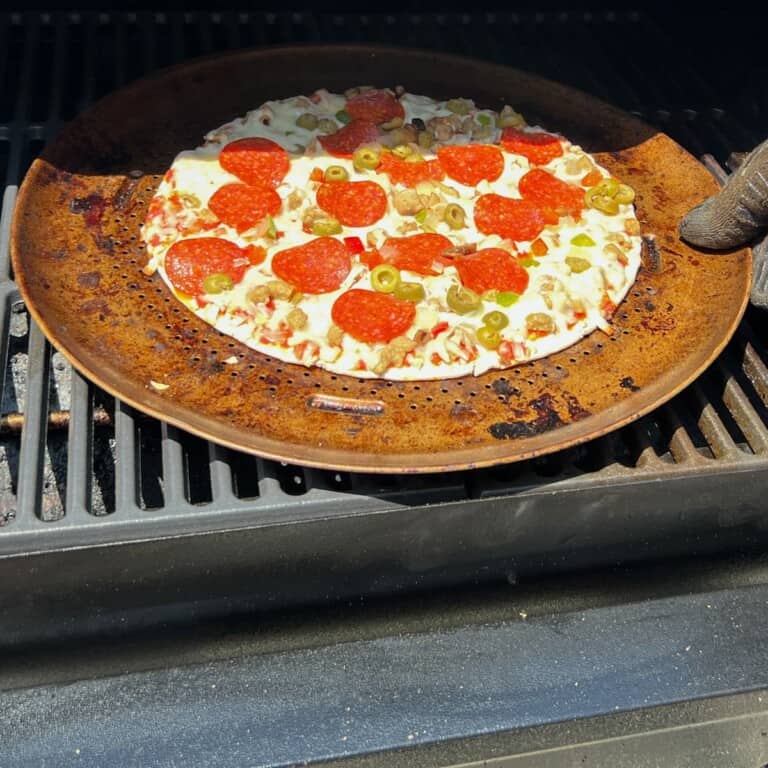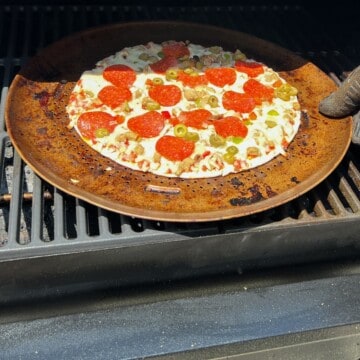 Frozen Pizza on a Pellet Grill
Frozen Pizza cooked to perfection on a pellet grill with step by step instructions.
Whether you've got a Traeger, Pit Boss, Camp Chef, Yoder, or any other type of pellet grill, we've got you covered!
Equipment
Perforated Pizza Pan

Pellet Grill

Wood Pellets - Hickory, Oak, or Fruitwood

Insulated Grill Gloves

Large Cutting Board

Pizza Slicer
Ingredients  
1

Frozen Pizza

Canola Oil Spray

to keep pizza from sticking

2

tablespoon

Chopped Basil

optional to sprinkle after the bake
Instructions 
Clean out the ash pot, fill the hopper with pellets, start up pellet grill, and preheat to 400-450°F, depending on the temperature indicated on your frozen pizza instructions.

Place a Large Perforated Pizza Pan in the pellet grill to preheat as well. Spray with a little bit of the Canola Oil Spray.

Once the pellet grill is up to temperature, place the frozen pizza on the perforated pizza pan and close the lid.

Cook for about 12-18 minutes, depending on the cooking time indicated on the frozen pizza instructions. Rotate as needed to evenly cook the crust and melt the cheese.

Once the cheese has melted and begun to brown, remove the perforated pizza pan from the pellet grill and slide the pizza on to a cutting board.

Sprinkle with fresh chopped basil if you wish to dress it up. Slice with a pizza cutter and serve.

2 tablespoon Chopped Basil
Nutrition