Learn how to make smoked chicken kabobs on ANY grill or smoker, whether its a Traeger or Pit Boss pellet grill, a Masterbuilt propane smoker, or just a simple Weber kettle!
Our smoked chicken kabobs are easy to prepare, look beautiful, and taste delicious.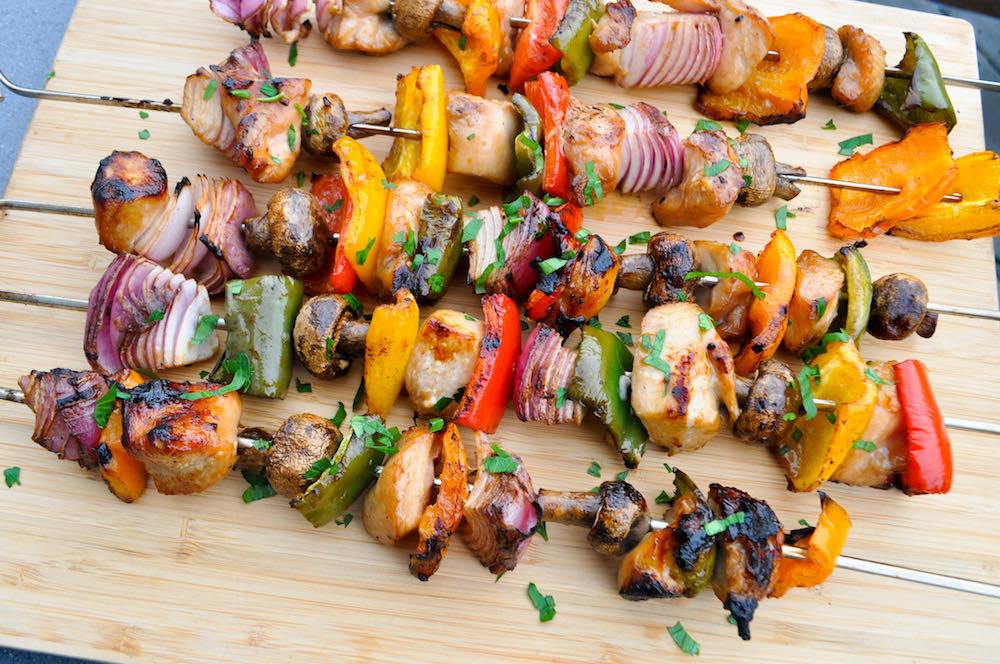 These kabobs are a favorite in our family. They are quick enough for a weeknight but so delicious you can serve them to a crowd on a weekend.
Customize them with your favorite veggies, or be adventurous and add some pineapple. The honey garlic marinade is so versatile!
Jump to:
Marinate the Chicken Before Smoking
First you'll need to marinate the chicken for the smoked chicken kabobs.
You can do this overnight for maximum flavor, or if not, at least for 2 hours before smoking.
We prefer using boneless, skinless chicken breasts for kabobs, but you could use boneless, skinless chicken thighs if you prefer.
You'll need about ⅓ to a ½ pound of chicken per adult.  So marinate about 2 lbs of chicken for a group of 4-5 people.
Cut the raw chicken into small pieces that are bite-sized but still big enough to go on a skewer (approximately 1 and ½ inch cubes).
We use a simple honey garlic marinade that keeps the chicken juicy and flavorful, and also provides some seasoning for the vegetables during the cooking process.
Marinade Ingredients:
Vegetable or Canola Oil
Regular or Reduced Sodium Soy Sauce or Coconut Aminos
Honey
Garlic, minced
Ground Black Pepper
Whisk and Marinate the Chicken
First, whisk together the marinade ingredients in a glass measuring cup or a small bowl.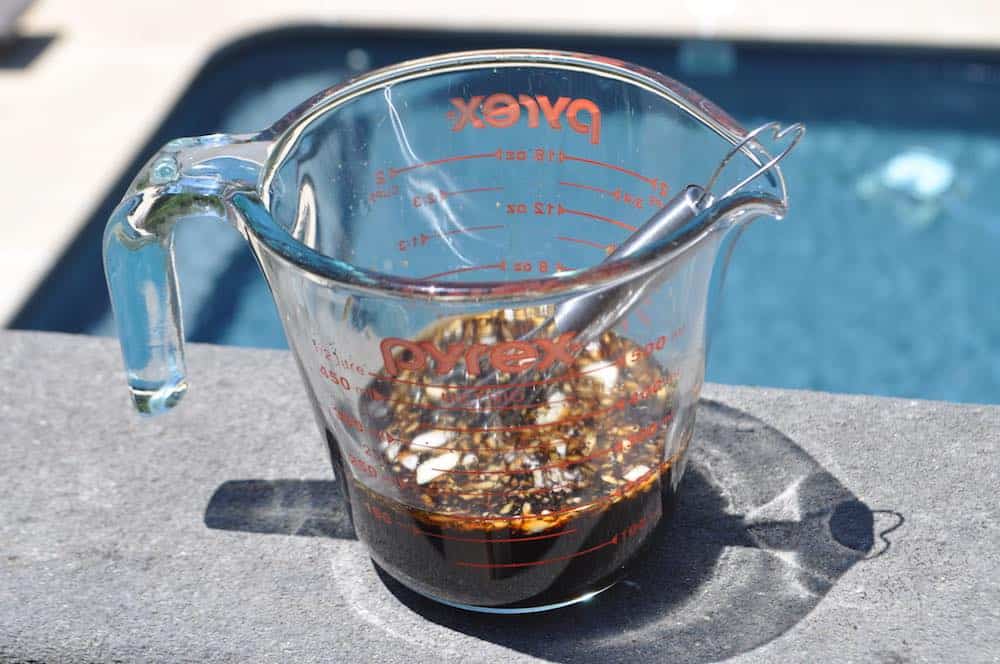 Then transfer the marinade and cut up chicken to a resealable gallon sized bag.
Press the bag several times to distribute the marinade and then place the bag in the refrigerator to marinate overnight, or for at least 2-4 hours.
Type of Skewers to Use for Kabobs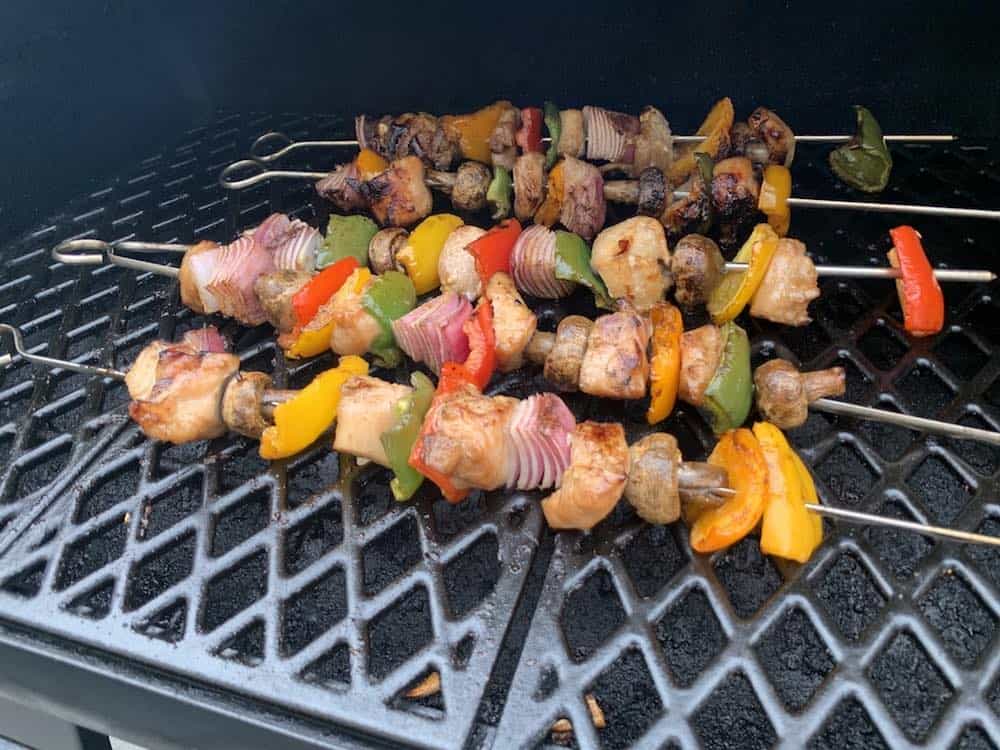 If you plan on smoking kabobs often, consider investing in a nice set of metal skewers.
They don't need to be soaked in water beforehand, and you never have to worry that they will catch on fire!
Make sure you also have some high heat grilling gloves for turning and rotating the skewers (because they WILL get HOT) and it's much easier than trying to do it with grill tongs.
If you're new to smoking kabobs, or you are cooking for a really big party, you may prefer to just use some disposable bamboo skewers like these.
We prefer at least 12-inch long skewers so you can fit plenty of smoked chicken and veggies on each one.
Safety Tip: When using wooden skewers on a grill, you'll need to pre-soak them in water for at least 30 minutes to prevent them from catching on fire during the cooking process.
Check out this article from Spruce Eats for more info on soaking bamboo skewers.
We do the exact same thing when cooking foods like salmon using cedar planks on the grill or smoker to prevent the wood from smoldering or igniting.
Assemble the Chicken Kabob Skewers
Smoked Chicken Kabobs are so versatile that you can really use any kind of vegetables you like!
We like using all four colors of bell peppers (red, yellow, orange, and green), as well as whole white mushrooms and red onion.
You can use sweet yellow onions if you prefer those over red onion. We like the flavor of the smoked red onions as well as the nice color they give to the finished kabobs.
Whatever veggies you choose, cut them into 1-inch pieces.
For the onions, slice off the ends and cut the onion in half, then slice each piece into wedges like a 6 slice pizza.
You can keep the small mushrooms whole.
Once the veggies are cut and chicken is finished marinating, it's time to assemble the smoked chicken kabobs.
Thread the chicken and veggie pieces onto the skewers, alternating the chicken and veggies to give color variety to the smoked chicken kabobs.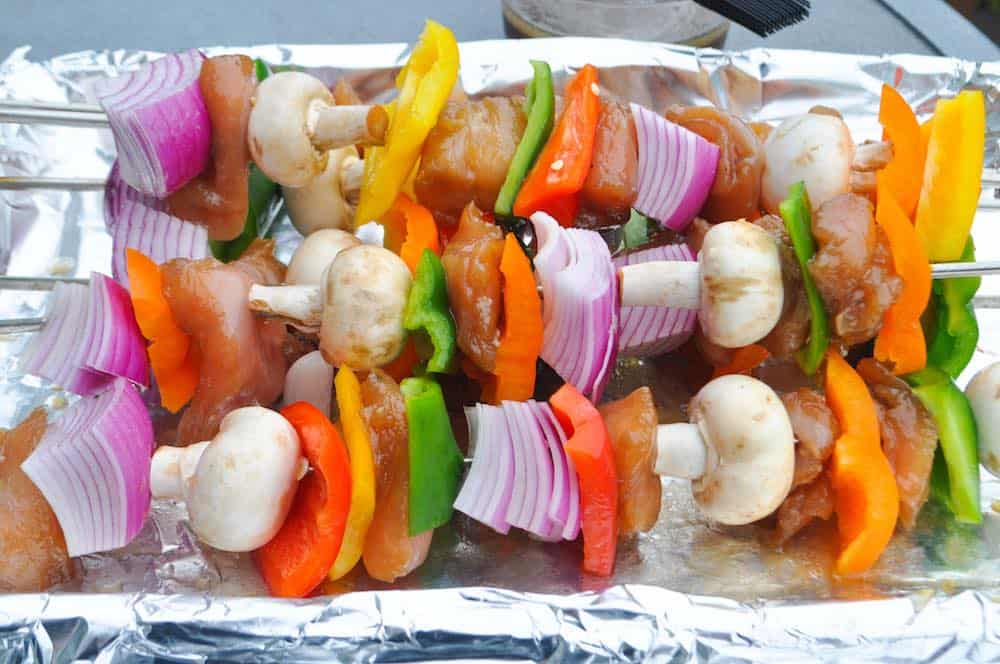 Once all of the chicken has been skewered, transfer the remaining marinade to a small bowl.
Use a small silicone brush to brush all of the vegetables with marinade.
Safety Tip: Do not use leftover marinade that had raw meat in it all the way through the cook. It's OK to brush on some extra leftover marinade right at the beginning, but STOP using it after that. Later in the cook you risk brushing on salmonella from the raw meat that won't have time to cook off before you remove the food.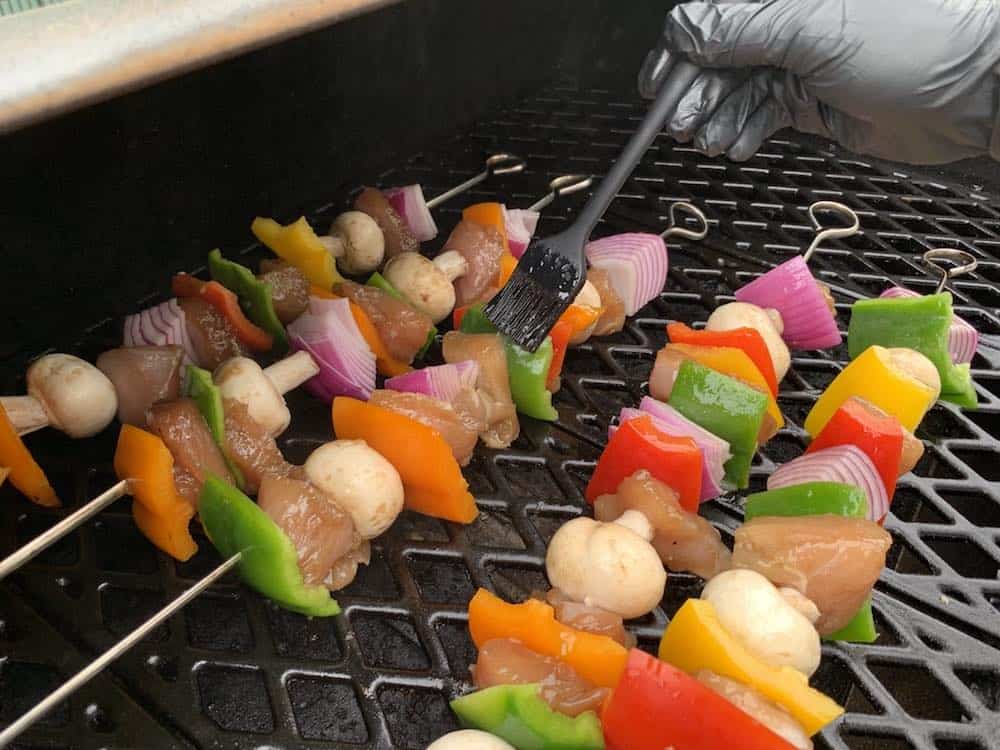 You can always make some extra marinade that wasn't used on the raw chicken and brush that on at the end.
The Best Woods for Smoking Chicken Kabobs
For most chicken and turkey recipes, we generally go for a milder smoke flavor by choosing oak or fruitwood pellets.
Pecan, apple, beech and cherry all give great results.
For a mid-price pellet, we like Bear Mountain brand.
Knotty Wood is our favorite premium pellet brand. We particularly like their 100% Plum Wood Pellets and Almond Cabernet Wine Blend Pellets.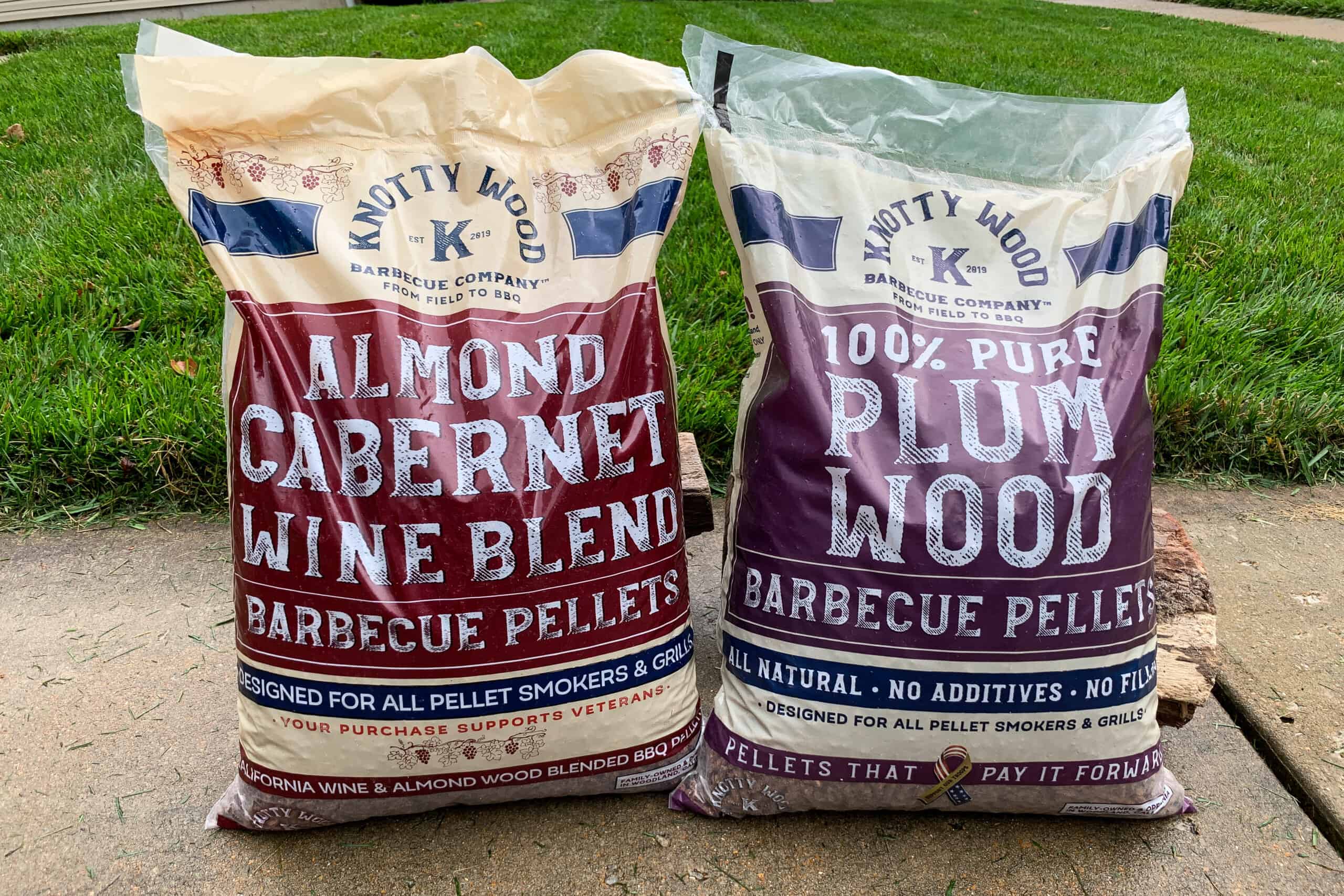 To save money, we sometimes uses an inexpensive pellet in the hopper for the heat source and add a pellet tube smoker filled with premium pellets.
One of our favorite ways to add extra smoke flavor to our pellet grill recipes is to add a firebox with charcoal and real wood chunks. Check out our article How to Get More Smoke Flavor on a Pellet Grill Using Real Wood for step by step photos or our video to show you how to set it up.
Smoker Temperature
When smoking chicken kabobs, we want to choose a good temperature that will be low enough to keep the marinade from burning, but high enough to keep the lean white meat chicken from drying out before it cooks.
Since sugar starts to burn in the 325°F to 350°F range, we chose 300°F for our smoking temperature to be safe.
We also found cooking a little lower gave the chicken kabobs more time to absorb smoky flavor, and also gave the vegetables enough time to cook as well.
We smoked our chicken kabobs at 300°F, but if your smoker maxes out at 275°F,  like with a Masterbuilt electric smoker, you can definitely cook them at that temperature instead.
Cooking Time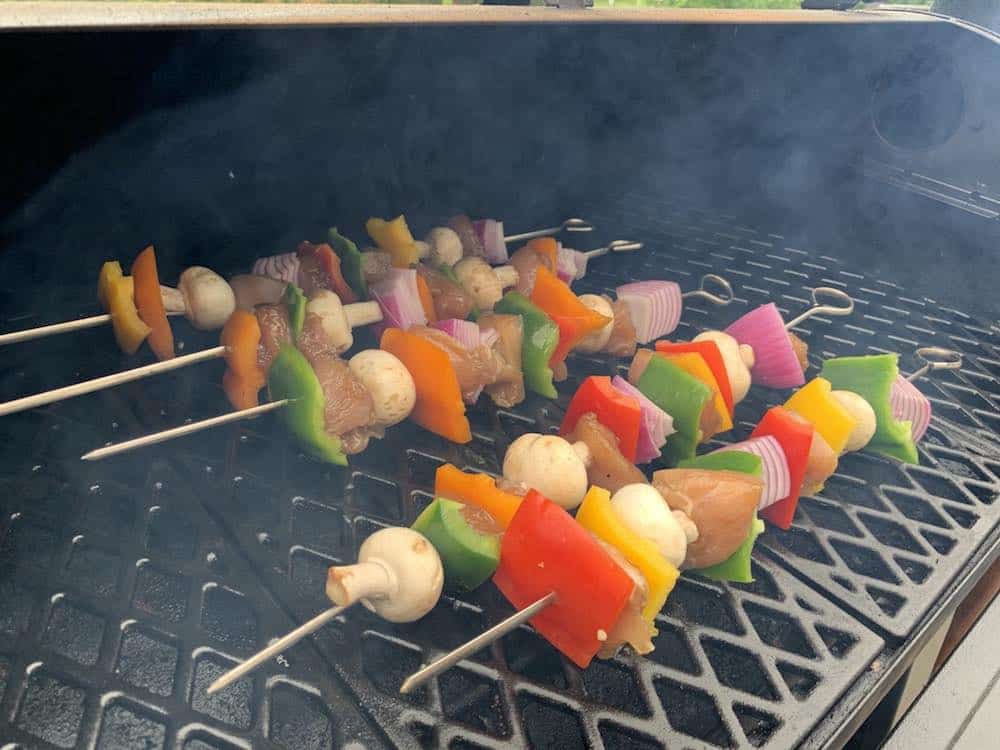 Our smoked chicken kabobs took about 1 hour to fully cook at 300°F on our Pit Boss pellet grill.
Make sure to check with an instant read thermometer to see if certain pieces of chicken are cooking faster than others.
The smoked kabobs may need to be rotated around depending on how even the heating is of your grill or smoker.
We made sure to frequently rotate and flip the smoked chicken kabobs every 15 minutes or so to keep all the pieces and skewers cooking evenly.
Target Internal Temperature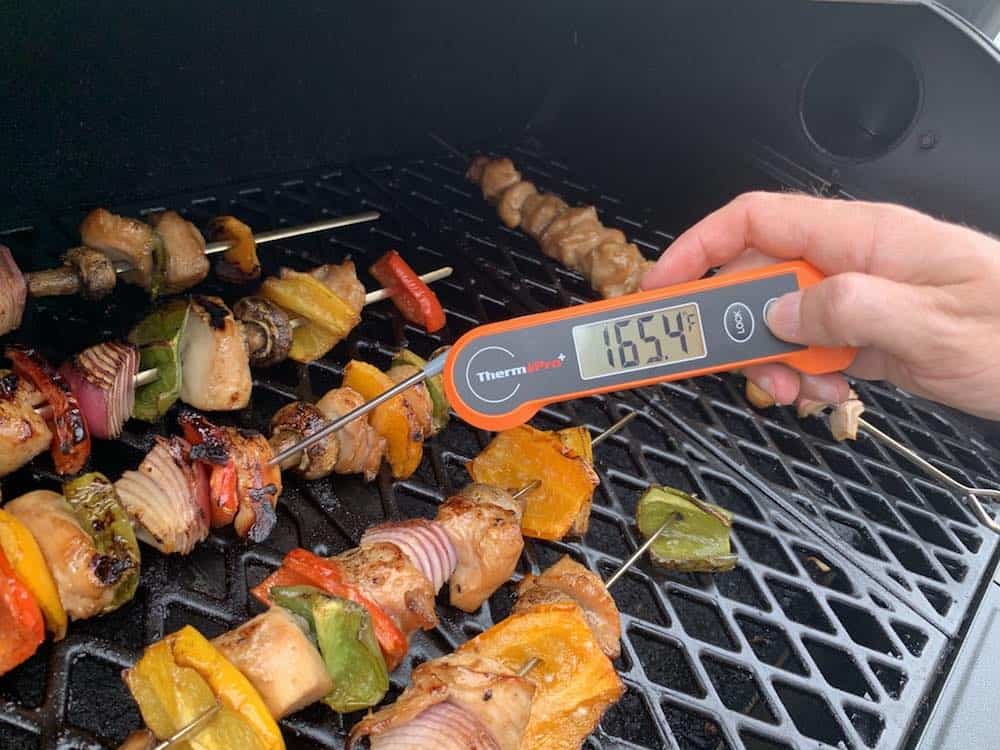 You HAVE to use a good instant read meat thermometer to know where the internal temperature is of your smoked chicken kabobs.
If you don't yet own an instant read thermometer, ThermoPro makes a pretty good one.
Bring the internal temperature of your smoked chicken kabobs up to at least 160°F.
You want to ideally get the internal temperature close to 165°F, but they will continue to rise in temperature after you remove them, especially on the hot metal skewers, so taking them off at 160°F is fine.
When checking the temperature of the smoked chicken, choose a larger piece on one of the kabobs.
Don't stick the temperature probe completely down to the metal skewer or you will be reading the temperature of the metal, not the meat.
Push the probe into the chicken about ¾ of the way towards the skewer but not touching the skewer itself for the most accurate reading.
Serving Suggestions
Once the chicken kabobs have finished cooking, you can transfer them to a cutting board or serving platter.
Let them rest for about 5-10 minutes.
Sprinkle the kabobs with chopped fresh parsley for a little extra color.
We like to serve our kabobs with Jasmine rice, although any rice will do.
You can remove the meat and veggies from the skewers by running a fork down the skewer.
We also like to make up a quick honey soy sauce with 2 tablespoon of honey and a ¼ cup of soy sauce to drizzle over the chicken, veggies and rice.
📖 Recipe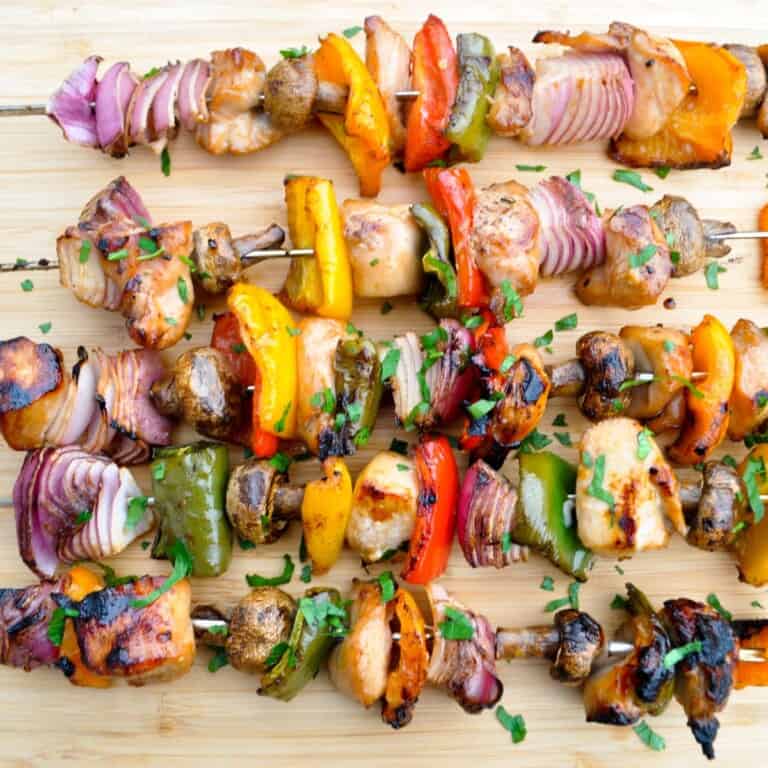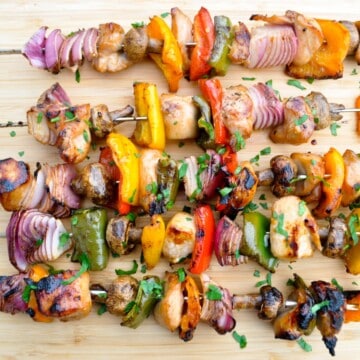 Smoked Chicken Kabobs with Honey Garlic Marinade
These smoked chicken kabobs can be made on on ANY grill or smoker, whether its a Traeger or Pit Boss pellet grill, a Masterbuilt propane smoker, or just a simple Weber kettle!They start with a simple marinade on the chicken and veggies before smoking them over medium heat and finishing with a honey-soy drizzle and rice.
Equipment
1 Grill or Smoker

set up for INDIRECT heat

8 Metal or Bamboo Skewers

8 to 12 inches

Large Bowl or Tray

for soaking wooden skewers

Large Cutting Board

Large Plastic Bag

for marinating chicken

Silicone Basting Brush

Heat Proof Grilling Gloves
Ingredients  
2

lbs

Boneless Skinless Chicken Breasts
Marinade
3

tablespoon

Vegetable or Canola Oil

⅓

Cup

regular or reduced sodium Soy Sauce or Coconut Aminos

⅓

Cup

Honey

3

cloves

Garlic

minced

½

teaspoon

Ground Black Pepper
Vegetables
5

Bell Peppers

of various colors, seeded

2

Red or Yellow Onions

1

package

Whole White Mushrooms
Honey Soy Sauce Drizzle
2

tablespoon

Honey

¼

Cup

Soy Sauce or Coconut Aminos
For Serving (optional)
White or Jasmine Rice

cooked

Flat-Leaf Parsley

chopped
Instructions 
Marinate the Chicken
Cut the chicken breasts into 1.5-inch cubes and place into a large resealable plastic bag. Mix together the marinade ingredients

Pour the marinade ingredients over the chicken in the bag. Marinate for at least 2 hours and up to overnight.
Preheat the Grill or Smoker and Prepare the Skewers
Set your grill for smoker for 300°F with indirect heat.

If using wooden bamboo skewers, soak the skewers in cold water for at least 30 minutes while chopping the vegetables.

Cut the peppers and onions into 1.5-inch pieces. Keep the mushrooms whole. Remove the marinated chicken from the bag.

Skewer the chicken and veggies onto the metal or wooden skewers (after soaking). Thread the chicken and veggie pieces onto the skewers, alternating the chicken and veggies to give color variety to the smoked chicken kabobs.
Smoke the Chicken Kabobs
Once the grill or smoker is up to temperature, add your wood smoking chips to the loader if using an electric smoker, or a wood chunk to the hot coals if using charcoal. If using a pellet grill, we prefer using apple or cherry pellets.

Place the kabobs on the grill or smoker and brush on left over marinade for the first 20 minutes but not after that.

Smoke the chicken kabobs for about 1 hour, rotating and flipping every 15 minutes for even cooking.

Use an instant read thermometer to chec when the internal temperature of the chicken is 160-165°F. The veggies should alos be soft at this point and you can remove the kabobs and place on a cutting board or tray to rest and cool for 5-10 minutes before serving.

Top the finished kabobs with chopped fresh parsley if desired.
Serving the Smoked Chicken Kabobs
While the kabobs are smoking, make the rice and whisk together honey and soy sauce for the drizzle.

Carefully remove the the chicken and veggies from the skewers and serve over rice with the honey soy sauce drizzle if desired.
Nutrition