Don't waste that grass seed! 
Learn how to overseed a lawn without aerating the RIGHT way, in 6 easy steps!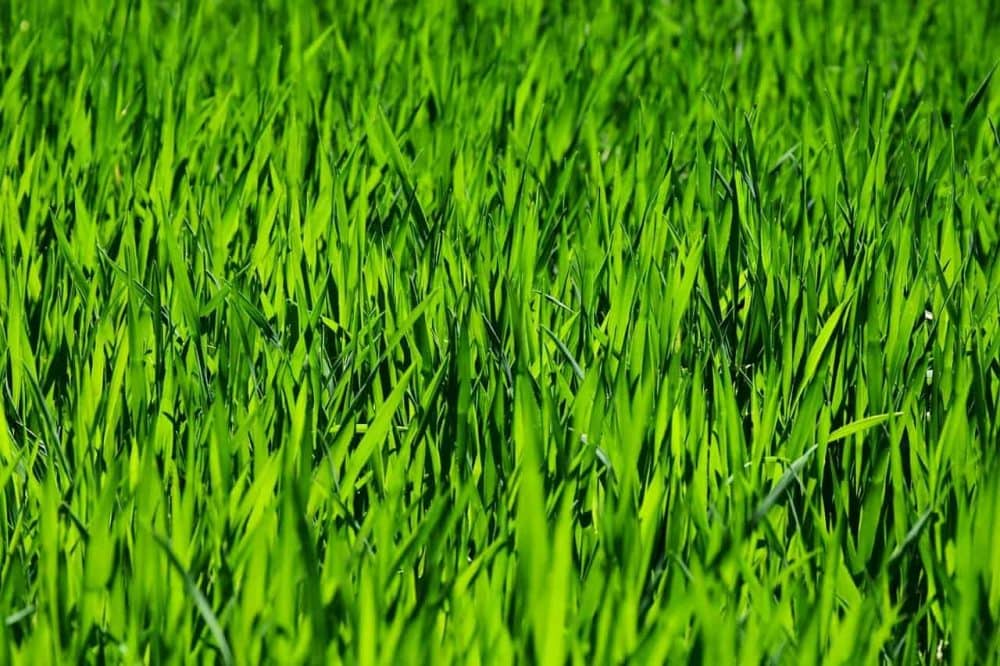 What is Overseeding?
Overseeding is the process of laying down new seed without getting rid of any soil or grass.
It's an interesting process that has a lot of benefits. It's the fastest way to increase grass density, it can be used to cover thin patches in your lawn, and it makes the yard look more attractive.
If you want to experiment with different types of grasses, then overseeding is right for you.
The only problem is that oftentimes, overseeding requires your lawn to be aerated.
What is Aeration?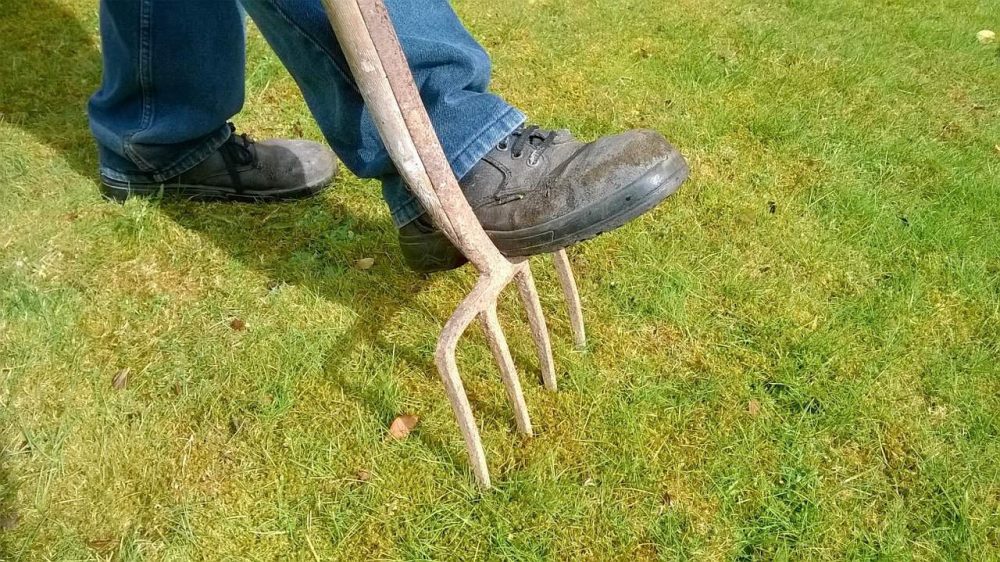 Aeration is the process of making tiny holes in your lawn to get the soil loose. It lets oxygen (air), water, and nutrients get into the roots of your lawn.
The result is greener, more lush grass. It also primes your lawn for overseeding.
The problem with aeration is it requires expensive equipment, a big time commitment, and meticulous watering.
You also need to mark off and be wary of inground sprinklers and utility lines since you are effectively digging in many tiny holes into your yard.
You don't want to run over anything buried shallow in your yard!
If you want to skip the hassle, you can overseed your lawn without aeration at all – as long as you do it right!
How to Overseed a Lawn Without Aerating
Let's walk through a step-by-step process for how to overseed your lawn without aerating it.
If you follow these 6 steps, you should be left with a greener, more lush yard.
The best part? No aeration is needed.
Step 1: Choose the Right Type of Grass
It all starts with picking the right grass.
Consider your location, climate, and desired look for your lawn. You can also stick with the same type of grass you currently have if you want a cohesive look.
Planting in Hard Clay Soil? 
Check out our Favorite Type of Grass Seed to Plant in Clay Soil
Make sure to do your research carefully.
If you pick the wrong type of grass, the rest of the steps in this equation don't quite matter as much!
Tall Fescue is one of the most common types of grass in the US, especially in the northern and midwestern states.  It looks nice and is a very durable grass for lawns.
Pennington Kentucky 31 Tall Fescue Grass Seed, 25 LB
Grows well in full sun to medium-shaded areas

Durable, low-maintenance grass seed

Produces a lighter green, drought-resistant lawn

Holds up well under foot traffic

This package covers up to 6,250 sq. ft.

Germination time: 14 days
Step 2: Know the Best Time of Year to Overseed
It's imperative that you know the best time of year to plant grass.
Every region has a specific time of year if you want to get the best results for your grass.
Even though this is just overseeding, you don't want to waste your time by picking the wrong month and letting the seeds get blown away or eaten by birds before they germinate.
Pro Tip: Never plant grass seed after laying down a pre-emergent fertilizer such as crabgrass preventer. 
This type of weed preventer will not only keep broadleaf weeds from germinating, but also your new grass seed!
Since this type of weed preventer is usually laid down in the early spring, its best to overseed your lawn in the fall to allow the new seed to germinate well before using these products.
Step 3: Cut the Grass Low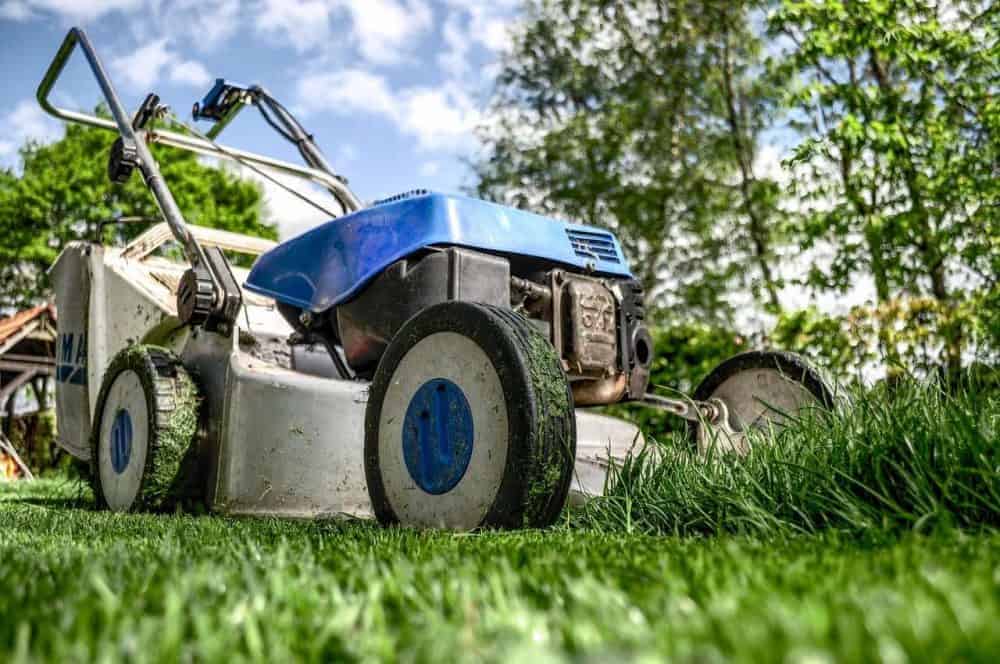 With the prep work out of the way, it's time to get to work. You need to cut your grass before you can overseed your lawn.
The best idea would be to schedule your overseeding after you were planning to mow the lawn anyway.
Rather than a standard cut, you'll want to cut the grass so it's less than 2 inches tall.
You'll get the best results if you cut it down to around 1.5 inches.
When you're cutting, you need to get rid of all the clipping and debris.
You can either rake afterward, or use a bag when you cut in the first place.
Clippings in your lawn will ruin the results you'll get from overseeding.
Since you don't want to cut the grass again until the new seeds have taken root, you want it pretty low so that you can go 2-3 weeks before you cut it again.
Step 4: Spread the Seeds
Now comes the seeding part of overseeding.
You can either use your hand, a broadcast spreader, or a drop spreader.
Every spreader will come with recommendations for the best setting for overseeding compared to seeding a new lawn.
But at the end of the day it's up to you how many seeds you plant and what method you want to use to spread the seeds.
The more you spread the higher your success rate will be for germination.
Scotts Turf Builder EdgeGuard Mini Broadcast Spreader
Scotts turf builder mini walk-behind broadcast spreader features Scotts exclusive EdgeGuard Technology to keep product off landscaping, driveways, and sidewalks

Designed to deliver superior results when used with Scotts fertilizer and grass seed products; Can be used for salting--for best results use with Scotts Ice Melt
Step 5: Apply Fertilizer After Overseeding
Using the right fertilizer will improve your chances of lush grass growing.
Aim to use about two pounds of fertilizer for every 1,000 square feet of your lawn you treat.
You want the fertilizer to be even, make good contact, and mix well with the soil.
A great way to achieve all three of these goals is to use a metal rake after laying the fertilizer.
There's no science to this process, just do what feels right.
Safer Brand Lawn Restore Fertilizer – 25 lb
Revitalizes lawn to a thick turf by strengthening root systems

Lawns will green up within 3 to 5 days

Promotes a robust root system for a healthier lawn

Provides effective year-round care by helping plants withstand heat, cold and drought stresses

Covers up to 6,250 sq
Step 6: Water in the Grass Seed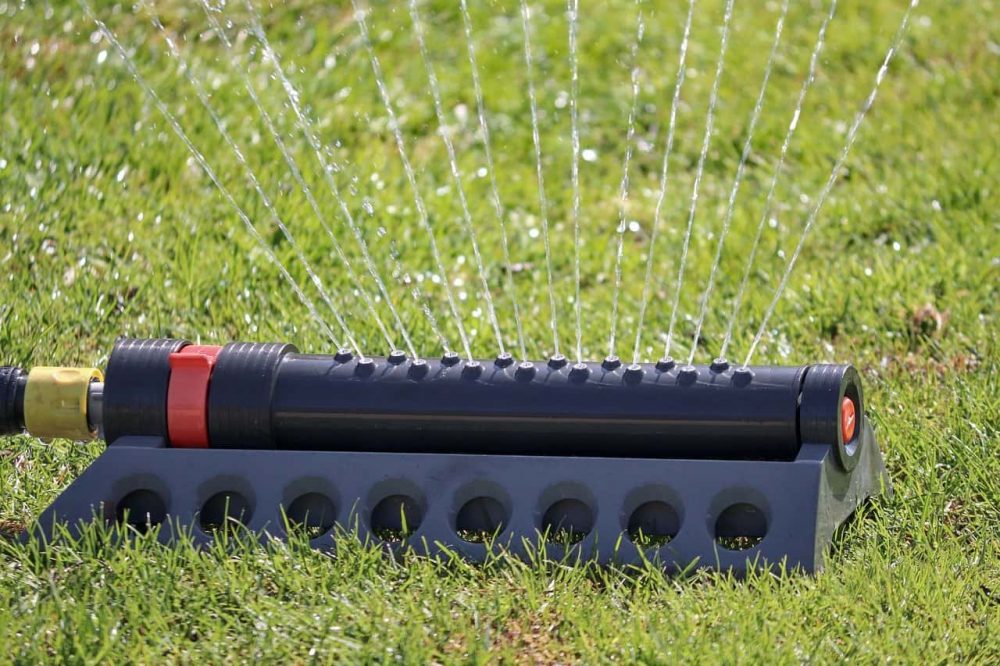 Your seeds aren't going to grow without some water.
For overseeding, you'll want to water your lawn at least two or three times a day.
Although it's normally best to water your lawn with infrequent, deep waterings, when seeding, it's always best to stick with a higher number of lighter watering.
If you try to do a single heavy watering a day, you could wind up dislodging the seeds and having them wash away.
Once the roots start growing you can be more lax about watering the seeds.
This would be a good opportunity to use a sprinkler. It saves you the hassle of going outside to water your grass multiple times a day.
How Long Should I Wait to Mow the Grass After Overseeding?
If you cut the grass down to at least 1.5" before overseeding, you should not need to mow for a few weeks before the grass gets too high.
You don't want to mow at all until the new grass seed has germinated, taken root, and begun to grow, which can take about 12-14 days to occur with regular watering.
The first time you DO mow again, set the mower to its HIGHEST setting so that you are only cutting the older long grass and not the new shorter grass.
Make sure to bag the clipping so that they do not cover and suffocate the newly sprouting grass down below.
Repeat this once a week until you see the new sprouts have reached the same height as the existing grass you are cutting.
Only then you can begin to lower the mower one setting at a time each time you mow until back to your normal mowing height.
Alternative Overseeding Technique: The Shotgun Technique
If you're feeling especially lazy, you can overseed your lawn with the shotgun technique. Sprinkle handfuls of grass seed into your lawn and leave it there.
That's the entire process. It's like shooting a shotgun and hoping that one of the bullets hits something.
In this technique, the germination rate is going to be low because this isn't an ideal planting sequence for grass.
However, you'll still get germination at the end of the day no matter how low the rate is. That might mean using this technique a few times before you get the results you want.
It's the easiest process and it takes no equipment at all. If you want to improve your chances, you can throw some topsoil over the area you seed.