Learn everything you need to know about how to make smoked egg salad! 
Whether you've got a gas or charcoal grill, a Traeger or Pit Boss pellet grill, or even a Masterbuilt electric smoker, we've got you covered!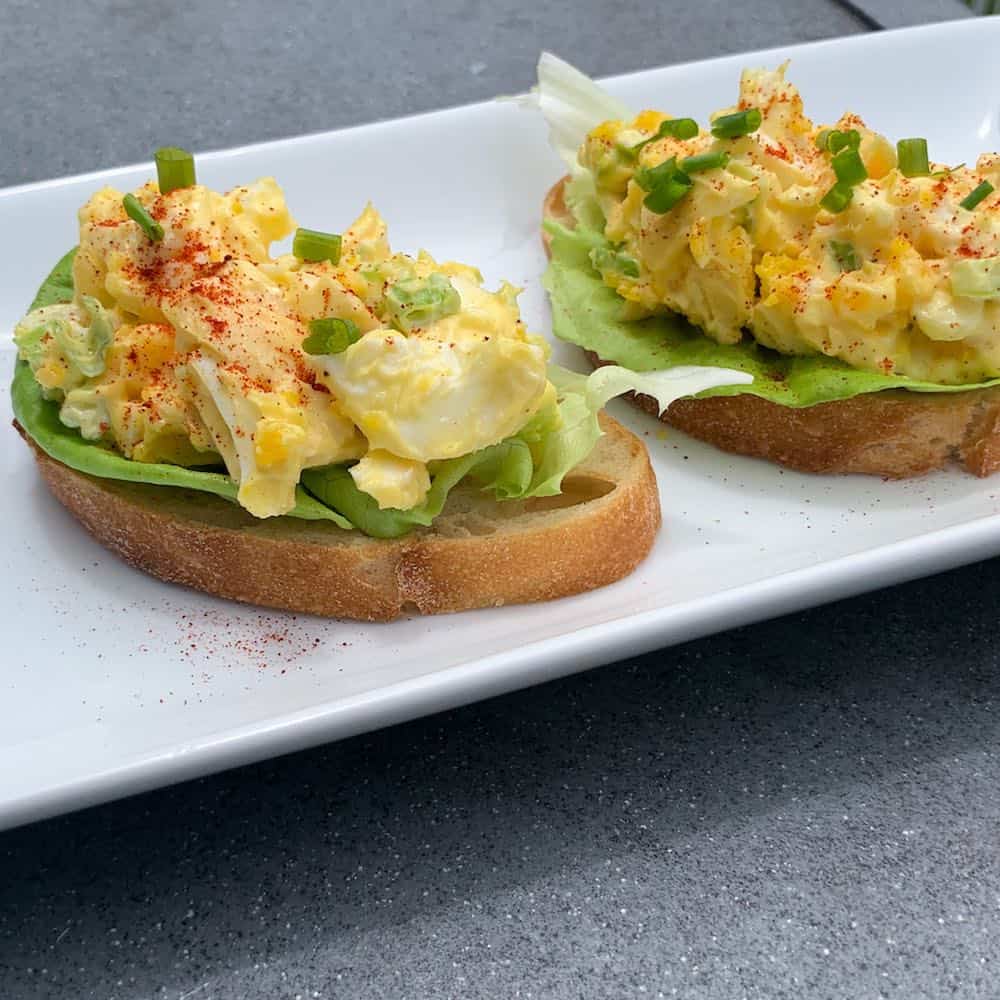 Why Smoked Egg Salad?
Just like we showed you with our delicious smoked deviled eggs, smoked egg salad is a great way to take a very conventional recipe to the next level.
Whether you are preparing it by itself as a low carb meal or putting it on a some fresh sandwich bread, smoked egg salad will soon become a great go-to recipe to add to your barbecue repertoire.
First, check out our complete recipe for How to Make Smoked Hard Boiled Eggs, and then come on back we'll show you how we turn them into smoked egg salad!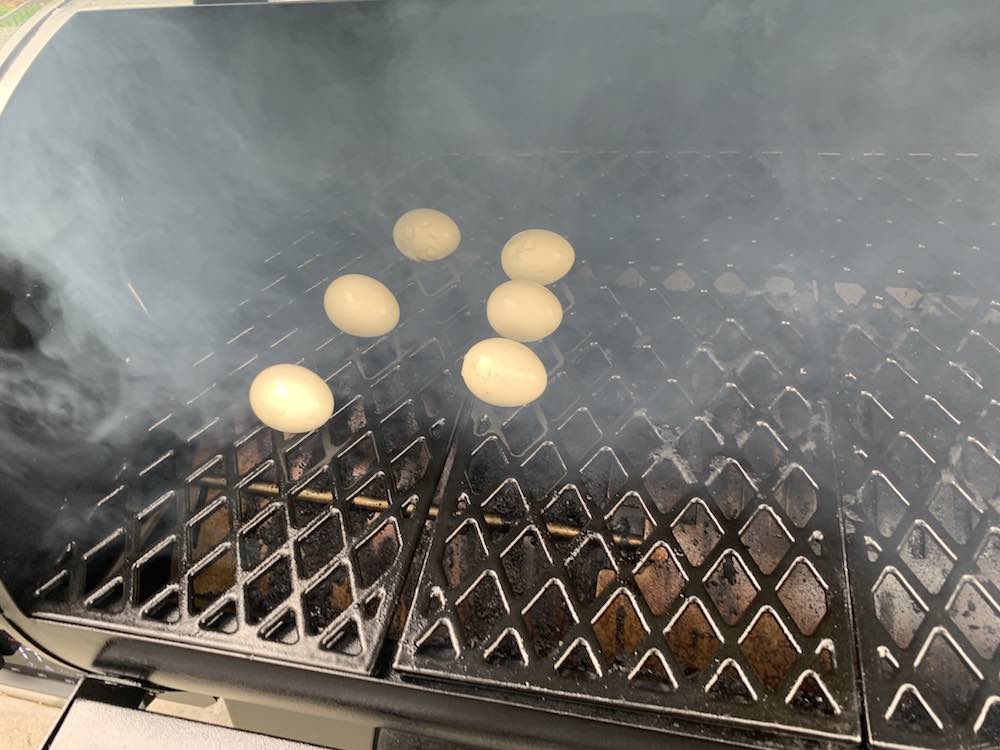 How to Make Smoked Egg Salad
Once you have your smoked hard boiled eggs (you did check out our smoked eggs recipe first right?), you can store them whole in the refrigerator a for up to a few days if needed before you turn them into smoked egg salad.
Here's what you will need:
8 Smoked Hard Boiled Eggs, chopped
½ cup Mayonnaise
4 tablespoon Chopped Green Onion
Salt and Pepper
Sprinkle of smoked paprika or your favorite BBQ rub
Then Follow These Steps:
Smoke the hard boiled eggs on any grill or smoker as described here.  Then let them cool for 10 minutes before chopping them up on a cutting board.
Gently stir the chopped eggs into a bowl with the mayonnaise and green onion.
Add salt and pepper to taste.
Sprinkle smoked paprika, or your favorite BBQ seasoning on top for additional color and flavor.
The Best BBQ Rubs for Smoked Egg Salad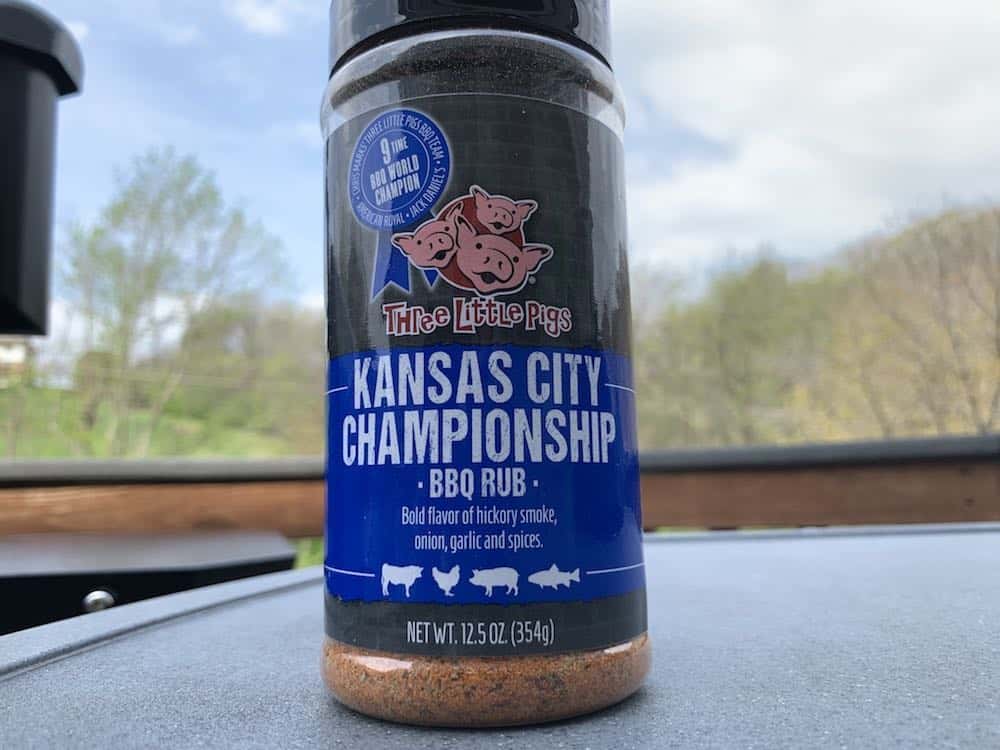 Now, since you went to all the trouble of smoking your eggs on a grill or smoker to make the smoked egg salad, why not finish it with a great BBQ rub instead of just paprika?
Two of our favorites are Blues Hog BBQ Rub and Three Little Pigs Kansas City Championship BBQ Seasoning.
Blues Hog is a little more sweet than salty and looks just like paprika but will give your smoked egg salad an extra hit of color and smokey BBQ goodness.
Three Little Pigs is a little more golden in color and has more savory spices of salt, garlic, and onion, so a little goes a long way, especially if you already added a lot of salt to your smoked egg salad..
Our recommendation would be to go easy on the amount of salt in your egg salad so you can add extra BBQ rub at the end.
Best Ways to Serve Smoked Egg Salad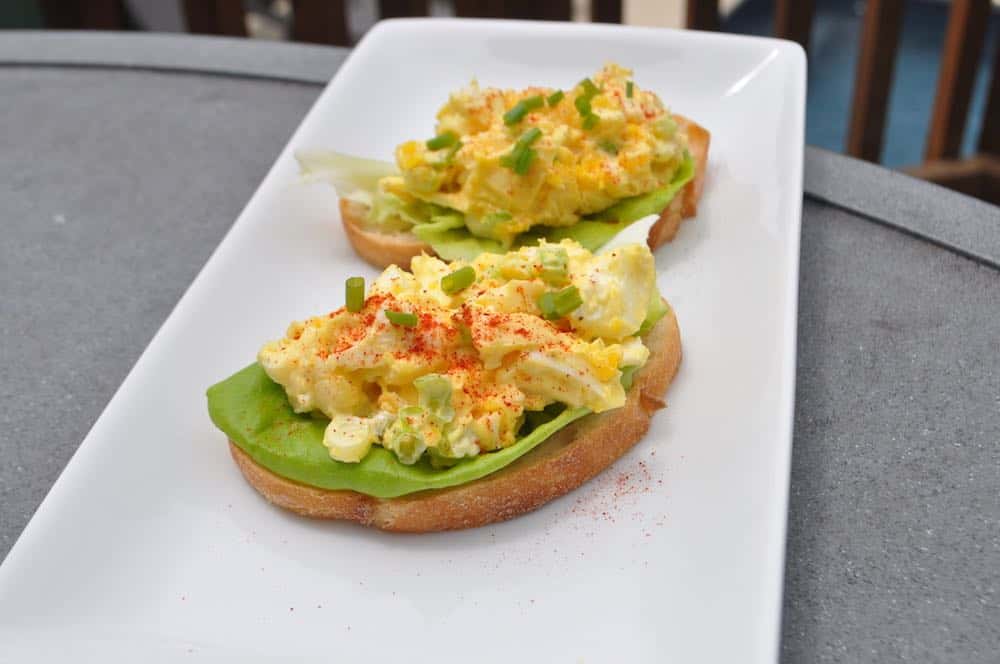 Scoop individual portions of your smoked egg salad onto a Bibb lettuce leaf for a classic low carb meal presentation.
Or put it onto sandwich bread (sourdough works great) for a delicious smoked egg salad sandwich.
Enjoy!
📖 Recipe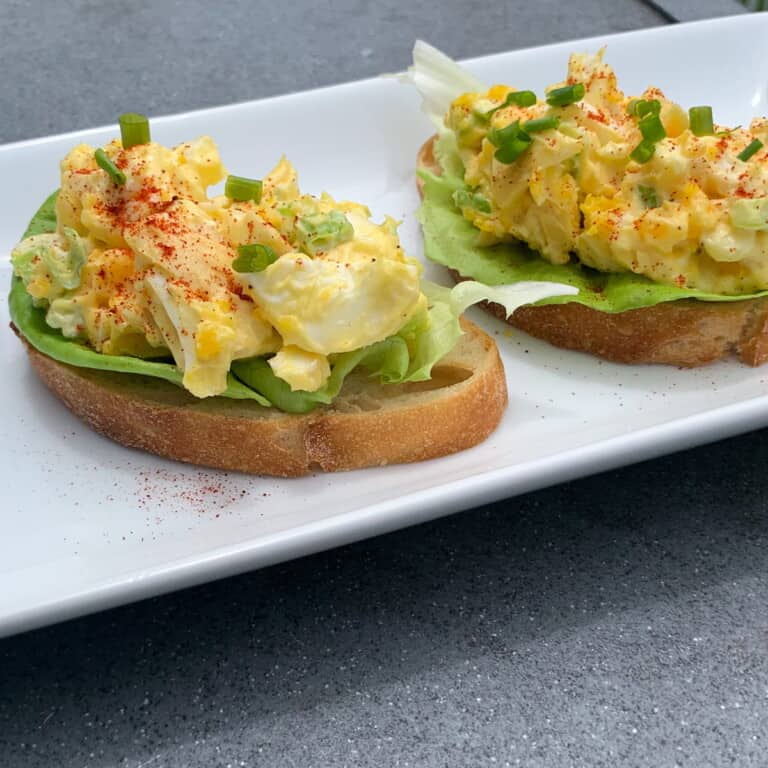 Smoked Egg Salad
Learn how to make smoked egg salad following our easy step by step instructions.
Smoked egg salad can be made on any grill, pellet grill, or smoker.
Whether you've got a Weber kettle, a Traeger or Pit Boss pellet grill, or even a Masterbuilt electric smoker, we've got you covered!
Equipment
Knife

Small Spoon

Small Mixing Bowl
Ingredients  
8

Smoked Hard Boiled Eggs

chopped, click or see link for recipe in Notes section below

½

cup

Mayonnaise

4

tablespoon

Chopped Green Onion

Salt and Pepper

Sprinkle of Smoked Paprika or your favorite BBQ rub

Bibb Lettuce

optional for low carb presentation

Sourdough Sandwich Bread

optional for smoked egg salad sandwiches
Instructions 
Smoke the hard boiled eggs on any grill or smoker as described here.  Then let them cool for 10 minutes before chopping them up on a cutting board.

8 Smoked Hard Boiled Eggs

Gently stir the chopped eggs into a bowl with the mayonnaise and green onion.

½ cup Mayonnaise,

4 tablespoon Chopped Green Onion

Add salt and pepper to taste.

Sprinkle smoked paprika, or your favorite BBQ seasoning on top for additional color and flavor.

Sprinkle of Smoked Paprika or your favorite BBQ rub

Scoop individual portions of your smoked egg salad onto a Bibb lettuce leaf for a classic low carb meal presentation. Or put it onto sandwich bread (sourdough works great) for a delicious smoked egg salad sandwich.

Bibb Lettuce,

Sourdough Sandwich Bread
Nutrition