Learn how to sharpen and balance your lawn mower blades, as well as how to safely and properly remove and assess them, to keep your push lawn mower running in top condition!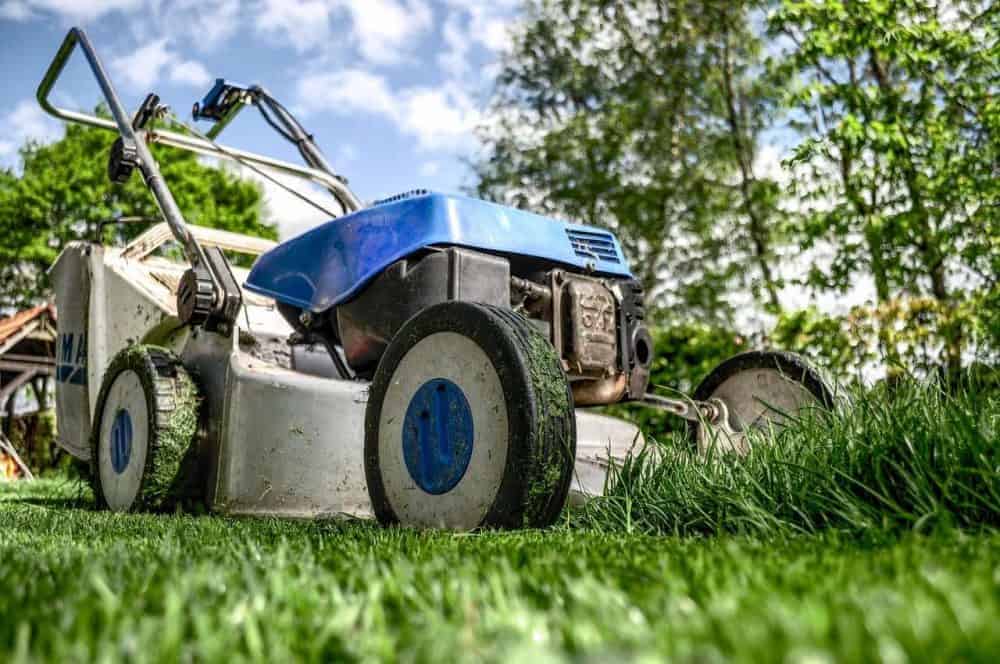 Ahh springtime.
Your soil is healthy, your new grass is coming up nicely, and it's time to fire up the lawn mower for that first fresh cut of the spring.
But something's wrong.
Your mower is vibrating, making odd noises, and just isn't cutting right.
If your push mower is having these symptoms, it might just be the blades.
If your lawn mower blades aren't balanced, your cuts won't be even, your lawn mower won't push well, and and you'll likely end up wasting a lot of time.
Taking the mower to a pro will cost you both money and time.  And that grass is growing higher and higher every minute.
Lucky for you, balancing your lawn mower blades is not too difficult if you've got the right tools and the know-how.
Let's take a minute to learn about the lawn mower blades, how to assess them, and how to sharpen and balance them in no time.
Safety Warning
Before you read on just know that this can be a potentially dangerous DIY project if the proper precautions are not taken.
These are sharp blades that have the potential to hurt you if not handled properly.
Make sure to wear the cut resistant gloves and use a blade holder when handling the blades.
Always disconnect the battery and spark plug anytime you are doing maintenance on you mower.
What Does it Mean to Balance your Lawn Mower Blades?
Think about how your lawn mower works. A sharp metal blade spins at a very high speed around a central rod.
If the blade isn't perfectly horizontal, it won't cut your grass evenly. The blade will begin to wobble at very high speeds and cause noise, vibration, poor cutting, and possibly even injury to the operator.
Balancing your lawn mower blades makes sure the machine is running properly and keeps your push mower cutting quietly, evenly, and consistently.
How to Tell If Your Lawn Mower Blades Need to Be Balanced
There are a few common ways to tell if your blades need to be balanced.
Your blades need to be balanced anytime after sharpening them. The sharpening process removes metal from one side and therefore unbalances the blade.
That's why mower blade sharpening and balancing should always go hand in hand.
An excessive vibration, wobbling, or rhythmic noise  could all be indicators your blades aren't balanced.
So if you think your blades are no longer balanced, what do you do?
Let's take a look.
Tools You'll Need to Balance Your Lawn Mower Blades
socket wrench
screwdriver
goggles
How to Take Off the Lawn Mower Blade
The first step is to remove the current blades from your lawn mower. Take your mower it to a flat surface outside or in the garage to get started.
Disconnect the Battery
For safety, you want to make sure the lawn mower doesn't wake up when you're wrist-deep in the blades.
Disconnect the battery and spark plugs to make sure the mower stays off.
It's also easier to remove the blades if the carburetor is on the high side when it's tipped back.
Check for a Bent Blade
While the mower is in this position, rotate the bade by hand and see if the blade ends are flat and straight. If they are bent, then you will need a new blade. If they are straight, then keep going.
Indicate Orientation of Your Blade
Before removing the blade, use something to indicate which side of the lawn mower blade is up.
We recommend some tape, spray paint, or a marker. This will help you assemble the blade in the correct orientation later.
Remove the Blade
Use your safety gloves and goggles anytime you're handling the blade.
Use your socket wrench, blade holder, and a little muscle to take the center bolt out of the blade. Be mindful of where you put your hand during this process.
Keep that bolt handy, you'll need it later.
Now that the blade is removed, let's sharpen it.
Do You Need a New Blade?
Before trying to sharpen the blade, you have to assess if it's fixable or if you need a new one.
If your blade is bent, or if the trailing edge is too thin, it can shatter.
If the cutting edge is deformed, has low spots, or has any curvature to it, it's time to scrap the blade.
You can always take the blade to your local hardware store if you're unsure if you can sharpen it safely.
Assuming your blade looks okay, let's move on to sharpening it.
Sharpening Your Lawn Mower Blades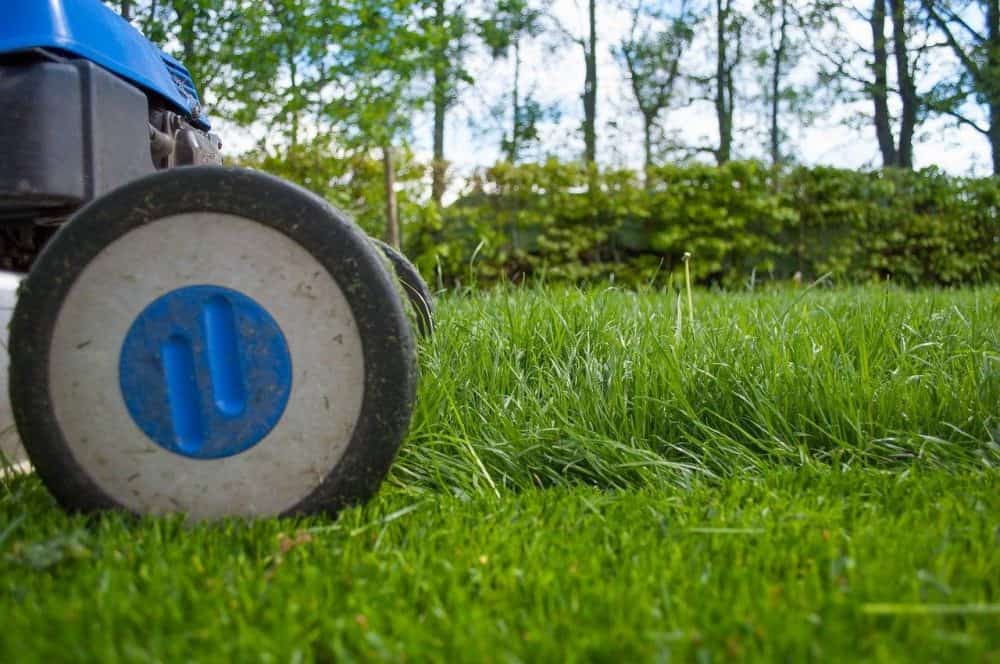 Always use a blade removal tool and holder to position your mower blade when sharpening it. It's very difficult and dangerous to sharpen it otherwise.
Arnold Blade Removal Tool (2)
For walk-behind and riding lawn mowers, single and twin blade models

Holds blade in place for faster, safer removal

Rigid metal construction

Universal, fits most models

Set of 2
Place it in the blade holder with the blade-side facing upwards. Use a straight file and push it against the blades in and in an upward direction – starting with the file closer to you, then extending your arm.
Only file in this one direction, not back the other way.
It shouldn't take long to completely sharpen the blades. You're not trying to make it as sharp as a chef's knife, more like a butter knife.
When you're satisfied with the sharpness, it's time to move on to balancing the lawn mower blades.
Balancing Your Lawn Mower Blades
Remember that the blade is like a seesaw. If there's a heavier side of the blade, the lawn mower will not work correctly. The good news is, this seesaw design is easier to balance.
The easiest option is to use a lawn mower blade balancer.
This is a cone shaped metal object designed to accommodate any sized blade axis hole opening.
Position the blade balancer on a level table ad then place your lawn mower blade onto the balancer.
If the blade is balanced, it will stay level and on the balancer even when you spin it.
If the blade is unbalanced, the heavier side will fall down towards the table, especially as it spins..
If the heavier side falls down, it's time to take the blade back to your blade holder and sharpen the heavier side down until it evens out.
Repeat this process until the blade balances itself horizontally when still and when gently spinning.
Now your blade is sharpened and balanced, it's ready to get re-installed!
Re-Assembling Your Lawn Mower Blades
Carefully take your blade back to your mower while wearing your safety gloves.
Don't forget the bolt and your blade holder.
Use your indicator to remind you of the correct orientation to install the blade. A mower with an upside-down blade will be like trying to cut your grass with a spoon.
Use the blade holder to grab the blade as you hand-tighten the bolt in the center.
Grab the socket wrench and crank down on the bolt, tightening it.
Now you're ready to get back to mowing!
Reconnect your battery and spark plug and start up your mower.
Make sure to assess for any unwanted vibrations, noises or other issues before you start cutting your grass with your newly sharpened and properly balanced lawn mower blades!
Looking for more Lawn and Landscaping Ideas?
Check out our collection of ideas to help you make your lawn the best it can be!
Lawn Mower Maintenance
Lawn Care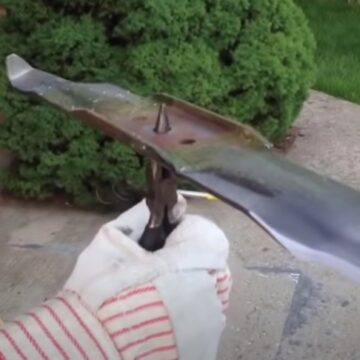 How to Sharpen and Balance Lawn Mower Blades
Learn how to sharpen and balance your lawn mower blades, as well as how to safely and properly remove and assess them, to keep your push lawn mower running in top condition!
Equipment
Socket Wrench

Flat Sharpening File

Screwdriver

Cut Resistant Gloves

Eye Goggles

Lawn Mower Blade Holder

Lawn Mower Blade Balancer
Instructions 
Disconnect the spark plug

Remove the blade using a socket wrench and safety gloves

Check if the blade is bent or needs replacing

Check the blade on the lawn mower blade balancer

Sharpen the blade using the file

Reattach to the mower once sharp and balanced
Notes
Video courtesy of funbro1